Grizzlies' Ja Morant clarifies his counseling decision, refusing alcohol abuse allegations ahead of his possible comeback vs Rockets
Memphis Grizzlies' star point guard Ja Morant has returned to practice after serving an eight-game suspension for his "conduct detrimental to the NBA". Morant has described his attempt to manage stress through counseling as an "ongoing process".
He spent 11 days at a Florida counseling facility after brandishing a handgun during an Instagram Live video stream from a Denver-area strip club on March 4. Morant said he had been concerned about his stress levels before the incident but did not want to leave the team during the season.
During his time in counseling, Morant realized how much he has at stake after signing a five-year contract extension that could be worth up to $233 million if he is an All-NBA selection again this season. He stated, "So my job now is, like I said, to be more responsible, more smarter, and don't cause any of that no more." Morant leads the Grizzlies with 27.1 points and 8.2 assists per game.
According to the league's statement announcing the suspension, NBA commissioner Adam Silver determined that Morant was in an "intoxicated state" during the Instagram Live session. However, Morant denied having an alcohol problem and said that he went to counseling to learn how to manage and positively cope with stress.
Ja Morant: "I don't have an alcohol problem, never had an alcohol problem. I went [to Florida] for counseling to how to manage cope and stress in a positive way." pic.twitter.com/GvdwgrKRUw

— Oh no he didn't (@ohnohedidnt24) March 21, 2023
Morant has deactivated his Instagram and Twitter accounts following the incident but recently reactivated them. He, however, said he will not be as active on social media as before and that "clubbing and all is not on my mind at all right now" when asked about curtailing his late-night social activities.
Morant admitted that he is "uncomfortable" with the potential fan response after his return from suspension. He said, "A lot of people don't know what's going on — not in my shoes right now with everything that's been going on as of late. Obviously, I take responsibility for decisions I've made that pretty much hurt me to the core."
Morant also mentioned that he's willing to come off the bench as the Memphis coaching staff gradually increases his minutes to normal levels.
Is the Phenomenal Playmaking and Leadership Skills Making Ja Morant an Indispensable Asset for the Memphis Grizzlies?
Ja Morant is one of the most promising young talents in the NBA today, and his importance to the Memphis Grizzlies cannot be overstated. As a point guard, Morant has the excellent court vision and passing skills, which allow him to create scoring opportunities for his teammates. He also possesses incredible athleticism, which enables him to finish at the rim with spectacular dunks and layups.
Morant's impact on the Grizzlies was immediately evident when he joined the team in the 2019-2020 season, leading them to the playoffs as a rookie. He was named the NBA Rookie of the Year, and his impressive performances on the court earned him widespread recognition.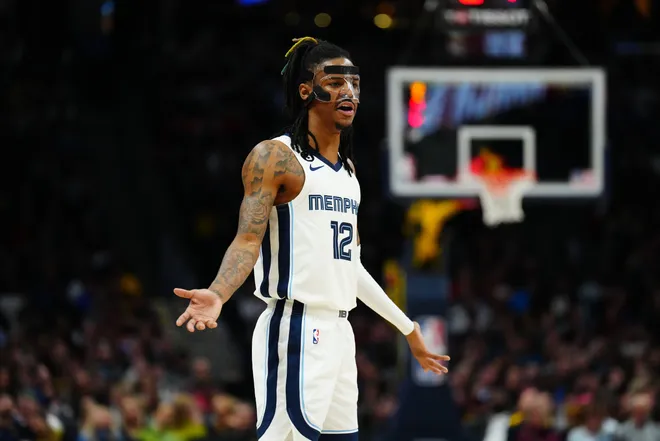 Aside from his on-court abilities, Morant is also a great leader and teammate. He brings positive energy to the team and is always willing to put in the hard work to improve his game. This attitude has helped to elevate the Grizzlies and make them a team to watch in the NBA.
Overall, Ja Morant is a vital player for the Memphis Grizzlies, and his importance will only continue to grow as he further develops his skills and leadership abilities.