The physical and intense nature of football means that the careers of footballers have a relatively short lifespan and on average, players spend about 15 years of their life playing the beautiful game.
Expectedly, the frequency of club football means that the majority of matches are disputed on the club scene but the opportunity to represent one's country is an honor few can turn down and international football also weighs in with a significant amount of matches in a player's career.
As with any other field or profession, all footballers do not have the same abilities and factors such as healthy dieting, strict training regimen, luck with injuries, and good old genetic traits all play a role in determining whether a player's career would last longer than others.
Here at Sportszion, we shall be taking a look at the 10 players with the most official appearances in history.
#10. Tony Ford (England) – 1,082 appearances 
In a career that lasted for 26 years across four different decades, Tony Ford distinguished himself with his performances and ended his professional career having made 1,082 official appearances.
To date, he still holds the record for most matches played in the English league for an outfield player with 932 matches but rather remarkably, not one of them was played in the English top-flight.
Furthermore, he is one of only three outfield English players to have made over 1,000 official appearances alongside Scott McGleish and Graham Alexander.
The bulk of Tony Ford's appearances came with Grimsby with whom he starred on 490 occasions, other appearances came with Sunderland, (9) Stoke (135), West Bromwich Albion (128), Bradford City(7), Scunthorpe United (91), Mansfield Town (116), Rochdale (104), and England B (2)
#9. Pat Jennings (Northern Ireland) – 1,089 appearances
Unsurprisingly, the list is dominated by goalkeepers, as the relatively risk-free nature of their jobs means that they are not usually prone to injuries, while they almost always play when fit once their status as first-choice goaltender has been established.
The first goalkeeper on this list is the legendary Pat Jennings who is widely regarded by many to be the greatest goalkeeper in the history of Tottenham.
He represented Northern Ireland a total of 119 times (which at the time of his retirement was an international record) and remains the record for the Northern Ireland team, while he also remarkably scored in the 1967 FA Charity Shield between Manchester United and Tottenham Hotspur.
Incredibly, he is one of a handful of players who crossed over from North London rivals Arsenal and Tottenham Hotspur but his performance between the stick ensured that he remains highly regarded by both sets of fans.
He made appearances for just three clubs in his professional career, making 52 appearances with Watford, 590 with Arsenal, and 327 with Tottenham, as well as one with the Northern Ireland Under-21 team which brought his career total to 1,089 appearances.
#8. Gianluigi Buffon (Italy) – 1105 appearances 
Buffon was made the world's most expensive goalkeeper in history when Juventus signed him from Parma in 2001 and the shot-stopper went on to cement his legacy as one of the greatest players in the history of the great club.
He has been a consummate professional throughout his career and is considered by many to be the best goalkeeper of his generation, while he has also been immensely successful and has won almost everything winnable at both the club and international scene.
He is on course to break Paolo Maldini's record for most Serie A appearances in history and is Italy's most capped player of all-time with 176 appearances, while he also holds the record for longest streak without conceding a goal in Serie A history, 974 minutes (12 matches) during the 2015/2016 campaign.
Buffon represented the likes of Parma (220), PSG (25), while he has made a total of 660 appearances and counting for Juventus which added to his appearances for the various Italian youth teams brings his career total of 1,105 (which would be more before he retires).
#7. Javier Zanetti (Argentina) – 1,114 appearances
Although he did not begin his career with Inter Milan, Javier Zanetti is currently the player with the most appearances in the history of the Nerrazurri and is an adopted son of the city of Milan.
He arrived at the San Siro in 1995 and for the next 19 years was an ever-present in the Inter Milan squads that achieved success, with his most crowning moment coming when he captained the club to a continental treble in 2010.
Zanetti also retired as the most-capped player in the history of Argentina, representing Los Albiceleste a staggering 143 times, while he made 858 appearances for Inter Milan, 66 for Banfield, 33 for Talleres RE, and 12 for the Argentina U23 squad.
#6. Ray Clemence (England) – 1,117 appearances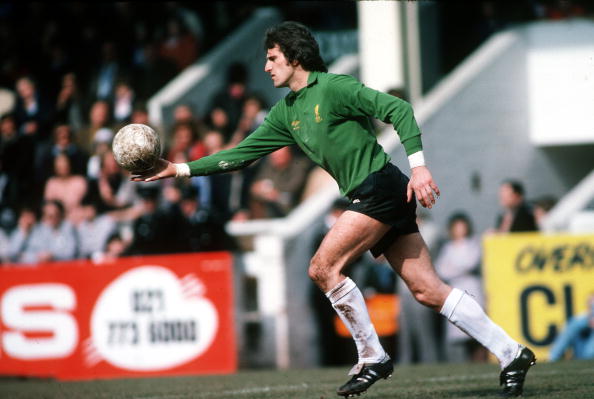 Ray Clemence is another player who distinguished himself with his displays between the sticks for several clubs in England.
He represented sides like Scunthorpe United, Liverpool, and Tottenham Hotspur, making a total of 1,062 appearances at club level, while his international career brought him up to 1,117 official appearances.
The legendary Bill Shankly signed him for Liverpool in 1967 and he became an integral part of what became the golden era of the club and despite competing for a starting shirt with the legendary Peter Shilton, Clemence still managed to amass the respectable total of 59 caps for England but an unfortunate knee injury sustained saw him retire prematurely from international football.
 #5. Iker Casillas (Spain) – 1,119 appearances 
Alongside Gianluigi Buffon, Iker Casillas is the standout goalkeeper of his generation and despite being relatively short for a goalkeeper, the former Spanish international more than made up for this with his quick reflexes and amazing handling.
His career with Real Madrid and Spain saw him win every trophy winnable, with multiple Champions Leagues and domestic titles won in the colors of Los Blancos, while he captained La Furia Roja to three consecutive international trophies between 2008 and 2012.
His Real Madrid career was, however, not as everlasting as many would have expected and 'Saint Iker' joined Portuguese giants Porto in 2015 where he suffered an acute heart attack in May 2019 but has returned to full fitness.
So far, the Mostoles native has made 1,119 appearances in his career, with the bulk of that coming at Real Madrid where he spent 16 years, while he is also the second most-capped player in the history of the Spanish national team.
#4. Roberto Carlos (Brazil) – 1,132 appearances
A case can be made to consider Roberto Carlos as the greatest left-back in history and you'll be hard-pressed to find too many people who would argue against this position.
He made a name for himself with his display for Real Madrid where his bombarding runs down the left flank earmarked him as one of the most attacking full-backs of all time and his pristine crossing and deadly-accurate shooting precision from distance was a key weapon in Real Madrid's attacking armory.
Roberto Carlos was also immensely successful with the Brazilian national team and he made 125 appearances with the Samba Boys, winning multiple major honors including the World Cup in 2002.
#3. Xavi Hernandez (Spain) – 1,135 appearances 
Xavi was the midfield orchestrator in what is regarded by fans, pundits, and the media to be the greatest club team ever assembled in history.
Barcelona conquered all and sundry before them and Xavi was the driving force, with his exquisite passing ability and otherworldy technique playing a key role in ensuring that not only did the club win but that they did so convincingly.
To make matters even more legendary for the Catalan, he was also instrumental to the success of Spain in this period and his midfield partnership with Sergio Busquets and Andres Iniesta could almost do no wrong at the heights of their powers.
He retired having made 1,135 official appearances for Al Saad, Barcelona, and the Spanish national team and is currently trying his hands at coaching as the manager of Qatari side Al Saad.
#2. Rogerio Ceni (Brazil) – 1,234 appearances
Rogerio Ceni is a bonafide legend of Brazilian football, having represented legendary club SaoPaolo a staggering 1,198 times.
This figure remains the most managed by any player in the history of the great club and what is more, Ceni scored a whopping 131 goals in his career, by far the most managed by a goalkeeper in the annals of football.
He proved himself to be adept in the art of freekick taking and is one of the best freekick takers of all time, having scored over 60 freekicks in his career but he was less successful on the international stage and managed just 16 caps for his country, as goalkeepers like Dida and Marcos were ahead of him in the pecking order.
#1. Peter Shilton (England) – 1,390 appearances
When it comes to longevity as a professional footballer, Peter Shilton is the gold standard that every other player looks up to.
The now-retired England goalkeeper spent over three decades in between the sticks for numerous clubs in the land including Leicester City, Nottingham Forest, Leyton Orient, Stoke City, Plymouth Argyle, and Bolton Wanderers and he made 125 appearances for the Three Lions of England which is more than anyone else has managed in history.
It was with Nottingham Forest that he enjoyed his most productive spell, winning the European Cup on two occasions as well as several other major honors including the First Division Championship and UEFA Super Cup.
Shilton represented England at five major tournaments between 1980 and holds the record for most clean sheets in World Cup history (10 alongside Fabien Barthez and it looks highly unlikely that his career total of 1,390 official appearances would ever be broken by anyone.