Weakest wrestlers in WWE were always employed for the simple reason that the bigger, more brawny wrestlers could use them as stepping stones. Despite adding some lightheartedness to the air of hungry and passionate superstars, these weakest wrestler have rarely made it big.
In spite of lacking in in-ring skills, working the mic was encouraged, which allowed entry of many superstars, otherwise lacking in strength. Below, we look at those wrestlers we consider the weakest in WWE.
#10. Adam Rose
Debuting as the leader of The Exotic Express, Adam Rose enjoyed a career that was rather short lived. His success in WWE was against the weaker wrestlers like Damien Sandow and Fandango. In Spite of altering his gimmick several times, Rose was unable to solidify his presence in WWE.
In 2016, Rose was released following his arrests and it would not be a crime to say, he was not missed very much. Although, Rose has transformed greatly, gaining a whopping 80 pounds and looks nothing like before.
#9. Eva Marie
The red-head of WWE was rarely seen in ring, actually wrestling. Eva returned to the main roster of RAW to help her co-stars from Total Divas from an attack, as a face. However, after a hiatus for months, she returned as a heel.
Making the WWE universe wait months for her in-ring debut, she kept faking several reasons to avoid to wrestle. She was released shortly after.
Given her weak personality and little to almost none experience in-ring, she is considered as one of the Weakest wrestlers in the women's department.
#8. Trent Baretta 
Seen usually in Superstars, a WWE edition for lowest level wrestlers, Trent Baretta was deemed too weak to ever climb higher. Baretta was used as an enhancement talent, who would be used as a stepping stone for young wrestlers.
Having only a handful of matches and losing most of them, Baretta was never going to see limelight in this business. He feuded with Tyson Kidd only to lose 5 consecutive matches. He was released soon after.
#7. Heath Slater
The only member of 3MB who remained right where he had started, fate was not kind to Heath Slater. Reduced to a jobber status, Slater faced a series of squash matches on the road to RAW 1000. He was badly humiliated in almost all of those.
Almost little to no credibility in singles performance, Slater enjoyed the only highlight of his shabby career as Tag champion with Rhyno. There is not much for Slater in future unless he can revamp his skills and come back much stronger.
#6. Gillberg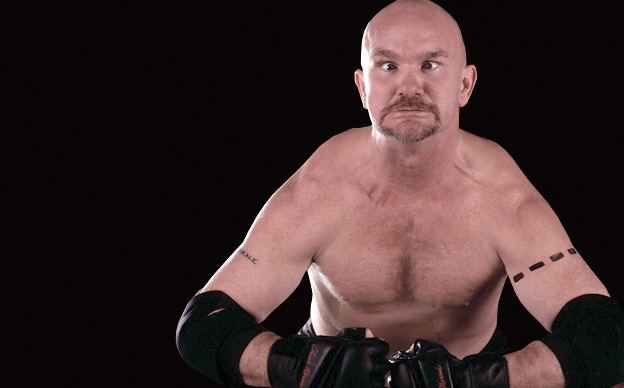 In the absence of the legend Goldberg, WWE introduced a mock version of the Jackhammer-man, Gillberg. Used plainly as a humor content, Gillberg would mock everything from Goldberg's music to gear and entry.
The only difference was, Gillberg was not even half as strong as who he mocked. His weak and severely unimpressive performance amplified his longest reign as the Light Heavyweight Champion of all time.
Irrespective of the fact that it was comic relief, WWE soon realized they had run out of options with one of the Weakest wrestlers. The discount Goldberg gimmick was discontinued soon after.
#5. Lana

The Ravishing Russian was seen by the side of the Bulgarian Brute, Rusev ever since they debuted in the main roster in 2014. Lana would shout encouraging words as her Bulgarian would 'crush' his opponents.
However, that is where Lana's activities ended. The real-life spouse of Rusev, Lana was seldom seen in ring, wrestling. She would sneak out at the first opportunity she had, and avoid wrestling at all.
It goes without saying, Lana was an impressive ring-side presence, but beyond that, a fumble.
#4. Curt Hawkins
The 'Fact' that Curt Hawkins was made to face was that he was on the largest streak of losing WWE had witnessed in modern era. With consecutive 100 losses, Hawkins was a figure only worthy of sympathy.
However that did not refute his streak, as he proceeded to lose 269 matches, the biggest streak of losing ever. Almost zero in-ring charisma and minimal talent had garnered him a spot among the Weakest wrestlers. He had scraped up one win against Dawson, but he was let go this April, for budget cutting.
#3. Santino Marella
'Cobra', the strongest weapon in the otherwise haggard arsenal of Santino Marella had helped him garner titles and a bit of fame. The pump action hand gesture made to look like a snake was a 'terrifying' finisher many jobbers fell prey to.
This was the single-most successful tool that helped Marella win several championships including the IC title and the US title. Other than that, he was an odd fellow, known mostly for his shenanigans in-ring to lighten the mood.
He was used against the women to help them go over given his position among the Weakest wrestlers. Later on, he was completely removed from television.
#2. Hornswoggle
Standing at only 4'5″, the success of sports entertainment was beyond the grasp of Hornswoggle. Lacking any sort of actual strength and absolutely unable to compete with other wrestlers, his status was dwarfed into slow oblivion.
Although he had partners like Finlay and The Great Khali, Hornswoggle was not really capable of actual wrestling. A vessel of dark humor, Hornswoggle was also portrayed as the illegitimate child of Vince McMahon.
The tiny-explosive, large-boom gimmick overused, it was evident, the company had no more use for him. Arguably number 1 among Weakest wrestlers, he was released soon after.
#1. James Ellsworth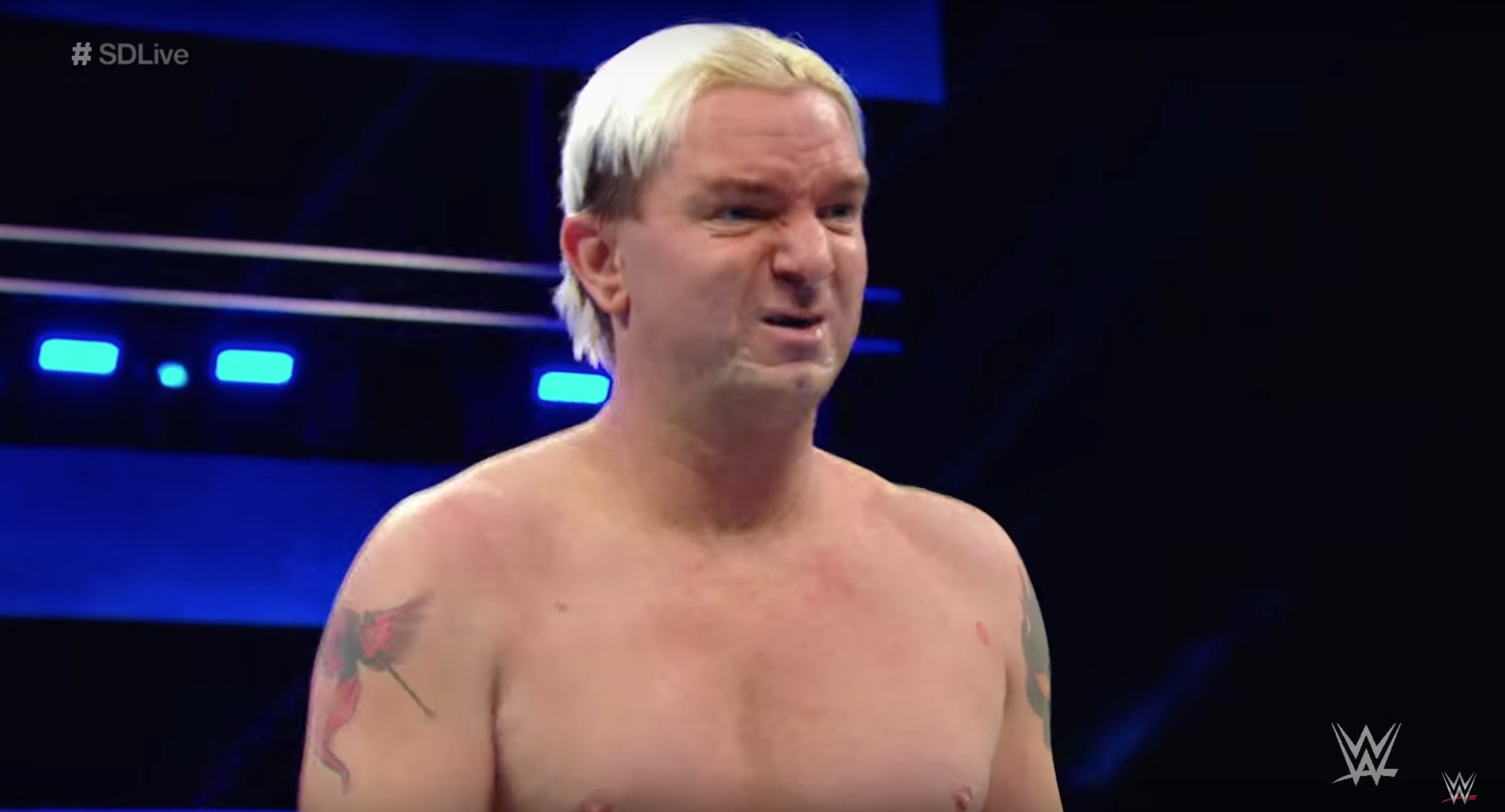 Easily the weakest performer WWE has seen in years, James Ellsworth was a pedestal to be stepped on. His weak stature and complete lack of strength earned him a sympathetic reaction before he turned heel.
feuding with the likes of AJ Styles and Dean Ambrose, Ellsworth made a bit of name for himself. Although, he was a complete goof-up in ring.
Considered too weak for men's division, he was removed to women's department. Even there, he was just a manager and whichever inter-gender match he did participate in, he was largely dominated. 
Understanding he was not helping the company in any way, one of the Weakest wrestlers ever, was soon released.