After NFL icon Tom Brady's retirement Bucs picked Baker Mayfield, HC Todd Bowles lavishes praise on star QB: "He's Hungry"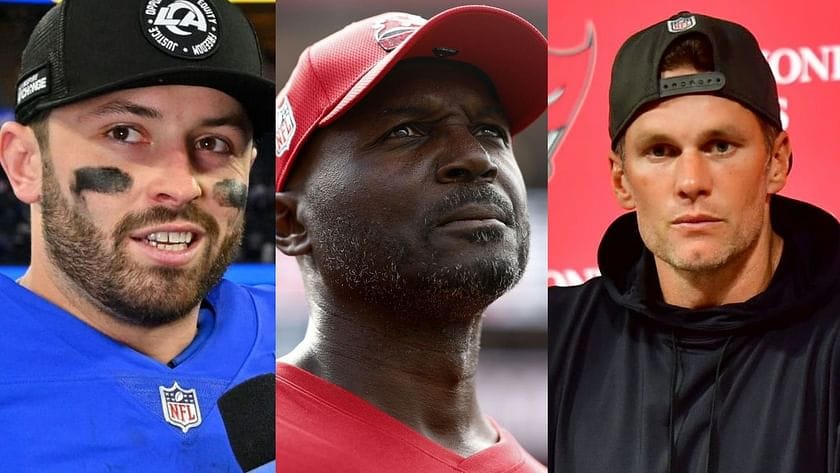 After playing for the Carolina Panthers and Los Angeles Rams, Baker Mayfield has joined a new team, the Tampa Bay Buccaneers. The team first had Tom Brady but after his retirement, Mayfield is filling that void of quarterback. Everyone has high expectations from the new quarterback.
Toad Boach, the head coach of the team recently talked about Mayfield. He admired his confidence, leadership skills, and ability to make throws while on the move.
Bowles stated that Mayfield naturally attracts his teammates and brings excitement to the game. He also mentioned that Mayfield is driven and eager to succeed.
"Guys naturally gravitate towards [Mayfield]," Bowles said. "He has an excitement he brings toward the game. And he's hungry."
How did Baker Mayfield perform last season?
During the 2022 season, Baker Mayfield played for the Carolina Panthers. He also played for the Los Angeles Rams. He started in 10 games across these two teams and had a completion rate of 60% for a total of 2,163 passing yards.
Throughout the season, he threw 10 touchdown passes but also had eight interceptions.
Who are the other top players on Bucs' roster
According to Bowles, the Buccaneers have a strong roster with several top players. He emphasized that being the hero or the standout player is not necessary. Instead, they rely on the collective efforts of the team. Some notable players mentioned by Bowles include Mike Evans and Chris Godwin, who are wide receivers. He also mentioned running back Rachaad White, offensive tackle Tristan, center Ryan Jensen, and tight end Cade Otton.
"You have guys that you can play with, and you have pieces, so you don't have to be the guy. You just really need to drive the car."
Bowles emphasized that the team has other great players as well. They need to work together for the success of the team rather than relying on one person (Mayfield). No doubt, making comparisons between players is wrong.
We should look forward to how well the team will play rather than comparing Mayfield with Tom Brady. Let us know your thoughts regarding this in the comments section.