James Harden, the former guard for the Brooklyn Nets and the 2017-2018 NBA MVP recipient, who was involved in a significant trade during the 2022 season to the Philadelphia 76ers, has recently made headlines once again. This time, it stems from a Twitter video he shared in which he repeatedly accused the 76ers' President, Daryl Morey, of dishonesty.
His online outbursts, targeting the president, have raised concerns about the potential burying of the legacy he meticulously built during his tenure as a beloved star of the 76ers.
James Harden wants to play in CBA
In a recent Twitter video clip, Harden unequivocally stated, "Daryl Morey is a liar, and I will never be a part of an organization that he's a part of." The fallout from this public declaration has led to widespread speculation about Harden's future, particularly given his desire for a trade away from the 76ers.
Shortly before James Harden's verbal attack against Daryl Morey and his proclaimed intent to create an uncomfortable atmosphere for the Philadelphia 76ers' president, another video emerged. Harden has been fervently expressing his aspiration to play in Houston, a wish that is reportedly being met with unyielding resistance from the 76ers' President.
While this tussle ensues, it's worth noting that Harden is in China where he has taken the opportunity to share his profound appreciation for the warmth and adulation he receives from Chinese basketball fans whenever he graces their courts.
James Harden has expressed a desire to play a season in China, per @PompeyOnSixers

"Every time I come here, the love is just like … it's crazy, you know what I mean?So I feel like they deserve to actually see me come play here. … Love is always crazy here." pic.twitter.com/sTd4c0jXwY

— NBACentral (@TheDunkCentral) August 17, 2023
He however posted this to affirm his desire to quit the 76ers "Every time I come here, the love is just like … it's crazy, you know what I mean? So I feel like they deserve actually to see me come play here. … Love is always crazy here."
In light of the above-mentioned statements, it's plausible to infer that Harden is contemplating a shift from the Philadelphia 76ers to embrace a new chapter in his basketball journey, potentially marked by participation in the Chinese Basketball Association (CBA).
Will James Harden play for the 76ers after his harsh remarks
As NBA Superstar James Harden takes a firm stance, he unequivocally affirms his stance regarding his association with the Philadelphia 76ers. He vehemently asserts that he will refrain from representing the team as long as Daryl Morey occupies the general manager role.
Harden's unequivocal words were pronounced during a sponsorship event held by Adidas in China, where he openly conveyed his dissatisfaction with Daryl Morey's influential position within the organization.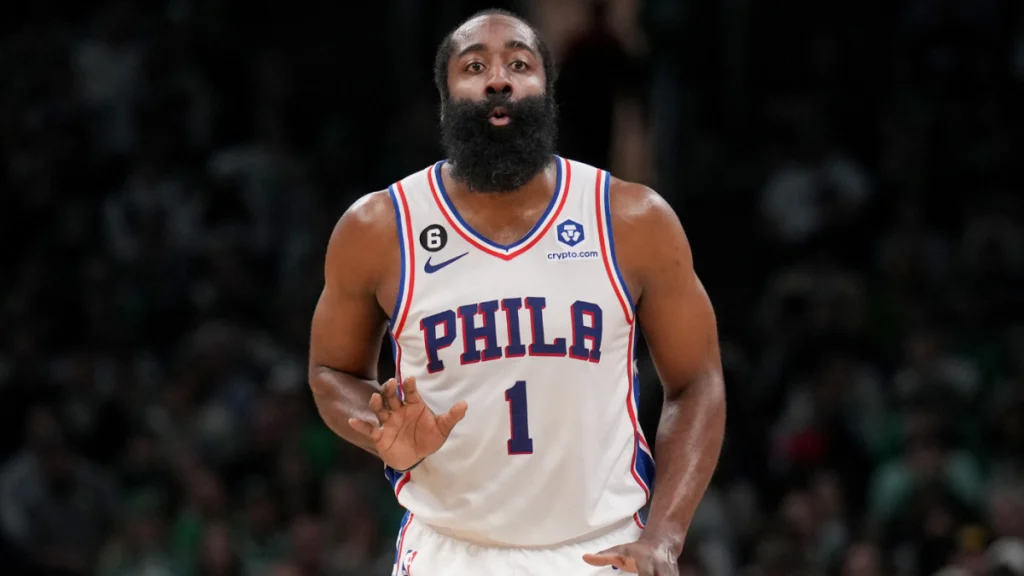 The salient and direct proclamation by Harden brings into sharp focus the ongoing negotiations and mounting tensions between the accomplished player and the Philadelphia 76ers management. This implies that James Harden might not Play for the 76ers again.
What do you have to say about the recent development of this story? Leave your comment in the comment section.