Recently, Michael Rubin's Fourth of July White Party made a lot of buzz on social media. Many stars attended the party including Kim Kardashian, Tom Brady, Haily Bieber, and many other celebrities. There were people from both the sports and entertainment industries. Bengals quarterback Joe Burrow was also spotted at the party.
Social media was abuzz with reactions to the star-studded gathering, with many fans expressing their excitement over seeing Burrow rubbing shoulders with some of the biggest names in the industry.
Joe Burrow joins A-list celebrities at Michael Rubin's 'White Party'
Joe Burrow was spotted at the White Party. Michael Rubin himself shared a video on Twitter, showcasing the festivities and featuring Burrow alongside other notable figures.
A literal movie – white party 2023 recap pic.twitter.com/1D3vlpCNBq

— Michael Rubin (@michaelrubin) July 4, 2023
A lot of pictures were shared of him. He even reposted a few pictures on his Instagram account with Devin Booker and Kevin Durant.
📲| New photo of Joe! pic.twitter.com/aR4iXir8om

— Joe Burrow Updates (@BurrowUpdates) July 4, 2023
Many other NFL stars were spotted at the party including Tom Brady. Other NFL stars who joined the party were Micah Parsons and C.J. Stroud, among others. NBA stars were also present at the party including Joel Embiid and James Harden.
The entertainment quotient was further elevated by electrifying performances from renowned musicians Ne-Yo and Usher.
Is Burrow the Bengals' starting QB for NFL 2023?
As Joe Burrow immersed himself in the glamorous atmosphere of Michael Rubin's "White Party," the question arises: Will he continue to be the Cincinnati Bengals' starting quarterback for the upcoming NFL season in 2023?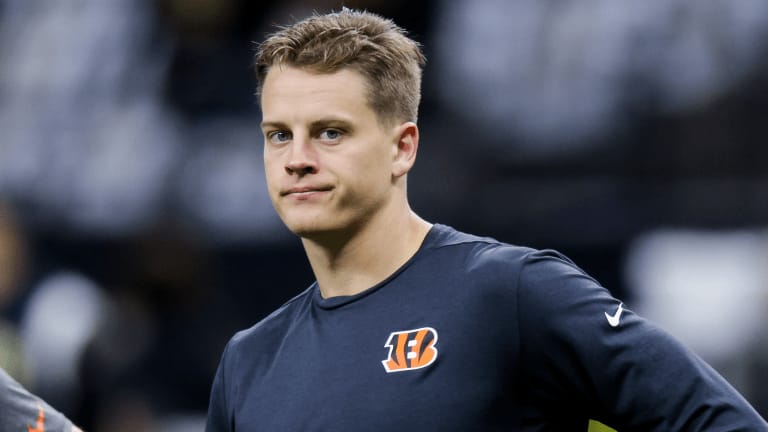 His career trajectory thus far suggests an affirmative answer. Burrow has guided the Bengals to the AFC championship game in both of the two seasons he has been 100 percent healthy. He came within one play of winning the Super Bowl the previous year. Burrow has played hard and led this club to new heights despite the offensive lines doing him no favors in any of his three seasons to yet.
Burrow will sign an extension this offseason, which means that he won't just be the Bengals' starting quarterback in 2023, but also probably for the next 5+ years. Justifiably so.
He deserved this extension and now it will be a treat to watch him with the Bengals again leading his team to new achievements.