Top 10 best MotoGP racers of all time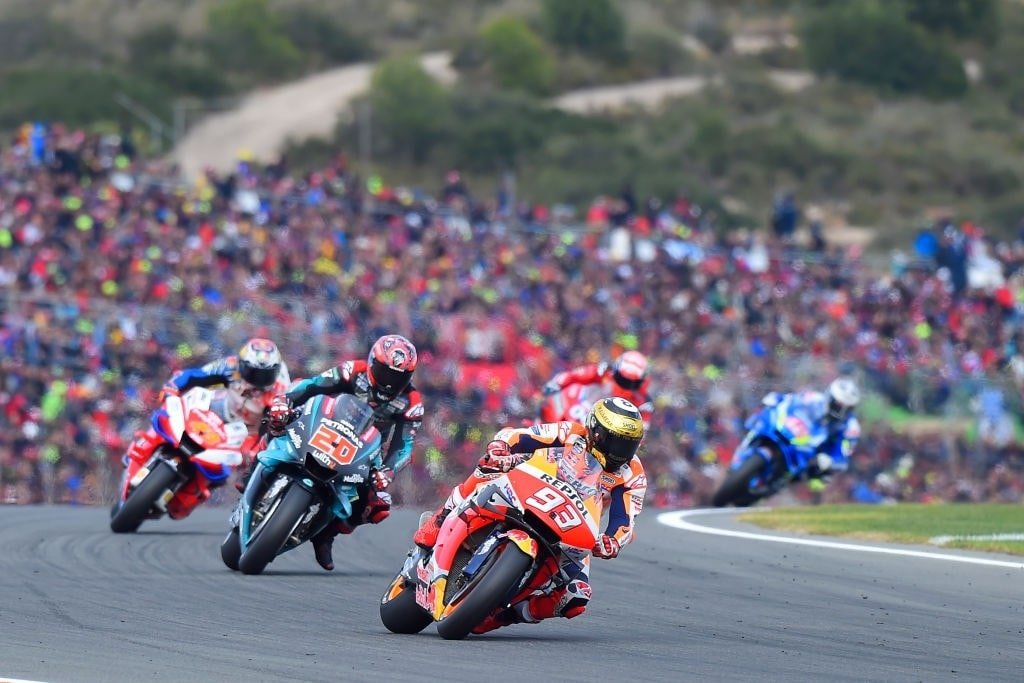 MotoGP or Motorsports racing, in general, has gained its popularity due to the fierce speed of vehicles on display. Unlike Formula 1 or NASCAR, MotoGP has its charm of its own. What sets MotoGP apart from NASCAR and Formula 1 is that it differs from both, in its form. While Formula 1 is a racing industry based on supercars, MotoGP is based purely on motorbike racing. Therefore, Sportszion has enlisted the 10 best MotoGP racers of all time and a trip down memory lane to unearth their feats.
MotoGP, NASCAR and Formula 1: What are the differences?
NASCAR, however, is an entirely different sporting event, though it is included in the genre of racing. NASCAR races occur mostly in circular or oval tracks, whereas there's no certain shape designated for Formula 1 or MotoGP. Every city that hosts the MotoGP or Formula 1 race, has its unique racing track.
Another crucial point of difference that sets the events of NASCAR, Formula 1 and MotoGP is the view from the gallery. NASCAR races occur in an enclosed arena, giving the spectators a view of the action for the entire span of the races. However, due to the vast length of the race tracks in MotoGP and Formula 1, spectator galleries can not be set throughout the area.
Sometimes the race tracks are beside the beaches and sometimes it's the routeway inside the Metropolitan cities. However, open spaces often let the spectators enjoy the races sitting and relaxing on the grass dunes by the race tracks.
People have always loved to outpace time and as a result, have loved chasing it. Horse races are a prevalent form of entertainment that has reigned for centuries. However, with the advent of automobiles and technological advancement, people have found out their passion for races in them. Though horse races are still quite popular, a large number of audiences now prefer races on two wheels and four wheels.
Throughout decades, bikes and bikers have been an inseparable bond (a bond still better than Twilight). They seek the fast pace, and breakneck movements on their bikes serve as an impetus for them.
What is MotoGP?
The Moto Grand Prix has steadily grown on to become a major sporting event. A series of bike races decide a winner at the end of the season. Before the beginning of every race, three sessions of time trial occur that determine which rider starts at the pole position and who begins at the very last row.
Each biker races under the outfit of a bike manufacturing brand. Motorcycle brands like Honda, Ducati, and Yamaha are the biggest names in MotoGP.
MotoGP has produced a large number of quality racers in the last seven decades of its existence. Let us have a look at the Top 10 Best MotoGP racers of all time:
#10.

Kenny Roberts- MotoGP Pioneer
Fans acknowledge Kenny Roberts as a pioneer in motorsport racing. The American revolutionized the sport introducing the knee-down rear-wheel steer technique that is chiefly used in the tracks nowadays.
Roberts was the first rider in the 500cc circuit of motorsport racing to win the championship in his debut season. Amongst many, Kenny is chiefly remembered for his intense rivalry with Barry Sheene. Who can forget the duo contesting for the 1979 Grand Prix title? However, Roberts eventually went on to win that year. He won three straight championships from 1978-1980.
Added to his long list of achievements, Roberts had won the 200 thrice and Imola 200 twice. He even tasted victory in the Laguna Seca 200 six times. All these races shaped Roberts' career and put him in our list of best MotoGP racers of all time.
In MotoGP, Roberts has 24 wins and 44 podium finishes out of the 60 races that he had started. What a phenomenal record that is!
Roberts has left a legacy after him so that Kenny Roberts Junior triumphed in 2000.  Roberts after his retirement took to the helm of Team Roberts guiding racers like Wayne Rainey and John Kocinski.
#9.

Jorge Lorenzo
Lorenzo makes the list of 10 MotoGP Riders of all time based on his impressive numbers in modern era racing. Lorenzo has accumulated 47 Grand Prix victories and 114 podium finishes (which is only second to Valentino Rossi).
Jorge is a three-time World Champion in 2010, 2012 and 2015. He is primarily known for his surreal record of picking up 383 points in his first title-winning season of 2010.
Throughout his premier-class career, Lorenzo had exclusively ridden motorbikes of the heavyweight factory teams. He started with Yamaha from 2008 to 2016, switched to Ducati from 2017 to 2018. His final season saw him riding the Repsol Honda.
He became the first Spanish rider to have triumphed in multiple premier-class championships. His popularity is so immense in Spain that the Spanish Grand Prix organizers – Circuito de Jerez renamed the thirteenth corner as "Curva Lorenzo" (The Curve of Lorenzo).
Moreover, the Spaniard throughout his career has amassed over 2900 points. His feud with Dani Pedrosa, Valentino Rossi, and fellow countryman, Marc Marquez is etched in everyone's memory.
Lorenzo retired from professional racing in 2019 and presently a test driver for Yamaha.
#8.

Casey Stoner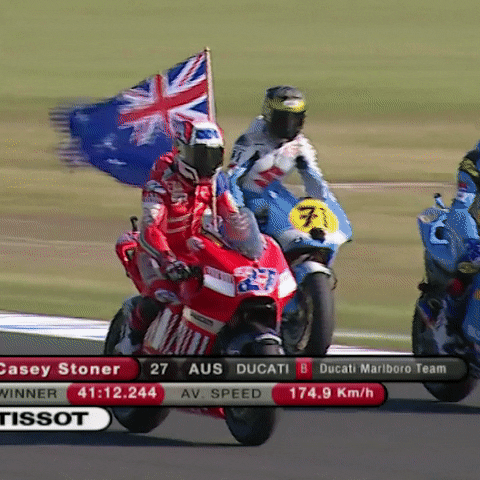 Casey Stoner the Aussie, who is one best MotoGP racers of all time, appears on the list due to his innate capability of pushing the motorbike further forward. Stoner was the chief component of maximizing his potential with limited resources.
In his short career, Stoner had portrayed his knack for winning races as he finished with staggering numbers. As a result, he picked up 38 wins and 69 podium finishes in just 115 starts, becoming one of the best MotoGP racers of all time.
In 2009, Casey started the season and was having a dream run until he fell sick. Anemia struck in and his hopes of claiming the Championship withered away. On 17 May 2012, he announced his retirement stating that he longer enjoyed the sport. He wanted to spend time with his family away from the stressful politics of MotoGP.
In 2007, he had handed Ducati their only win. Whereas, in 2011 in a fascinating return to Honda he raced on to win the title proving his worth with different manufacturers.
It's a huge loss on the part of the MotoGP fans around the world that Stoner retired at such an early age.
#7.

Eddie Lawson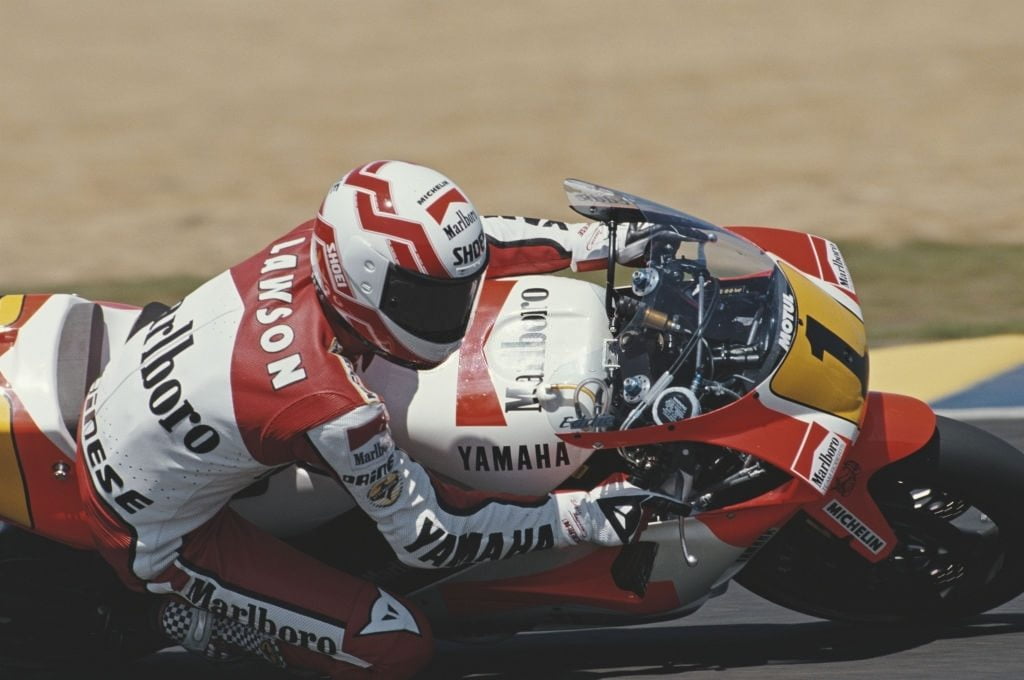 The American Eddie Lawson has four World Championships to his name. He was crowned world champion in 1984, 1986, and on two consecutive years in 1988 and 1989.
Lawson is popularly known as 'Steady Eddie' because of his steady composure on the bike. He used to chip in with points regularly.
His steadiness reflects in his championship wins that he won with two different racing companies. His first two titles were won with Agostini Yamaha whereas, the last one in 1989 he won it with Honda
Lawson began his career in 1983 as Kenny Roberts' teammate. However, he was more of an apprentice in that season. After learning skills, he started races regularly in 1984, moving to the zenith of the pile. Lawson shocked the entire world when he decided to part ways with Yamaha. What was even more shocking was the fact that he went on to join the archrivals Rothmans Honda. There he worked with Erv Kanemoto.
Lawson was inducted in the Motorcycle Hall of Fame in 1999, and Motorcycle Hall of Fame of America in 2002. Lawson ended his career with 31 wins and 78 podium finishes from 127 starts.
#6.

John Surtees
John Surtees is one of the best MotoGP racers of all time. Surtees in 1964, became the only MotoGP racer to have won both the Motorsport as well as the car racing World titles. He raced for heavyweight Formula 1 teams like Lotus and Ferrari.
Surtees has four world titles in the 500cc category and three titles in 350cc in his kitty. He won the Motorsport Grand Prix premiership 1956 and three consecutive titles from 1958 to 1960.
Surtees happened to be the founder of the Surtees Racing Organisation. In this organization, he worked as the constructor for Formula 1, Formula 2, and Formula 5000 for eight years. The Racing Steps Foundation designated him as their ambassador. He was the first man to win the Senior TT at the Isle of Man TT for three consecutive years.
Such was his prowess in the Grand Prix circuit that Italian nickname Figlio del Vento (son of the wind). In 1996, Surtees was inducted into the International Motorsports Hall of Fame that had put the cherry on top of his illustrious career.
John Surtees left us for his heavenly abode in 2017. Thus, marking the end of the greatest British Motorsport racer of all time.
#5.

Mike Hailwood
The British lad Mike Hailwood, popularly nicknamed as 'Mike the Bike' is one of the best MotoGP racers of all time. Debates have popped up time and again about who between those two Surtees and Hailwood is better.
The comparisons have certain reasons validating each point. Mike Hailwood just like John Surtees had made a move from Motorsport racing to Formula 1 racing. However, unlike Surtees, Hailwood wasn't successful in Formula 1. In fact, a car crash in 1981 wiped away all his dreams of being successful in that field. Along with his nine-year-old daughter, Hailwood suffered the tragic fate of death.
Hailwood is remembered for his four back to back titles from 1962 to 1965 in 500cc premier class category.
#4.

Mick Doohan
Michael 'Mick' Doohan's career, lasted for eleven long seasons showcase him rallying in races on his Honda. He raced from 1989 till 2000, in which he triumphed in five straight years from 1994 to 1998.
Doohan is also regarded as a mechanic as he had great knowledge and insight into 500cc motorcycles. It's widely known how he used to tune and fix his own Honda motorcycles up.
In just 37 starts, Doohan had accumulated 54 wins and 95 podium finishes to his name. He also has the credit of winning a Superbike world championship race.
#3.

Marc Marquez- Youngest MotoGP winner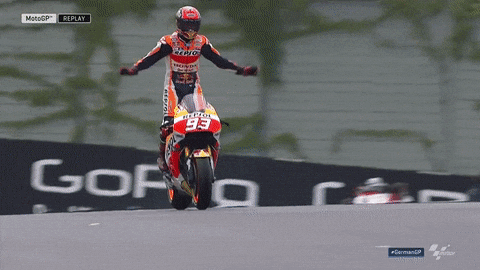 Marc Marquez stormed into the scene of MotoGP racing in 2013. Winning in his debut season, he became the first racer to do so since Kenny Roberts in 1978. As a result, he is nicknamed the 'Ant of Cervera', meaning the 'Thunder of Cervera'.
Marc has become a household name in Spain, a country known for its craze for racing. Out of his 8 Motorsport Championships, Marquez has made an indelible mark in MotoGP winning 6 titles in it.
He has 56 wins and 95 podium finishes in 127 starts. In 2010 and 2012, he won the Moto2 Championships. Whereas, he has won seven MotoGP titles from 2013-2019, missing out only in 2015.
If you come back a few years later, you might as well visualize a change in proceedings of the list. If Marquez continues on his current form, he might go onto be marked as the greatest MotoGP racer of all time.
#2.

Giacomo Agostini- MotoGP legend
In the runner up spot, comes Giacomo Agostini. The Italian is a great ambassador of the sport as he still works for the benefit of Grand Prix Racing.
Agostini will always be remembered by Yamaha fans as he handed them, their first victory. In 1975, he won his last Championship with Yamaha, ending the dominance of his previous employers MV Agusta.
He won seven consecutive Grand Prix titles from 1966 to 1972. As a result, Agostini was the face of Motorsport racing in the 1970s. With 122 career wins, he gives a tough fight to Valentino Rossi.
Amassing 1577 career points and 159 podium finishes, Agostini is acknowledged to be one of the MotoGP greats of all time.
#1.

Valentino Rossi- MotoGP greatest of all time
Valentino Rossi is without any doubt, the MotoGP GOAT – greatest of all time. The Italian has nine Motorsport championships to his credit, out of which seven has come in the top-level premiership.
Nicknamed as 'The Doctor', Rossi's jaw-dropping career statistics even surpasses that of Giacomo Agostini. With the turn of the millennium, Rossi's grandeur as a world-class racer surfaced before everyone. He won five consecutive titles 2001-2005 at a stretch.
Two decades into the sport and standing at the present age of 40, Rossi is a living legend. His superstar status has helped the world of racing a lot, flocking in fans towards it.
Valentino Rossi has raced his entire career with the number 46, even when he was a champion. He has over 340 starts to his name and over 5300 career points, which is way more than others.
With 89 wins and 198 podium finishes, Rossi holds records galore and is head and shoulders above others.
All the names on the list are legends of the sport. They have not only created an identity for themselves but also upheld Motorsport racing to the world. Each one of them holds unique records and has left fans around the world enthralled.
MotoGP or Motorsport racing, in general, would have been of lesser significance, had not these stars stepped in. Their sheer love and dedication towards the sport are evident from their rigorous training and continuous effort put on race days. Injuries too could not prevent these legends from returning to the race track time and again.
This list did not highlight the best racers of this era and the previous one. It also acted as a remembrance of the dead heroes of the motorsport racing track. The superstars who are no longer with us might be gone; but surely, they are not forgotten.
MotoGP expectations:
Though every racer out there has their style and dreams of being a world champion. Hardly a few can achieve that. Those who can are in the list of Top 10 best MotoGP racers of all time. These racers have not only achieved legendary status but also have been a source of inspiration to countless youngsters. Their unwavering faith over their capabilities and daunting mental strength make them a cut above others.
While it is saddening to grasp on to the fact that most of the racers in this list won't ever grace the track again. Similarly, it fills up with excitement to know that MotoGP is indeed heading in the right direction. As a result of which we would be able to watch more world-class talent emerge and come to the forefront. Therefore, let us wait in anticipation of more intense rivalries and thrilling races that would give some new all-time greats.