The Milwaukee Bucks are preparing for the 2023 NBA playoffs after a wild regular season. This is where history is truly made, and a single postseason run can change a player's entire perception. Giannis Antetokounmpo and Khris Middleton proved that after winning the championship in 2021.
The Bucks practiced at the Sports Science Center on Tuesday to focus on their principles and keep in basketball rhythm. Since they will not know their opponent until Friday night following the play-in games, the team focused on tightening up some concepts and principles, working on offense and defense, and getting a scrimmage to condition and blow it out a little.
Khris Middleton aggravated a knee injury in the game against the Bulls on April 5, and he was not a full participant in the session on Tuesday. However, he did some post-practice individual work, and the hope is that he can practice in full by the end of the week.
Middleton had returned to a full workload minutes-wise on March 7, and in the 11 games he played before the Bulls game, he averaged 19.9 points on 47% shooting, 7.0 assists, and 4.8 rebounds per game. Grayson Allen and Pat Connaughton have also been dealing with sprained right ankles, and both were limited participants. Giannis Antetokounmpo, who missed the last couple of games of the regular season with right knee soreness, participated fully.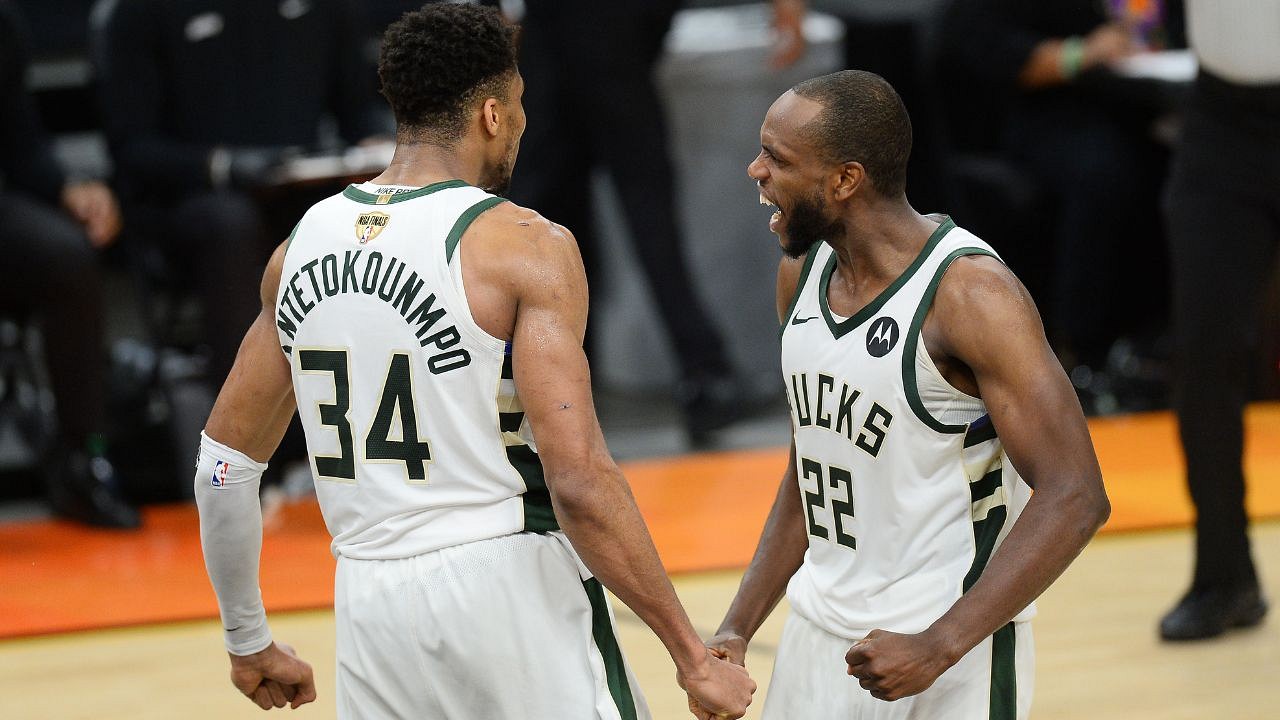 Antetokounmpo has managed soreness in both knees, a sprained right wrist, and an injured right hand, along with other bumps and bruises. Despite this, he is trying to get as ready as he can and enjoy the game, taking it one game at a time. With a few days off, he can take care of his body, sleep, eat some good food, play with his kids, and watch some Netflix. This downtime is always good for him and his teammates and will hopefully put them in a good place and be ready for whenever they play and whoever they play.
As for the week of no games and no opponent, the assistant coaches will be scouting the play-in teams, and the players will be watching the games as well. It is fun to win as many games as possible, have the best record, be the No. 1 overall seed, but the downside is waiting for the opponent until two days before to prepare. They get some time off to focus on themselves, getting shots up, resting their bodies, and getting ready for Sunday.
Rest and Recuperation: Giannis Antetokounmpo Prepares for NBA Playoffs with Downtime
Giannis Antetokounmpo, the Milwaukee Bucks' superstar, understands the physical and mental strain that the NBA playoffs can take on teams, particularly after a long regular season. However, the Bucks' top seeding in the Eastern Conference allowed them some time to rest and prepare while awaiting their first-round opponent in the NBA playoffs. Giannis is using this time to recover and prepare himself mentally and physically for the upcoming battles.
Despite missing some games due to injuries this season, Giannis is making the most of this downtime to ensure he is ready for the playoffs. He plans to take each game as it comes and enjoy it as much as possible. Furthermore, he is making full use of the days off by doing only what is necessary, such as resting, eating nutritious food, spending time with his kids, and watching Netflix.
Giannis believes that this downtime will not only benefit him but also his teammates, putting them in a good place to be ready for any upcoming playoff games. Overall, Giannis is taking advantage of the rest and downtime to prepare himself for the rigorous playoffs ahead.