Being a brand ambassador of Adidas, the starting quarterback for the Kansas City Chiefs Patrick Mahomes never compromises his integrity to be loyal to the brand, even if it means concealing the logo of another brand.
Mahomes has a maddening obsession with shoes, so one of the major sports brands, Adidas, seized the chance and allowed the two-time MVP to sign an endorsement deal with them, drawing him one of the few athletes to have a limited-edition collection with any sporting brand.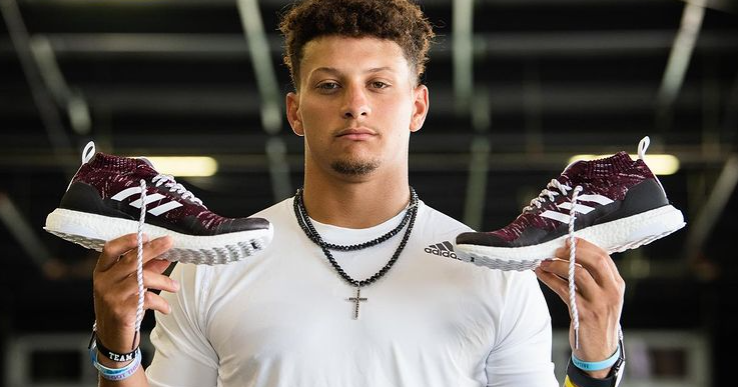 Patrick Mahomes conceals the Nike logo donning KC Royals Jersey
On Friday, the 2023 Big Slick Softball game features the Chiefs' current starting quarterback and he thrilled the Kansas City crowd on that particular day by hitting an inside-the-park home run who is a minor owner of the Royals.
However, the Pats were required to wear Royal Jerseys made by Nike on the day, and there is a Nike logo in the upper right-hand corner of the Royals jerseys. Every other player displayed the Nike logo, yet the Chiefs' star player obscured the Nike logo on the Royals' jersey.
A little @UniWatch note, Adidas athlete Patrick Mahomes had the Nike logo on his Royals jersey stitched over for the Big Slick Softball game. Every other participant had the Nike logo visible. pic.twitter.com/w7b1JQLbxn

— Mason Voth (@TheRealMasonV) June 3, 2023
Funny enough, the quarterback's act did not go unnoticed by his fan and soon they discovered the QBs' loyalty to his brand.
Mahomes and Adidas working on their next big project
The two parties first agreed to work together in 2017 when Mahomes first turned professional additionally in the following year, the 27-year-old s' quarterback was given his first starting quarterback position.
With his growing list of accomplishments, Pats has established himself as a brand already, as a result, his shoe line and endorsement business are booming, and he recently signed a multimillion-dollar contract with the.

The Mahomes, Royal Blue, a new color shoe for the line that was specially created for NFL players' needs and as an honor for the 2023 Kansas City Royals season, was released in April by him and Adidas.
The pricey sneakers aren't cheap, but Mahomes fans who can portray themselves as brand loyalists like the quarterback can get a better deal.