Novak Djokovic has broken grand slam records throughout the course of the 2023 season. With his Australian Open win, he equalled Rafael Nadal's 22 crowns. Then, at the French Open, he matched Serena Williams' record and now with his US Open triumph he has achieved 24 grand slam titles, which puts him on par with Margaret Court's record.
Intense training and adequate rest should allow the Serbian to become the first person ever in the history of tennis to aim for 25 grand slam crowns. On the back of this recent success, Novak Djokovic has received praise from fans, commentators, ex-players, current players and even politicians. The topic of who the 'GOAT' of tennis is has been going around tennis circles for quite some time, but now a revered cohort of Djokovic has stamped his authority on the debate.
Djokovic crowned the greatest by Tennis legend Rafael Nadal
In an invaluable comment of Novak Djokovic's abilities and stature, Rafael Nadal called the Serbian the "Best player of all time".
Debates around the GOAT of tennis have never ceased to entertain. Some look at statistics, while others focus on the style of play. Some even call the topic a joke as it has no credibility.
In Rafael Nadal's eyes though, statistics play an important role in determining who he felt was the best player.
"I think when it comes to titles, Djokovic is the best in history and there is nothing to discuss about it" he said in an interview.
"I believe that numbers are numbers and statistics are statistics. In this sense, I think it (Djokovic) They have better marks than me and that's undeniable. It's true. The rest are tastes, inspirations, sensations that one or the other can convey to you, so that you like one or the other more. I think that when it comes to titles, Djokovic is the best in history and there is nothing to discuss about it. I congratulate him for all his achievements and it does not disappoint me.", he added.
While Rafael Nadal and Roger Federer( the other two GOAT candidates ) have missed out on the 2023 season, either due to retirement or because of injury, Novak Djokovic has taken major strides towards cementing his legacy as one of, if not the, best players in tennis history by winning 3 majors and closely losing the other final to Carlos Alcaraz.
Novak Djokovic claims fourth title in New York
In a tournament that was generally hostile to non-Americans and fervently supportive of homegrown talent, Novak Djokovic fought tooth-and-nail to reach the final of the 2023 US Open.
In the final, he displayed the best parts of his offense, defense, ground strokes and slices as he drained his opponent into making unforced errors. In a humid night, with temperatures soaring to the mid-30s, Djokovic won 6-3, 7-6(5), 6-3.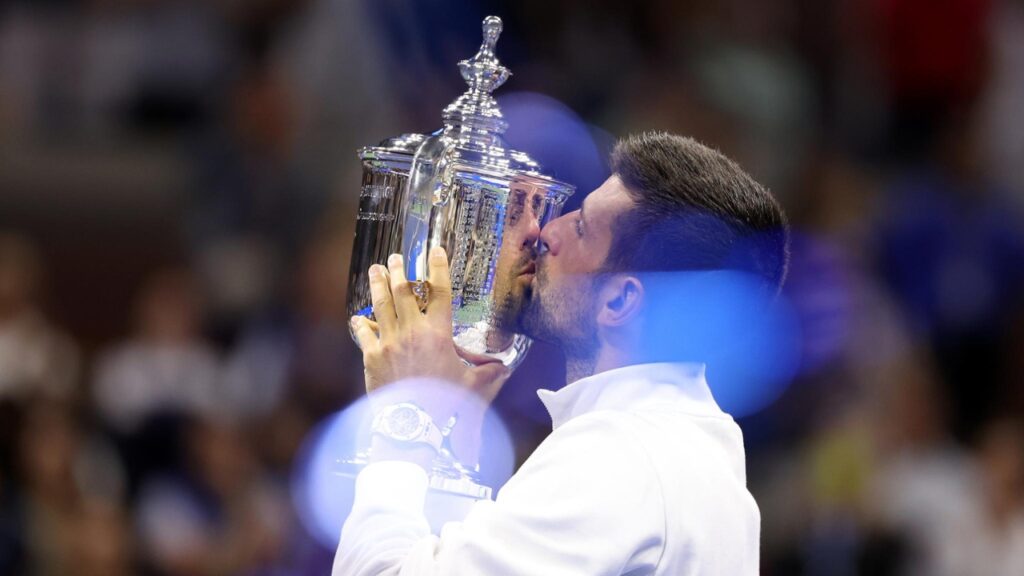 Daniil Medvedev, his adversary, later admitted to being in pain and appreciated the Serbian for his evergreen performances on the tennis court.
"I have won 2 grand slams and I think I have a nice career. You have won 24. You better stop!", he joked after the match.
Novak Djokovic was all smiles as he paid tribute to Kobe Bryant in his post-match celebration.
"I had a childhood dream when I was seven, eight [years old]: I wanted to become the best player in the world and win a Wimbledon trophy. That was the only thing I wanted. When I realised that, I started to dream new dreams and set new objectives, new goals. I never imagined that I would be here talking about 24 Slams.", he said.
Novak Djokovic certainly has all the credentials and statistics to back his stature as the GOAT of tennis. What are your opinions on Rafael Nadal's comments? Let us know in the comments section below.