In early 2020, a video featuring Denver Nuggets point guard Jamal Murray and his girlfriend Harper Hempel in an intimate situation got leaked online, causing a media storm.
Last night, Jamal Murray was taunted by a Pistons fan about a leaked video featuring him and his girlfriend Harper Hempel. The fan yelled an insensitive remark and called Murray "a b*tch", prompting Murray to attempt to confront the fan before being held back by security. Murray managed to channel his anger into an impressive performance, finishing the game with a double-double.
When did the fan make an insensitive remark about Jamal Murray?
During the course of the game, the fan-made an offensive remark to Murray, yelling "I've seen your girlfriend suck a di**" and calling him "a b*tch". The comment provoked a reaction from Murray, who attempted to confront the fan, but was held back by the refs and teammates.
The incident has quickly become a popular topic of conversation on social media.
Listen as these Pistons fans were trash talking Jamal Murray pic.twitter.com/1uocLLBpZK

— Nuggets World 🌎 (@NuggetsWorldd) March 17, 2023
The majority of users have expressed outrage at the fan's comments, with many calling for the NBA to issue a strong punishment. Others have praised Murray for keeping his composure and focusing on the game, rather than engaging in a physical altercation.
What was the result of the taunt?
Security and police officers promptly intervened, approaching the fan and escorting him out of Little Caesars Arena. The fan's removal ensured that the game could continue without further disruption.
It is unclear whether he will face any repercussions for his actions. However, it is safe to say that he has learned his lesson, and hopefully, he will think twice before taunting a professional athlete again.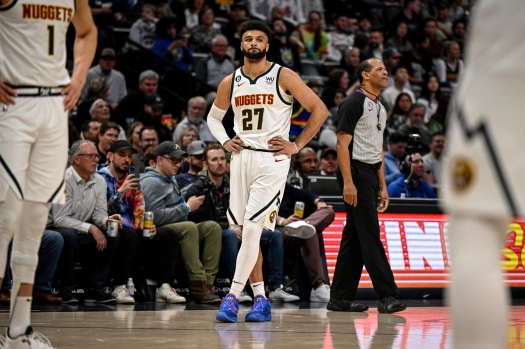 Murray let his game do the talking. The Nuggets' victory demonstrated that Murray could keep his cool on the court, even when faced with personal attacks from fans. As for the ejected fan, perhaps he should consider a new hobby—like learning when to keep his mouth shut.