Lakers' LeBron James compared to Caitlin Clark by NBA fans after Iowa beats South Carolina to advance to National Championship game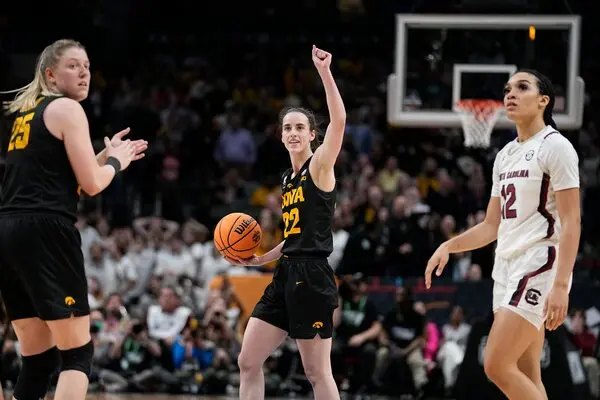 The South Carolina Gamecocks' iconic 42-game winning streak finally comes to an end after the Iowa Hawkeyes defeated them through another Caitlin Clark spectacular performance last night.
The reigning champion faced the Hawkeyes at the American Airlines Center in the event of the NCAA tournament final four. The Hawkeyes appeared on the court as underdogs as the Gamecocks have been undefeated for over a year. However, the Gamecocks couldn't capture any chances throughout the game, and the Hawkeyes clinched a narrow four-point victory.
All eyes were on the star point guard Caitlin, and she didn't disappoint the fans; she scored 41 points with six rebounds and eight assists. Her destructive demonstration surpassed every other brilliant moment last night, and the fans are overhyping the 21-year-old.
How was the fans' reaction to Caitlin Clark?
The fans started comparing his marvelous performance with that of Los Angeles Lakers star Lebron James, as her performance was somehow reminiscent of James' iconic performance against the Detroit Pistons in the 2007 Eastern Conference Finals.
Caitlin Clark defeating South Carolina pic.twitter.com/cahbot2WRW

— Ahmed/The Ears/IG: BigBizTheGod 🇸🇴 (@big_business_) April 1, 2023
Another fan showed the four-time NBA champion's stat from that season and claimed it as hers.
Caitlin Clark Statlines pic.twitter.com/lLqU48BilP

— Dakota Miles (@Kenjinful) April 1, 2023
"She's the female version of LeBron James," one person said.
She's really the women version of Lebron fr

— twizzy (@w0ah_ha0w) April 1, 2023
She's HIM

— MacJonesBurner (@XBogeyburner2) April 1, 2023
Another wrote, "This is how I felt watching it from the first quarter: she's insane."
This how I felt watching it from the 1st QUARTER she's insane https://t.co/OseQZCoifO

— Ace (@Ace12188105) April 1, 2023
After last night, Clark also became the first player to score back-to-back 40-point hauls in the NCAA's history. With this triumph, the Hawkeyes will face the LSU Tigers in the finals for the first time in the team's history. The achievements made the PG overwhelmed, as she said, "I have all the confidence in the world in this group, and they believe right back in me."
The final will be held at the American Airlines Center on Sunday, April 3. Can Caitlin Clark lead the Hawkeyes to their first-ever championship? Stay tuned to SportsZion to know further.