Lionel Messi is a man who always helps and praises his teammates. This time Messi praises his French teammate at PSG, Kylian Mbappe, in reference to the hat trick the Frenchman scored against his side in the World Cup final.
While Messi and Mbappe are teammates at PSG, they faced off in the World Cup final last year. The game ended 3-3, with Argentina winning the penalty shootout thanks to Emiliano Martinez's heroics. Mbappe's hat trick in the final carried France against a super Argentina team. Messi also scored a brace, including a goal in extra time. It was undoubtedly a final for the ages. Mbappe won the Golden Boot with 8 goals, and Messi won the Golden Ball for leading Argentina to the World Cup triumph.
Messi 🤜🤛 Mbappé

🎥 @PSG_inside pic.twitter.com/CepsytnCfh

— 433 (@433) March 7, 2023
In a recent interview with PSGTV, the club's official channel, Messi praises Mbappe and his performance in the World Cup final, saying, "It really was a breathtaking final. It was crazy how the match went. Kylian scored three incredible goals in a final! Not being able to be champion after that was crazy. But he's already won it too, and he knows what it's like to be a world champion. So yes, it was a great final for the football world. And now it's true that it's nice to be able to play in the same team with him, and I hope we can do great things here in Paris."
How are things going for PSG' after Messi praises Mbappe?
Messi last scored in a 4-2 win over Nantes in Ligue 1. It puts him just one short of 800 career goals. It was also a record of 1000 club goal involvements for the Argentine as he continues to dominate the French league. The World Cup winner has 13 goals and 12 assists in just 21 league appearances this season, helping PSG retain the first spot in Ligue 1.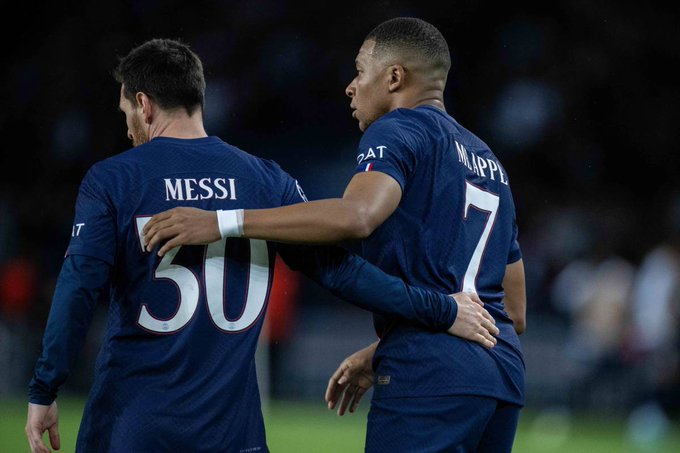 Mbappe also has achieved another record as he became PSG's all-time top scorer on the same day at just the age of 24. He has scored 25 goals so far this season.
Messi and Mbappe will hope to win PSG their first ever Champions League this season. However, they must first overcome a 1-0 deficit in the first leg of the Round of 16 ties to Bayern Munich. They will now face them for the second leg tonight.