The World Cup quarter-final match between Argentina and Netherlands was both exciting on and off the pitch. Lionel Messi was also involved in a controversial incident that day.
After Argentina eliminated the Netherlands from the FIFA World Cup, Dutch striker Wout Weghorst, and Lionel Messi clashed in Qatar. The Dutchman stayed to shake the hand of the Argentine as the latter conducted his post-match interview, which irritated the PSG star.
The whole footage of the clash has finally been released on Twitter, and it shows Messi completely disregarding Weghorst following the interview. Fans are upset with the Argentine's actions and have chastised him for allowing his ego to get in the way.
https://twitter.com/IchigoMufc/status/1639874799764926464?s=20
Fans were quick to comment on the new perspective of the clash on Twitter.
One user expressed his disappointment, "I won't lie I was disappointed seeing Messi do this."
I won't lie I was disappointed seeing Messi do this

— Chuks (@chuks_________) March 26, 2023
Another user said, "If Ronaldo did this, twitter would break." While one United fan decided to be a bit bitter, "I speak for everyone when I say Weghorst is 10x better than Messi"
I speak for everyone when I say Weghorst is 10x better than messi

— SigmaKeane🐐||(3🌟×UCL) and (13🌟×Prem) (@SigmaKeane) March 26, 2023
What happened between Lionel Messi and Wout Weghorst?
Both the Netherlands and Argentina had a heated match on the pitch with many arguments and altercations. The Dutch players attempted to distract their Argentine colleagues as they prepared to take penalties during the World Cup quarter-final shootout. They were unable, however, to sway the South Americans, who emerged triumphant after a 2-2 stalemate. Weghorst had scored a brace in the dying minutes as well.
Highlighting the whole mood between the two sides was Messi's behavior after the game. Messi stated in his post-match interview, "What are you looking at stupid?" It was later revealed to be aimed at Weghorst who was waiting to shake hands with him.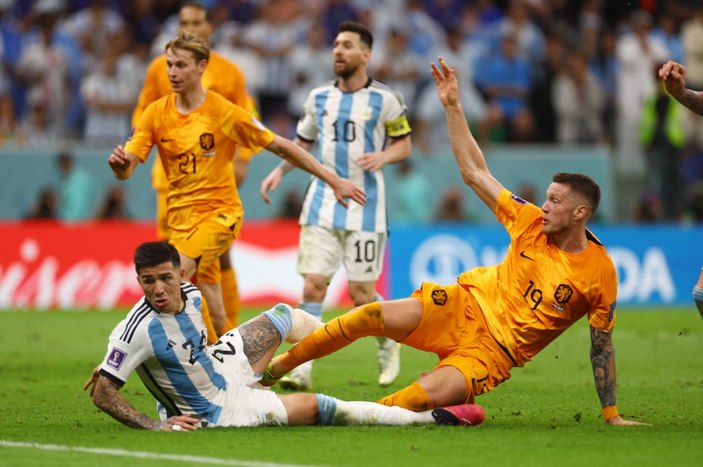 In an interview with En Son Haber, Weghorst revealed the events, "For me, everyone is the same in a match. I fight. That's what I did in that match. I had some tense moments with Messi in the match and maybe he was surprised."
He also said he respects the Argentine captain, "I respect him a lot, he's one of the best ever. After the game, I wanted to show Messi the respect I have for him, but he wasn't very open to it. Now at least he has learned my name."
Messi did later regret his actions, "I don't like what I did. There was a lot of tension and it came out naturally. A lot happened with this player and two others during the match. It came out naturally. I don't like this image."
Messi and Argentina later went on to win the World Cup. They even lifted the trophy in front of their fans this past week. Weghorst also made a loan move to Manchester United in January where he won a Carabao Cup.
What do you think about Messi's actions? Do you think it was a disrespectful act? Or something natural considering the environment? Let us know in the comments down below!