Brazilian defensive midfielder Casemiro, 30, once announced that he will stay with Real Madrid for more years following the club's Champions League final triumph against Liverpool in May, 2022.
However, rumors are now spreading that the Brazilian midfielder is the favorite to replace Paul Pogba at Manchester United in the coming days.
Why is Manchester United considering offering a lucrative deal for Casemiro?
Manchester United supporters are sick of the club's never-ending quest for a new midfielder and for much of the summer, Barcelona star Frenkie de Jong has been the club's prime objective, but as that story continues, they have begun to look at other possibilities across European continent.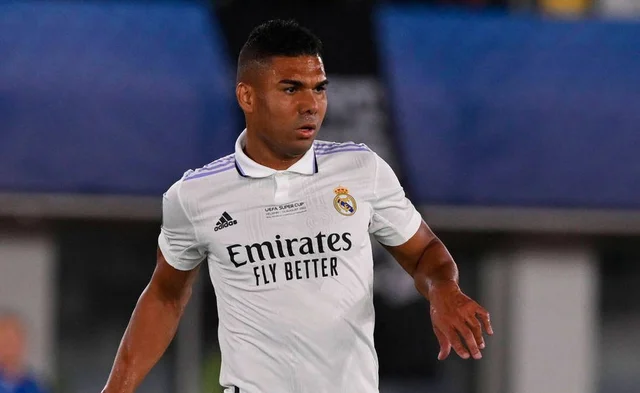 Last Monday, Juventus agreed to a £15 million price for Adrien Rabiot, however personal conditions have still to be finalized. The Frenchman can surely help Erik ten Hag's side in possession, but he's not the type of player who can cover the defensive-midfield hole that currently exists in the club.
At this point, Real Madrid's Brazilian midfielder Casemiro can play a vital role in covering up the gray areas of the Red Devils and according to some twitter posts, "Manchester United are considering a £50m bid to Real Madrid for Casemiro."
🚨 Manchester United are considering a £50m bid to Real Madrid for Casemiro. 🇧🇷

(Source: @SamWallaceTel)

— Transfer News Live (@DeadlineDayLive) August 16, 2022
The Brazil international is widely regarded as one of the top defensive midfielders in the world, and he has three years left on his contract. Aurelien Tchouameni, Casemiro's possible long-term replacement, was signed by Real for £80 million earlier this summer.
Although it is not his function at Real Madrid to coordinate build-up play in the same manner as Toni Kroos and Luka Modric do, he will certainly take opportunities to throw penetrating balls forward.
Despite being past his peak, Casemiro is incredibly agile and powerful, making him a master at sweeping up balls in the center and breaking up opposition assaults.
As a result, if the opportunity to recuperate finances by selling Casemiro this year presents itself, the European champions may take it.