The Miami Heat "Big three" also referred to as "The Heatles," consisted of three Basketball stars- LeBron James, Dwyane Wade and Chris Bosh. All three of them had been selected as first round picks in the 2003 NBA draft.
The trio delivered stunning performances and led their team to the NBA finals in each of their four seasons together. They won back-to-back championships in 2012 and 2013.Everything seemed perfect until LeBron opted out of a contract extension and left the Miami Heat in order to play for the Cleveland Cavaliers.
Dwyane Wade's honest reaction to LeBron James' departure
Heat superstar Dwayne Wade was heartbroken after hearing about LeBron's departure. Still, he did not criticize his fellow teammate for leaving because he knew that LeBron was trying to make the best decision for himself and his family.
Wade understood that but still LeBron's decision to leave Heat and go play for the Cavs came as a shock to him. His teammate Chris Bosh felt shocked too.
When Bosh received LeBron's text about leaving the Miami Heat, at first, he thought it was a joke. Later on, he found out that LeBron was Serious.
LeBron and Wade had some of the most iconic plays that the world of NBA had ever seen before, including their half court passes and crazy layups. Both LeBron and Wade have the utmost respect for each other and are good friends to this day. They still work out together and even go on offseason vacations.
Who are the Big Three in the Miami Heat?
The Miami Heat Big Three- LeBron James, Dwayne Wade and Chris Bosh were some of the NBA's most skilled, dominating and talented players. Other teams feared playing against them as they made winning for them, almost impossible.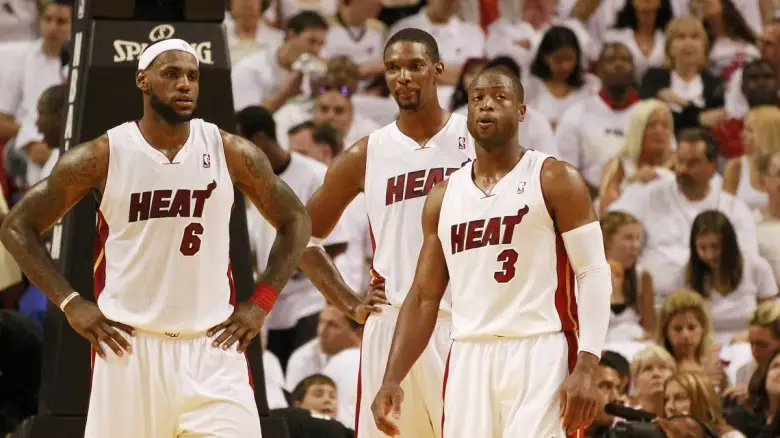 LeBron, Wade and Bosh made their debut in 2010 which did not live up to the excitement and hype. They took the court for the first time but did not play that well and lost to the Boston Celtics.
LeBron James scored the most out of the three but had eight turnovers. Wade and Bosh scored only 13 and 8 points. Besides, LeBron also received a lot of hate that day as Cleveland fans were angry about his departure from their city. Despite a few upsetting performances, the Miami Heat got back on track and won two back-to-back championships. Their trio will be remembered as one of the greatest in the world of basketball.
What do you think about the Miami Heat's iconic trio? Answer in the comments below.