Japanese wrestler Masami Odate, better known by her ring name Iyo Sky, won her first SmackDown Championship a few months ago. The "genius of the sky" also cashed in her Money in the Bank contract and shocked the new WWE Women's Champion Bianca Belair by securing the title.
With the second-longest contract in the history of Money in the Bank for a woman, she defended the first women's championship on WWE SmackDown last night against all odds and against one of the toughest Japanese women in the wrestling world, Asuka.
Iyo Sky beats Asuka to retain WWE Women's Title on SmackDown
Last night's event marked Sky's first defense of the WWE Women's Championship, which she won earlier this month against Bianca. Masami, a rising star in the wrestling world, confronted Asuka, another undefeated and formidable Japanese wrestler. The audience erupted in cheers as they witnessed the young Sky face off against the renowned Skull Reaper Kana.
Charlotte Flair watched the fight from ringside as Asuka and Sky grappled. They were evenly matched, with Sky evading Asuka's lariat and declining to shake hands. Asuka attempted a high-flying maneuver, but Sky countered with an arm drag and a head kick. Asuka tried a Kimura, a pop-up knee strike, and a missile dropkick, but Sky managed to escape with a springboard dropkick.
Despite a few missed punches, the action's intensity kept the spectators engaged with ample TV time. During a submission attempt, Bayley intervened by placing her foot on the rope beneath Sky's, but Sky countered with a moonsault and retained her championship, even as Flair confronted her.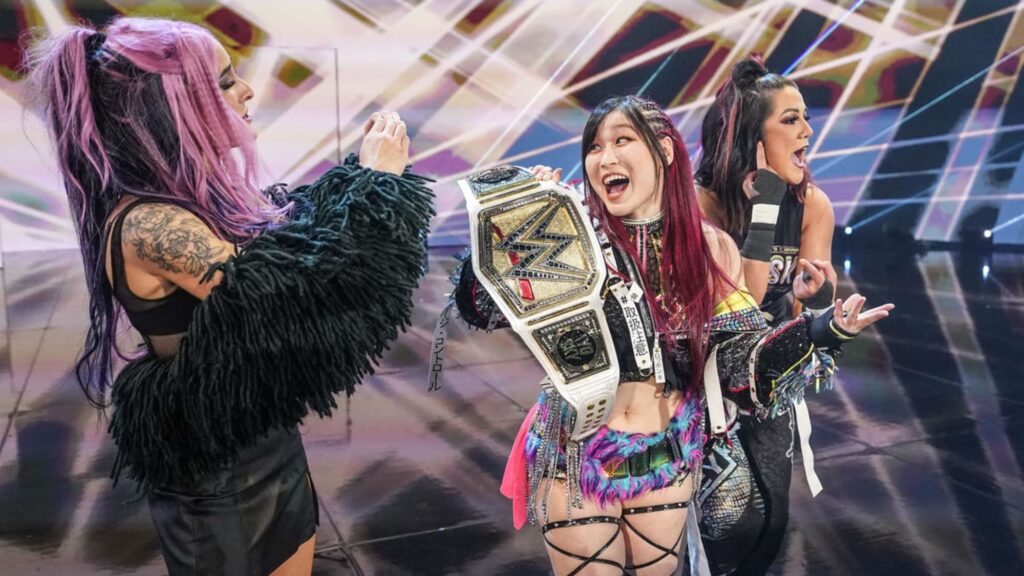 Iyo Sky explains why she once almost left WWE
Audiences were delighted to witness the rise of the new face, achieving significant milestones like becoming Ms. Money in the Bank and subsequently winning the WWE Women's Championship after her main roster debut. As one of the top names in the business, she successfully defended her title against Asuka. However, her journey during the COVID-19 pandemic was not without challenges.
In an interview with Tokyo Sports, IYO said the struggles she had in NXT almost caused her to leave the business last year. She said:
"My career in NXT was also going quite well. I thought I was going to the main roster, but there was no information. For two years due to the coronavirus, the company itself was not moving. Even though I was able to wrestle, there were weeks when I didn't wrestle. I think it was difficult for me to spend so much time asking myself, "What am I going to do here?"
"I have to follow my own policy of never giving up. In America, I could have also approached the company and said, "I want to terminate the contract". But I definitely didn't want to do that, so I set a goal to work hard until the end of my contract, and I stayed there for almost a year. I appeared at SummerSlam (August 2022) when my contract was about to end in one month."
What's your take on Iyo Sky winning against Asuka without any help from Damage CTRL? Leave a comment and tell us what you think.