In a world where even the most elite athletes are not immune to crime, the shocking burglary of Real Madrid striker Rodrygo's house serves as a stark reminder of the vulnerability that can come with fame.
As Rodrygo was busy scoring a match-winning brace during the Copa del Rey final against Osasuna, intruders were ransacking his luxurious residence in La Moraleja, a posh Madrid suburb. But what were the circumstances surrounding the break-in, and how does this incident connect with a troubling trend among high-profile footballers?
How did the burglary occur during the Copa del Rey final?
During the highly anticipated final match on Saturday, which saw Real Madrid claim victory with a 2-1 win over Osasuna, Rodrygo's house was left vacant. The Brazilian international's parents were present at the game in Seville, leaving the residence unoccupied. Sources informed that an employee of the security company responsible for the property alerted the police upon discovering the break-in. Upon arrival, officers observed several rooms in disarray but have not yet determined the extent of the stolen items.
Despite the unfortunate incident at his home, Rodrygo, aged 22, played a crucial role in securing Real Madrid's triumph. Scoring in the second minute at the La Cartuja stadium and again in the 70th minute after Lucas Torro's equalizer for Osasuna, his exceptional performance earned him the title of the final's MVP, as chosen by Spain coach Luis de la Fuente and his staff.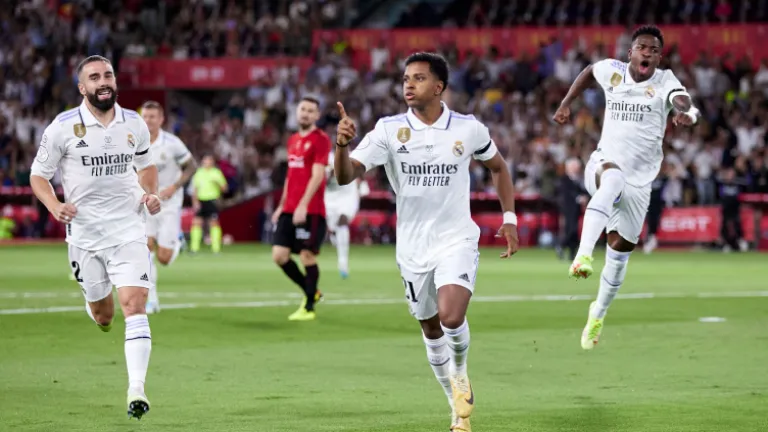 Sadly, Rodrygo's burglary is far from an isolated incident. A concerning pattern of footballers' homes being targeted, particularly in Madrid and Barcelona, has emerged in recent years. Oftentimes, these break-ins occur while the players are participating in matches.
In January 2022, Karim Benzema's house was robbed, marking the second such incident for the player since February 2019. Other victims include former Real Madrid midfielder Casemiro, now playing for Manchester United, Isco, and Lucas Vazquez. Even more alarmingly, in August 2022, then-Barcelona forward Pierre-Emerick Aubameyang was assaulted inside his home by a gang armed with iron bars.
What does this signify for the football community?
The unsettling trend of high-profile footballers falling victim to burglaries and assaults underscores the need for increased security measures to protect their homes and families.
As the world of professional sports continues to grow, it becomes increasingly important for athletes, clubs, and security companies to work together to mitigate these risks and ensure the safety and well-being of these prominent figures.