Real Reason why Kobe Bryant took Jayson Tatum under his wing to instill his "Mamba Mentality"
In 2003, the late great Kobe Bryant hit rock bottom in his career and wanted to try something unique, so he developed an alter-ego for himself called the "Mamba Mentality". The Mamba Mentality is an aggressive playstyle that made Bryant a 'shoot at all costs' player.
Bryant, in an interview with Amazon Book Review in 2018, stated, "Mamba mentality is all about focusing on the process and trusting in the hard work when it matters most." The legendary shooting guard also added, "It's the ultimate mantra for the competitive spirit."
However, the most successful basketball player ever was unaware that in the other part of the world, a 5-year-old kid was a die-hard fan of him. That kid was none other than the Celtics' young sensation, Jayson Tatum.
Tatum loved Kobe so much that he said, "When I was like 4 or 5, my mom would always ask me what I wanted to be when I got older. And I would just be like, "I wanna be Kobe". She was like, "You wanna be in the NBA?" I was like "No, I wanna be Kobe".
The world-class guard acknowledged how much the rookie admired him, and only Kobe could discover the true potential of Jayson, which no one else could. The former wanted to pass on the torch to the latter, making sure only Tatum inherited his Mamba Mentality. So, one day, the veteran invited the rookie to a 1-hour training session with him. Tatum was over the moon to get an opportunity to learn from his idol. The youngster made the most of it and learned as much as he could from his master, which gave him a skill boost.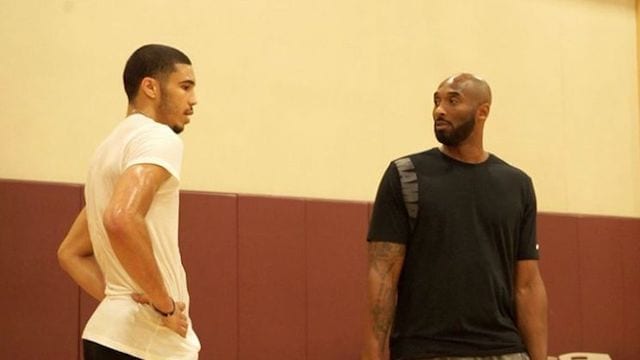 Kobe Bryant advised Tatum, "Shoot it every time. Pass if you have to. But if not, shoot it." Tatum took the advice to heart and started to take an extra shot per game, just like the Mamba Mentality. After the Lakers' legend Kobe died in a helicopter crash, the young sensation Tatum paid tribute to him by getting a tattoo on his left leg. This tattoo consists of the iconic jersey number 24 of Kobe and is in the form of a Black Mamba.