Recalling when Conor McGregor delivered brutal punch to referee Marc Gonard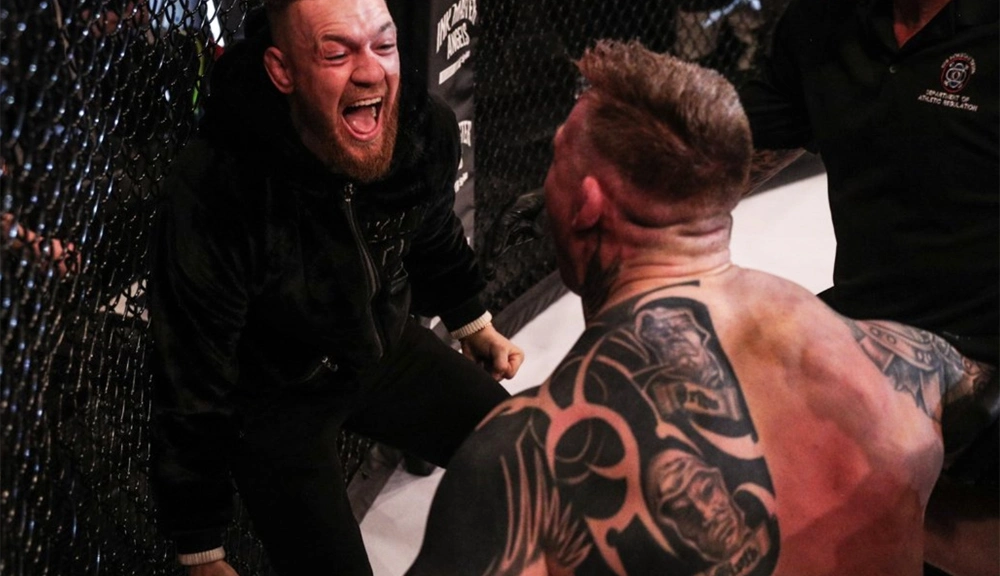 Conor McGregor is both a brilliant fighter, and an unparalleled trash-talker. His skills have taken him to the upper echelons of the sport, and today his name itself is a brand. But just because someone is sitting comfortably at the top of the food chain does not mean does not mean that they do not succumb to the perils of human emotion.
In a 2017 Bellator event, that is exactly what happened. Conor lost control over his emotions while celebrating his teammate Charlie Ward's first-round KO win. Eventually, Conor got into an altercation with the referee Mark Gonard, and appeared to punch the referee.
Back then, Conor was a UFC champion, and one of the figureheads of the promotion. In keeping with his image, the former two-division champ was very quick to apologize.
"While trying to support a loyal team-mate and friend, I let my emotions get the best of me and acted out of line.
"As a multiple weight UFC champion, executive producer, role model and public figure, I must hold myself to a higher standard. The referee Marc Gonard was making a horrendous decision in trying to pick an unconscious fighter up off the floor and force the fight to continue into the second round."
"Even against the wishes of the said fighter's coach. The fight was over. After witnessing my fighter in a fight where the worst happened and the opponent passed away from his injuries on the night, I thought the worst was about to happen again, and I lost it and over reacted."
"I am sorry to everyone. I sincerely apologize to the Director of the Mohegan Tribe Department of Athletic Regulation, Mike Mazzulli, all the officials and staff working the event, Andy Ryan and his fighter John.
"That side will always have my respect, and lastly every one of my fans. I love yous all!
"I've always learned from my mistakes and this will be no different."
His interference became a bigger issue as Conor was not a licensed cornerman during the fight. As a result, security had to intervene in the matter.
But the end of it all, he also expressed his frustration the referee, "Oh, it was a beautiful shot [from Charlie Ward]. [John Redmond's] out cold, we all knew he was out cold and he's still trying to call it.
"'Oh no, he wasn't the fight's not over.' I said, 'It's you, you rat. I see you.'"