Scottie Pippen Wife: Larsa Pippen and Other Eccentric Relationships – All You Want to Know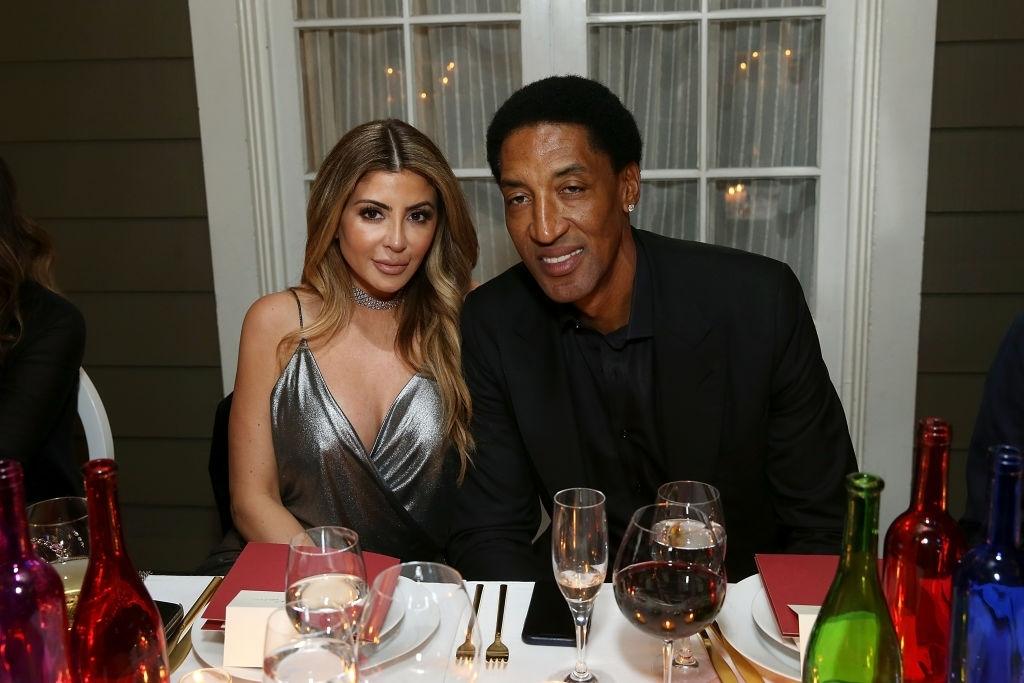 Scotty Maurice Pippen Sr., better known as Scottie Pippen is a former professional basketball player. Over the years, the ex-small forward for the Chicago Bulls made the news headlines several times, including winning championships and his bizarre and eccentric relationships.
Nicknamed as the right-hand man of Michael Jordan, Pippen had Michael beat when it came to winning the hearts of several women. Over the years, he has had a vast dating history with two marriages, an ex-fiancée, and more. Scottie is also a father to eight children with four different women.
Since Pippen's relationship with his ex-wife, Larsa Pippen was the longest he was committed to someone, we will focus primarily on all the events and facts of their marriage. Before that, let's dive a bit deeper into all of the insights available on the former athlete's romantic adventures.
List Of Scottie Pippen's Romantic Partners
Pippen has been married and divorced twice, has an ex-fiancée, and had two other girlfriends to be exact.
CHEVETTE VALENTINE
After joining the Chicago Bulls, Scottie moved to the city in 1997 and met Chevette valentine. Valentine made sure to attend almost all of Scottie's away games and, in the process, spent a lot of money on traveling and hotel costs.
However, things came to a standstill when Scottie confessed to having a child with a woman named Karen McCollum whom he had married in the early part of 1988.
After his divorce, Scottie went on dating Chevette up until 1993.
Surprisingly, after all these years, Chevette sued the veteran NBA star for 9,999 dollars in 2019 for not getting reimbursed as promised by Scottie.
KAREN MCCOLLUM
The former athlete's first wife was Karen McCollum whom he had tied knots with after their son, Antron Pippen was born in 1997. Very little is known about Karen, but it is confirmed that by profession, she is a musician.
Their marriage was short-lived and they separated two years later in 1990 but remained on amicable terms.
Sadly, earlier this year Scottie and Karen's son, Antron passed away due to reasons not made public.
SONYA ROBY
View this post on Instagram
The year Chevette and the former NBA star went their separate ways, Scottie was already expecting twins with model and his ex-girlfriend, Sonya Roby. She soon gave birth to twins Taylor and Tyler in the summer of 94'. Tragically, one of the twins, Tyler, passed away just nine days later.
Pippen initially denied all claims that he was the biological father which backfired after he was taken to court and DNA results proved otherwise. As a result, he had to pay 15000 US dollars to clear outstanding medical bills for the birth.
As for child support, a long court battle would ensue. Roby asked for 11500 dollars a month which Scottie claimed to be a little excessive. Finally, under the court's order, he had to agree to get Taylor insured through the NBA.
Much about Sonya is not known, however, according to her Instagram, she is currently a Chicago based lifestyle photographer. She also goes by the name Martin now. It is speculated that she might have remarried.
Instagram: @sonyamartinphotography
YVETTE DELEONE
View this post on Instagram
Following his split with Sonya Roby, Pippen found himself in a situation quite similar to before. He was yet again expecting a baby with his love interest and fiancée Yvette Deleone. Although this time around, he proudly claimed to be the father of Sierra Pippen, born in February of 1995.
The couple's happiness was short-lived, however. They decided to go their separate ways after a battery charge was issued against Scottie for pushing his fiancée, who later called the police on him.
The former star player was arrested and lost a court case following which he had to pay child support of five thousand dollars per month to Deleone.
LARSA YOUNAN
Scottie's second wife, Larsa Pippen, and he were together for a long time, 21 years to be exact, which is easily one of the longest-running relationships in the NBA. The aspiring model and Prime Pippen got married very soon after they met and went on to have four beautiful children together.
After a series of unfortunate events, the two got divorced in 2018.
Scottie Pippen Wife: Larsa Pippen's Facts At A Glance
Full name: Larsa Pippen.
Birth Name: Larsa Younan
Birthdate: 6th July 1974.
Birthplace: Chicago, Illinois, United States.
Age: 46 years old.
Horoscope: cancer.
Height: 5 feet 2 inches (157 cm).
Weight: 58 kgs (128 lbs).
Body measurements: 36-28-34 inches.
Father's name: Unknown.
Mother's name: unknown.
Siblings: One sister: Bella Younan.
Nationality: American.
Ethnicity: White.
Religion: Christianity.
Education: i) School: Unknown. ii) University: University of Illinois; Bachelor's Degree in Political Science.
Profession: Model; Social media star; entrepreneur; TV personality.
Build: Slim.
Eye colour: Black.
Hair colour: Blonde.
Marital status: Currently dating American Basketball player, Malik Beasley.
Ex-husband: Scottie Pippen.
Ex-boyfriends:
American rapper, Future.
NBA player, Tristian Thompson.
NBA player, Eric Moreland.
Children: one daughter and three sons.
Sophia Pippen
Scotty Pippen Jr.
Preston Pippen.
Justin Pippen.
Famous as: Ex-wife of former NBA star Scottie Pippen; Television personality; model.
Active years: 2010-present.
Net worth: Ten million US dollars (estimated).
Tattoos: Yes.
Social Media:
Instagram: @larsapippen
Twitter: @larsapippen
Facebook: Larsa Pippen
Snapchat: Larsapippen
Website: larsmarie.com
Last Update: 2021
Scottie Pippen wife: Larsa Pippen's Early Life And Education
Larsa was born on 6th July 1974 in Chicago, Illinois, United States. She spent her childhood and most of her life's first half there with her sister Bella Younan. Information about her parents is not open to the public.
As for her schooling, no such information is available on the internet. For higher education, Larsa enrolled in the University of Illinois and graduated with a Bachelor's Degree in political science.
Scottie Pippen wife: Larsa Pippen's Body Stats
View this post on Instagram
Larsa is a model and a Television personality. So, it comes as no surprise that she has to keep her body and figure in check. The mother to four children does an incredible job of maintaining a body stat of 36-28-34 inches respectively for her chest, waist, and hips.
She stands elegantly at 5 feet 2 inches (157 cm) tall and weighs 58 kgs (128 lbs) while flaunting her beautiful blonde hair and black eyes.
Scottie Pippen Wife: Larsa Pippen's Career And Net Worth
Scottie Pippen's Ex-wife, Larsa is a model, Television personality, and entrepreneur. It is fair enough to say that she rose to fame as the wife of a star NBA player and continued thereon.
She has made appearances on quite a few TV shows starting with 'The Real Housewives of Miami' in 2011. She has gone on to make guest appearances in 'Keeping Up with the Kardashians" following which she became a close friend to them. Fairly recently, she appeared on the show 'Dancing with the Stars: Juniors ', as the mother of Sophia Pipper who is a participant.
Larsa has also launched a jewelry line by her name which seems to be earning her quite well.
All of these combined, it is estimated that Larsa is worth a whopping ten million US dollars.
How Scottie Pippen And Larsa Pippen Met
While there is no clear evidence on how they met, somewhere around 1995, Scottie started dating the college graduate and aspiring model named Larsa Younan. In an interview with a popular magazine, Sports Illustrated, Larsa said that she was hesitant to give the former NBA star a chance but after meeting for the first time, they saw each other every day for a week and a half.
The model's view changed after spending time with Scottie and she realized that he was different. Larsa added that Scottie was very religious and loved his family.
Scottie And Larsa's Marriage And Life Together
After dating for a while, the two tied the knot in 1997.
The former Bulls star trusted his wife beyond words. Larsa handled all of their businesses and their real estate transaction. Scottie was not even aware of the bank they used, everything was handled by Larsa.
Scottie even bought a boat and named it after his wife in honor of her. The two seemed very happy and did quite well together.
Scottie And Larsa's Children
Fife years after the couple tied the knot, Scotty Pippen Jr., their first son was born in 2002.  Followed by Preston Pippen in 2004. The power couple also gave birth to two other children named Justin Pippen and their only daughter, Sophia Pippen in 2007 and 2009.
Why Did Scottie And Larsa Get Divorced?
While the couple was together for a long time, Scottie and Larsa found themselves in some difficult situations.
Larsa claimed that after he retired from basketball, Scottie became very restless. He even bought a house in his home state and started spending time away from their family. The model claimed that they were living completely different lives at this point.
In the summer of 2016, things started to get worse. The couple put their Chicago mansion up for sale for 3.1 million dollars. A month later, Larsa was spotted hanging around American rapper, Future, multiple times. While Larsa claimed that they were just friends, a close acquaintance of her and the NBA star brought it to light, that she was traveling in Future's private jet and accompanied him to Las Vegas and Miami quite a few times.
Larsa even admitted that while they were still together, she had a brief romantic connection with Tristian Thompson in 2016 which did not last long.
According to The Daily Mail, Scottie hired a private investigator and had Larsa followed after suspecting an ongoing affair. What followed was heated arguments between the two and the Police were called on Scottie.
On October 18th, 2016, the former Bull's star filed for divorce. Even after all the drama ensued, Larsa was still hanging around rapper Future. Surprisingly enough, Scottie withdrew his divorce petition in the winter of the following year and the couple was spotted together again.
However, this time it was very short-lived. Scottie and Larsa permanently went their separate ways after the model filed for divorce in 2018.
Further Consequences 
Following the split of Scottie and Larsa, the model has faced a lot of backlash from fans. People all around took the former NBA player's side. Fans started to call Larsa a gold digger for cheating on Scottie and being seen around popular personalities and athletes.
A YouTube channel named 'JAMARI' called Larsa out on several videos with titles such as "She Belongs To the Streets" for her unfaithful activities.
In her defense, the star player's ex-wife claimed that she only started seeing other people after she spotted Scottie flirting with another model.
Furthermore, Scotty Pippen Jr., the ex-couple's firstborn who is currently playing for Vanderbilt Commodores of the Southeastern Conference's basketball team, started getting tagged in a lot of hate tweets circling his mother. The youngster stated that he wants to focus on himself and he is not responsible for anyone's action.
Focused on myself and my goals. I'm not responsible for nobody's actions. All good over here.🤞

— Scotty Pippen Jr (@spippenjr) December 1, 2020
Who Are They Dating Now?
Currently, Scottie is single and living in his Chicago mansion. As for Larsa, it was rumored that she was dating professional basketball player, Eric Moreland in 2019. They had shared a few flirty comments on their Instagram and even celebrated her 45th birthday together.
Recently, the model was spotted holding hands with yet another NBA player, Malik Beasley, in November 2020. Malik even left a comment on one of Larsa's pictures on Instagram despite being married and having a child. The comment read, "I just want to take you on a date and treat you like a queen."
Scottie Pippen's Career At A Glance
Pippen played an incredible 17 seasons of professional basketball before he retired in 2005. He entered the league with the powerhouse that is Chicago Bulls in 1987. He was named the right-hand man of Michael Jordan and went on to win six championships with the Bulls.
After taking his leave from the Bulls in 1998, he played for a year in Houston Rockets in 1999. Moving on he also played for Portland Trail Blazers before return back to the Bulls in 2003.
Alongside winning six championships, Scottie Pippen has also been selected for NBA all-star games seven times. He was named an NBA all-star MVP in 1994 and has also won USA Basketball Male Athlete of the Year in 1996.