Shaquem Griffin: cause of retiring, family, parents, wife, net worth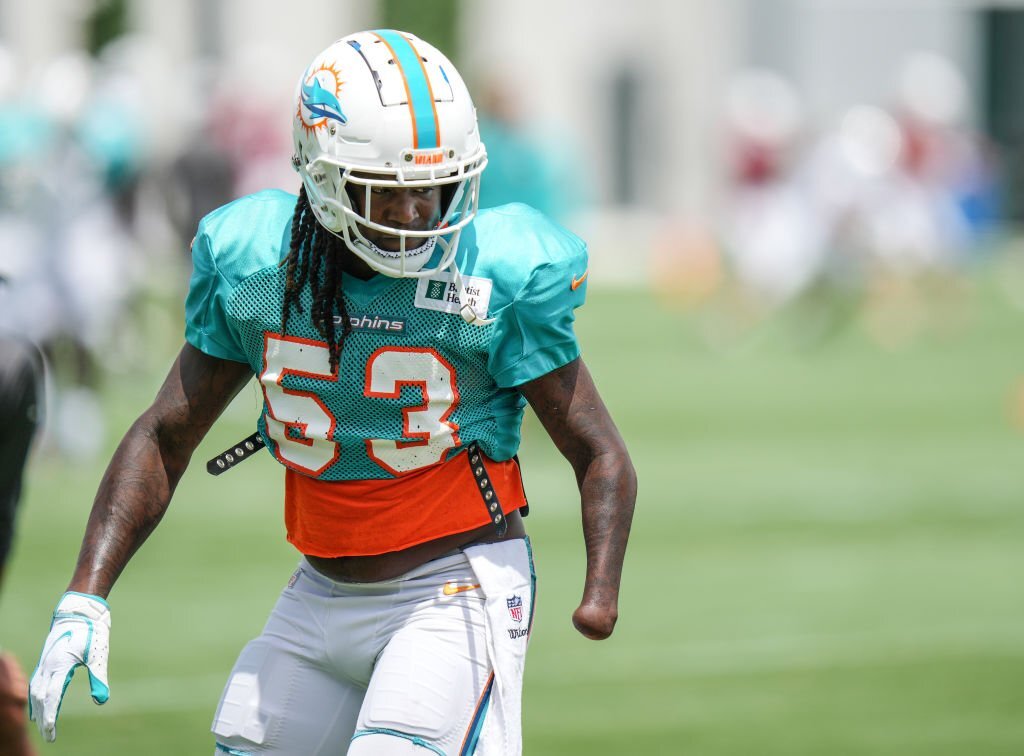 Shaquem Griffin, a linebacker, announced his retirement from the NFL on Wednesday. In an article for The Players' Tribune, he said he was eager to give back as a member of the NFL Legends Community. When the Seattle Seahawks selected Griffin in the fifth round of the 2018 NFL Draft, he became the first player with one hand to be selected in the league's modern era.
Griffin had his left hand amputated at age 4 due to the congenital ailment of amniotic band syndrome. He was reunited with his twin brother Shaquill, who was the starting left cornerback for the Seahawks at the time. Griffin's retirement was praised by the NFL, which tweeted that he is "a true inspiration."
Shaquem Griffin showed the world anything is possible at the 2018 Combine.

A true inspiration. Congrats on your retirement, @Shaquemgriffin. 🙌 pic.twitter.com/zH6yXV0q1O

— NFL (@NFL) August 24, 2022
Why did Shaquem Griffin announce sudden retirement?
The 27-year-old made his retirement announcement in an article that was published on the Player's Tribune on Wednesday morning. He cited his dedication to the NFL Legends Community, a program that aims to support NFL retirees while also fostering connections with various communities across the nation. Griffin described how NFL Commissioner Roger Goodell approached him about joining the Legends initiative.
"I'm sitting at that fancy hotel having brunch with the commissioner and he's telling me he'd love to have me as part of the Legends Program. I look around the room and see all these vets — these old-school Legends who've been around forever — and I'm thinking, Man, I'm 27. I'd be the youngest Legend in the room.
"And then the moment I knew that I had to say yes was when I was sitting with the commissioner and a few other guys, and we were just talking about football, rule changes — normal stuff. Then, the conversation shifted. We started talking about what's happening on the streets in Chicago and how those communities are suffering. Guys started throwing out ideas on how we could help. How we could maybe improve people's lives and make a real positive impact."
What is NFL Legends Society?
Former NFL players and legends have united in the NFL Legends community, an official part, to use their experiences and the game itself to improve society. Shaquem therefore regarded this as a chance to stay in the sport for a very long period. After hearing the discussions and opinions of the other members, he made the decision to participate.
Griffin recently met with NFL Commissioner Roger Goodell and agreed to join the NFL Legends Community, where he would assist retired players and mentor current and past players on "everything from the transition into and out of the game to how to navigate mental health issues. It's a resource to provide guidance and support to players in whatever they might be going through or trying to achieve, including assisting with community service initiatives," Griffin wrote.
Who are Shaquem' family, parents, girlfriend, brother?
Along with his well-known twin brother Shaquill in Florida, at the UFC, and then in Seattle where he played three seasons for the Seahawks, Shaquem's family includes his brothers, mother, and father, the latter of whom really trained him on the football field.
Shaquem Griffin's father coached both Shaquem and Shaquill Griffin (who up until this point had always played for the same teams), and he claims that neither sibling was treated any differently or that Shaquem was held to a higher standard than Shaquill:
"No, we [weren't] compared, but it was very competitive. He trained the both of us. It was more 'You're gonna get everything your brother's gonna get and you gonna keep up or you're gonna fall behind' so it was more of a competitive spirit than anything. And I wasn't gonna lose."
Shaquem is currently dating Jaimie, who goes by the handle @pink_marie on Instagram. Around March, both individuals posted their initial Instagram peeks of one another. So it appears that the couple first met in 2022 a few months ago.
The recently retired footballer uploaded photos of two kids on his social media after making his relationship with Jaimie public. However, a few years ago, his partner posted pictures of the kids on Instagram. Therefore, since there are no verified reports, it is still unknown whether Shaqueem is the biological father of the two kids.
Shaquem Griffin's net worth upon retirement
As the first one-handed athlete selected in the NFL's modern era, Griffin is a trailblazer who made history and his net worth is around $1.5 million as of now. When the Seattle Seahawks contacted him in 2018, he agreed to a contract worth $2.8 million with a $300,000 guaranteed signing bonus. The linebacker spent more than two years with the Seahawks before signing a one-year deal to play for the Miami Dolphins in July 2021.