Physical appearance has always played a major role in sports. In terms of height, being tall surely gives distinct advantages over other traditional players. But how about being a guy of above average height which literally includes him in the history book?
Likewise, the NBA fans have witnessed such mammoth sized players in different eras. Many have come & departed from the NBA with the tag of the tallest NBA player of their generation. In a sport like the NBA, a certain height can give you some superiorities but it can't bring performance overnight.
That's why most of them have become the talk of the town not for their performance, rather for their massive height. But who is the tallest NBA player among all of them? Certainly, this question can come in your mind. In this article, we will make it clear for you step by step.
Tallest NBA Players List
Every player on our list has caught the eyes of all at least once in their lifetime for obsessive height. Here is the tallest NBA players list stepping on the NBA court:
10. Boban Marjanovic
Height: 7 feet 4 inch (2.24 m)
Weight: 131.5 kg (290 lbs)
Shoe size: 20
Career Span: (2015- Current)
How tall is Boban Marjanovic? Well, with a 7 feet 4 inch height, he is popular mostly for being the fans' favorite since his NBA debut in 2015. After winning the MVP award of the Serbian Super League three times, Sun Antonio Spurs turned their attention to him. Since then, NBA fans fell in love with him.
Boban has played for five different clubs within five years after arriving in NBA. No wonder, he is offensively skilled enough to be a top center player. As a result, even after playing only 9.7 minutes per game in NBA, he records 2.3 goals on an average.
However, his defensive deficiencies just didn't let him settle in any NBA club. Averaging only 0.4 blocks in a game, he just couldn't manage the reputation of the tallest NBA players. Still, he is an internet sensation with his classic style of life as well as fun-loving personality.
9. Mark Eaton
Height: 7 feet 4 inch (2.24 m)
Weight: 132 kg (290 lbs)
Shoe size: N/A
Career Span: (1983-1993)
Being one of the tallest players in NBA and successful can be nothing but a daydream, right? In 11 years affluent NBA career, Mark Eaton made it happen, proving his worth multiple times.
Eaton's 7 feet 4 inch height was very prominent to help him become the best defensive center of his former club Utah Jazz. While playing for the same team for straight 11 years, he became an apple of their eyes through his amazing defensive skills.
Looking at his career stats, you can easily assume his greatness. He is the record holder of blocking 456 shots in a season, the most by any player. Also, he had career average block shots per game (3.50) giving him a position in the All-Defensive first team 5 times.
8. Ralph Sampson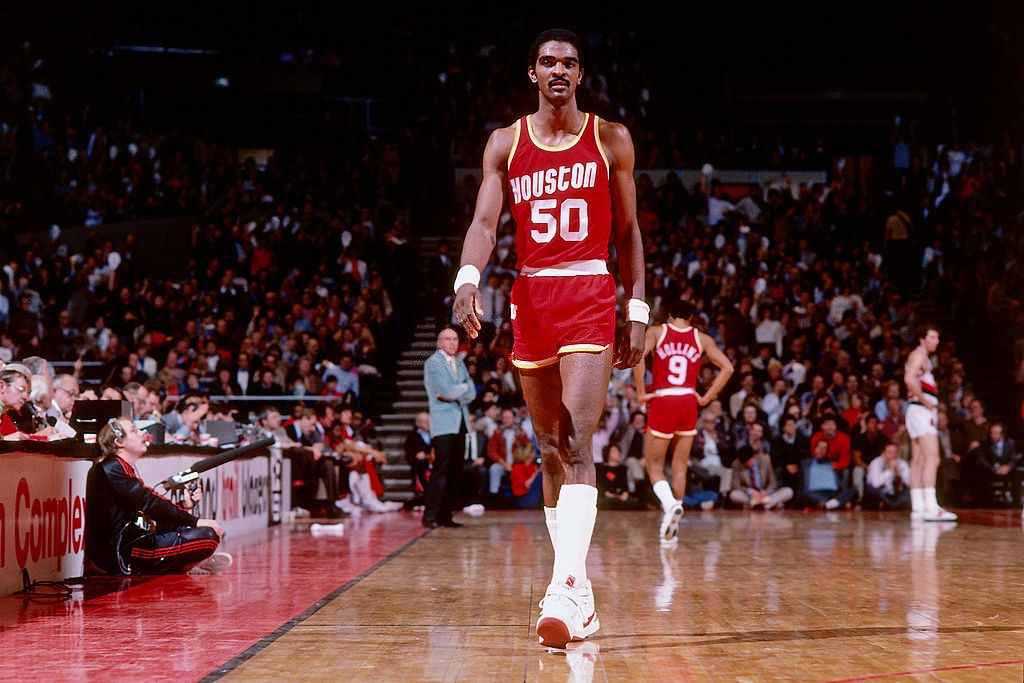 Height: 7 feet 4 inch (2.24 m)
Weight: 103 kg (228 lbs)
Shoe size: 17
Career Span: (1984-1992)
Considered as an NBA legend, Ralph Sampson is a 7 feet 4 inch tall guy born with the natural talent of basketball. Since his debut for the Houston Rockers in 1983, he played nearly 450 matches in his NBA career. To continue such a long career, he played in three different NBA teams other than the Rockers.
Besides the recognition of being the tallest player in the NBA of that time, Sampson experienced a resplendent career for his valuable contribution to his teams. With a career average of 15.4 points per game, his stats speak for himself as well.
Therefore, he earned the All-Star MVP award in 1985, one year after his other achievement of Rookie of the year. Being a member of Hall of Fame, Sampson has always been a respected person to all.
7. Sim Bhullar
Height: 7 feet 5 inch (2.26 m)
Weight: 163 kg (360 lbs)
Shoe size: 22
Career Span: 2015
The arrival of Indian descent Canadian player Sim Bhullar with a 7 feet 5 inch height in the NBA raised a lot of hype among the Indian fans.
After joining the Sacramento Kings in 2014, he got the opportunity to play for the Kings against Minnesota. The game was in the hand of Kings and so his presence was nothing but ceremonial. Later, he only played 2 more games for his team which wasn't anything special.
Despite being the tallest basketball player coming from India, this big dude couldn't utilize his height. For not being able to bring justice to all the excitements surrounded by him, his NBA career didn't last long.
It was evitable that an overweight man with limited mobility can't bring success for the team even after being the tallest NBA guy of his time.
6. Tacko Fall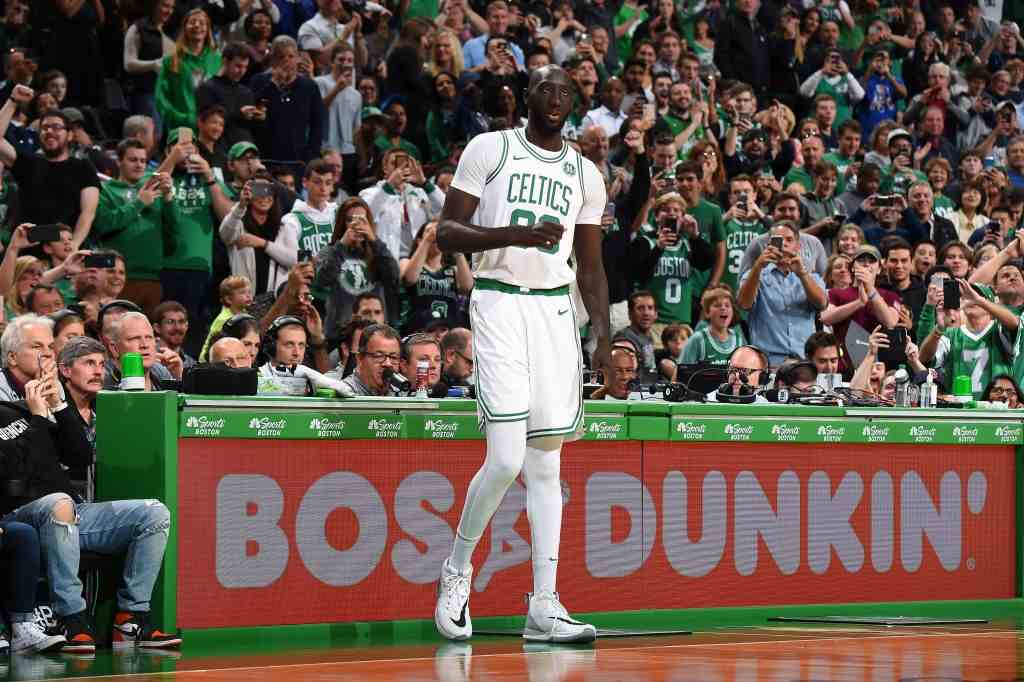 Height: 7 feet 5 inch (2.26 m)
Weight: 141 kg (311 lbs)
Shoe size: 22
Career Span: (2020-Current)
Are you looking for the tallest NBA player 2020? Tacko Fall, the 7 feet 6 inch player coming from Senegal is the tallest basketball player right now taking part in the 2019-20 NBA season.
Boston Celtics inked him for their team after he had shown immense prospect to be a world-class defensive center. But since his debut, Tacko wasn't able to show the performance that was expected from him. In his 6 games, he only managed to earn 3.2 points per game.
He has certainly weak transition capability to run from one corner of the court to the other. With such a lack of athleticism, it is hard to bet on the success of this tallest current NBA player. Anyway, he has plenty of years left in his career. Who knows he might concentrate more on his weaknesses to prove his potential later in the NBA.
5. Chuck Nevitt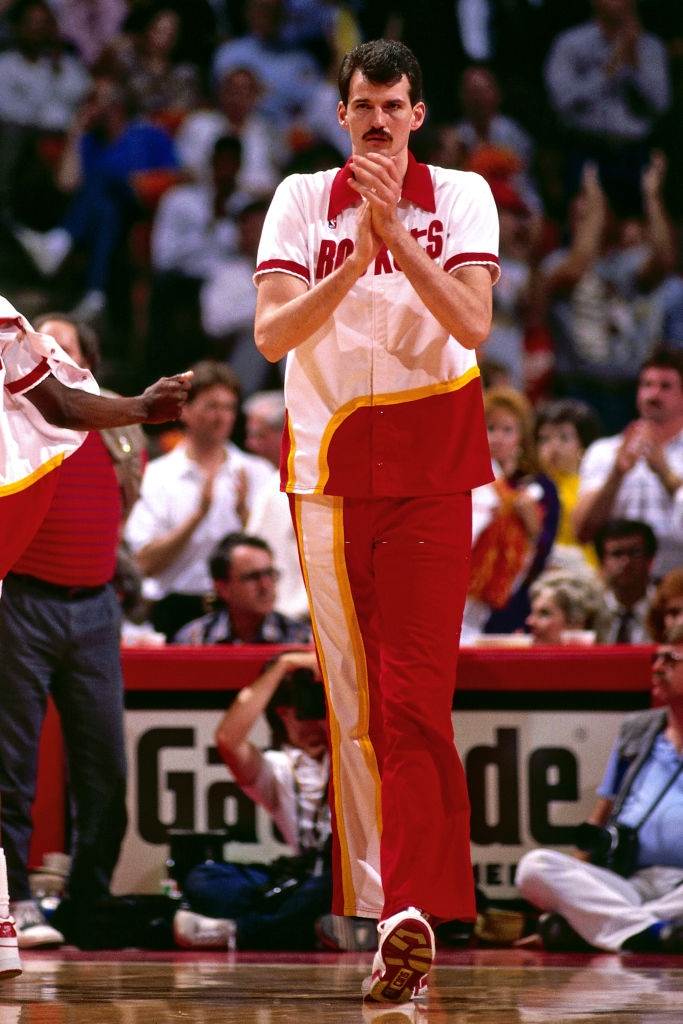 Height: 7 feet 5 inch (2.26 m)
Weight: 98 kg (217 lbs)
Shoe size: 17
Career Span: (1983-1994)
Here comes the only player in this tallest basketball players list to win the NBA championship in his career. Beginning the NBA career in the Houston Rockets den, Chuck Nevitt frequently switched to different clubs during his 11years journey. Finally, he took his retirement from the Sun Antonio Spurs.
Transferring teams like a disconcerted guy, this 7 feet 5inch guy only played 155 games overall with a career total of 251 points. But he is remembered mostly for being a part of the Los Angeles Lakers team when they won the NBA title in 1985.
Averaging 1.4 blocks per game in that season, Nevitt tried his best to gain the honor of an NBA title winner.
#4. Yao Ming
Height: 7 feet 6 inch (2.29 m)
Weight: 141 kg (311 lbs)
Shoe size: 18
Career Span: (2003-2011)
Towering with a massive 7 feet 6 inch height, this Chinese guy is the tallest player in NBA history to book a place in the Hall of Fame. After chosen by Housten Rockets in the 2002 NBA draft, Yao Ming showed commitment to them till his retirement.
In 9 years NBA career, Ming was always determined to maintain his responsibilities as a team player. By dint of his massive body, it was simply challenging for the opponents to go past him. Averaged 19 points with 9.2 rebounds per game, his formidable defensive presence was just perfect for the team's balance.
Duo to his excellent performance, Ming got selected in the All-Star NBA team eight times, also in the All-NBA team five times. As compared to other tall basketball players, he is the tallest NBA player ever to be remembered alongside his dominance on the court.
#3. Shawn Bradley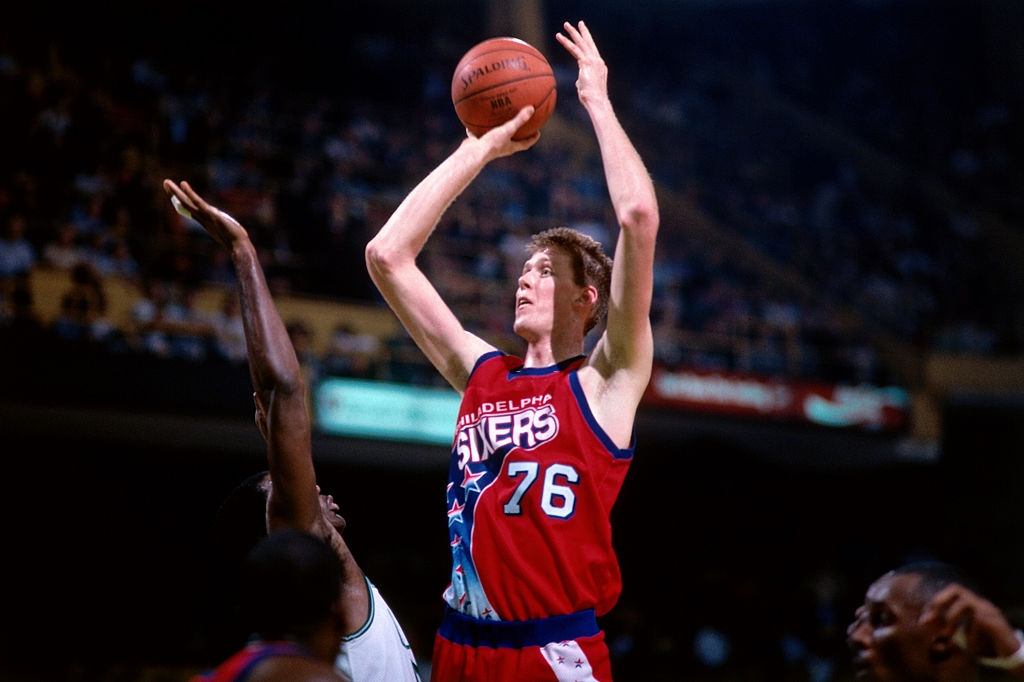 Height: 7 feet 6 inch (2.29 m)
Weight: 125 kg (275 lbs)
Shoe size: 16
Career Span: (1994- 2005)
Ranked 4 in our list, Shawn Bradley is another player with 7 feet 6 inch height who had been successful to prolong his NBA career. Starting his career with Philadelphia 76ers in 1993, he played for the Nets & Mavericks afterward.
Regardless of being one of the tallest basketball players ever, his defensive capability was never sufficient to challenge the opposition. Even though he was never an asset to his team, luckily he managed to earn a place in his former teams. During his 14 years long NBA life, he appeared in 832 games with total of 6752 points to his name.
Eventually, he passed his final 2 years with the Brooklyn Nets where he attained much improved 9.7 points per game.
#2. Manute Bol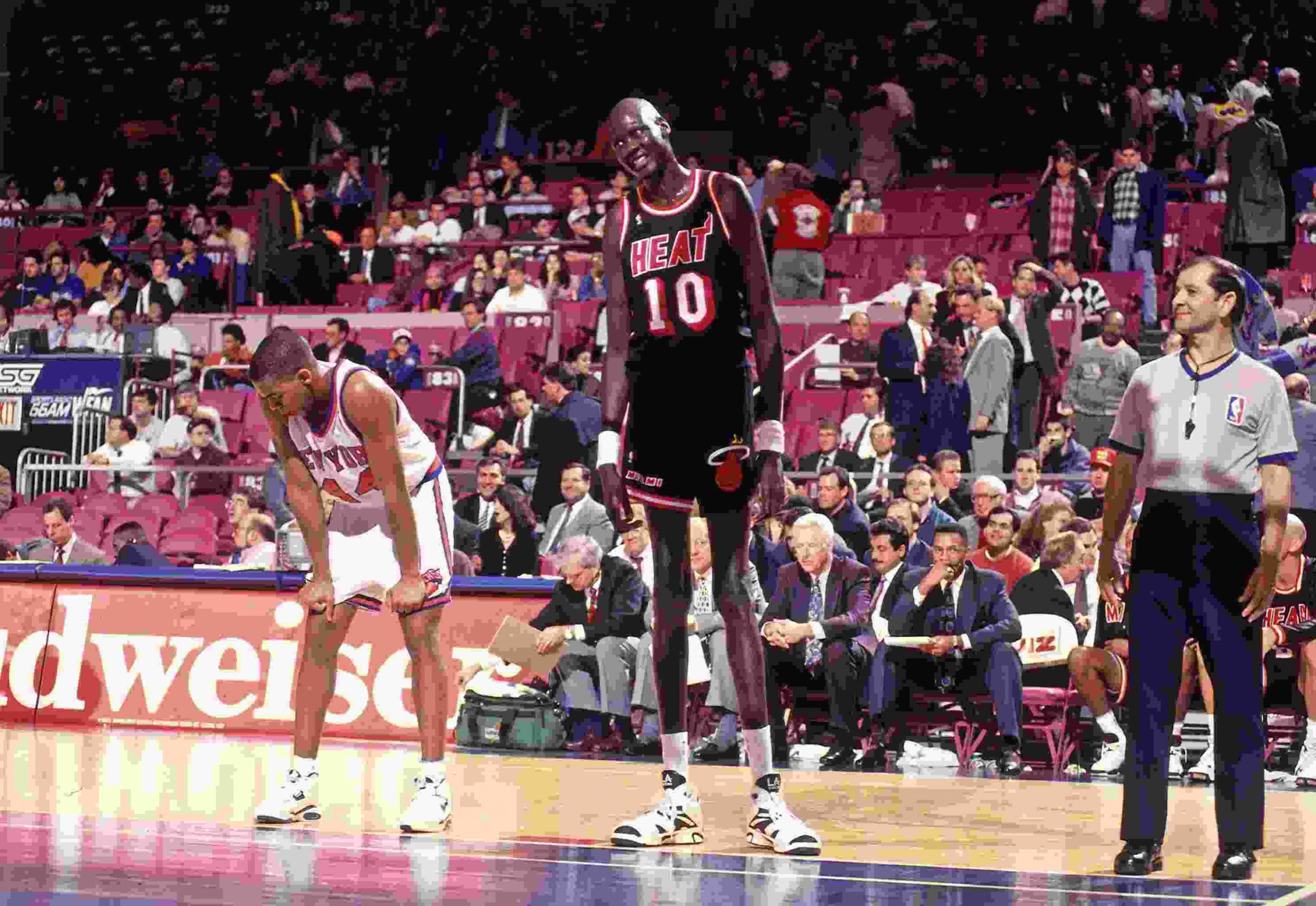 Height: 7 feet 7 inch (2.31 m)
Weight: 91 kg (200 lbs)
Shoe size: 16.5
Career Span: (1986-1995)
The American-Sudanian man, who was reputed for his physical structure ranks 2nd in our list. Standing tall with a 7 feet 7 inch height, Manute Bol is the tallest basketball player ever to participate in more than 600 NBA matches.
Starting the career with the Washington Bullets way back in 1985, Bol concluded his NBA life in Miami Heat 10 years later. Nonetheless, he had the supreme ability to block the shots with an average of 3.3 blocks per game in his lifetime. For this reason, he claimed a spot in the All-Defensive 2nd team in 1986 with flying colors.
Anyway, there was always a debate regarding his actual age when he enrolled for the NBA. According to some, he continued till the 40s whereas some used to say he played till his early 50s.
#1. Gheorghe Muresan
Height: 7 feet 7 inch (2.31 m)
Weight: 137 kg (303 lbs)
Shoe size: 19
Career Span: (1994-2000)
So who is the tallest NBA player featuring in our list? It's none other than Gheorghe Muresan who ties with Manute Bol having a massive 7 feet 7 inch height. Similar to Bol, Muresan played for the Washington Bullets spanning from 1993 to 1997. Later, he continued playing in NBA for the New Jersey Nets 2 more seasons.
In total 6 seasons, he participated in 307 matches scoring an average of 9.8 points per game. In consequence of his tall body, it was relatively convenient for him to block shots. To this end, in a career span of 7 years, he prevented total of 455 shots making him an efficient shot blocker.
Most importantly, there was a significant improvement seen in his all-round attributes in the 1995-96 season handing him the NBA most improved player award. Unfortunately, this Romanian guy escalated to be such tall because of pituitary gland disorder which didn't allow him to make enough headlines as an iconic player.
So these are the guys who have made it to the list of tallest NBA players ever featured in this sport. With due respect, some other players have taken their names to NBA history book through their dominating performance accompanied by their excessive height. Here are the honorable mentions of those successful NBA 7 footers of all time:
Kareem Abdul Jabbar (7 feet 2 inch)
Shaquille O'Neal (7 feet 1 inch)
Wilt Chamberlain (7 feet 1 inch)
Hakeem Olajuwon (7feet)
That's all from us today. We hope you have got your answer about the tallest NBA players over the years. We will come back with another article without much delay. Till then, goodbye.