To make a basketball team invincible, it is essential to have some amazing players who perform well on a regular basis. Yet, the team requires a dynamic duo who can take the level of the team to another height.
NBA's history is enriched with such remarkable duos who have shown divine skills to prove themselves as the best NBA duos of all time. Their chemistry has played an imminent role to achieve a worth mentioning success for the team. The enthusiasm and willingness to clinch the victory gave their team lots of historic moments.
With this purpose in mind, different reputed NBA franchises have always preferred to include both great duos and dominant trios in NBA history. To hunt the glory, they strengthened own dens to create a legacy. In this article, we have mainly focused on the best basketball duos in NBA who converted their respected teams to indomitable ones by dint of dauntless mentality.
The best NBA duos
There has been the introduction of so many iconic duos in NBA in different eras. But only a few of them have left their footsteps in NBA history. Here, we have featured the top ten best duos of all time in NBA:
#10. Wilt Chamberlain and Jerry West (Los Angeles Lakers)
Duration: 1968-1974
NBA Championship: 1 (1972)
In the decade of 1960, the Los Angeles Lakers were just being short of the NBA championship multiple times. But once Wilt Chamberlain made his decision to sign with the Lakers in 1969, everything changed like magic. Jerry West accompanied by Chamberlain made one of the best duos ever of that time.
Both of them were already superstars in the tournament, but their combination in the Lakers proved to be more effective. As a result, in the 1972 season, they won straight 33 games making a whooping record that existed till 1996.
Chamberlain was performing consistently well throughout the season by gaining the highest number of rebounds and field goal percentage. But most importantly, he was adjudged MVP of that season's final with 24 points and 29 rebounds. Even though he was one of the best shooting guards of NBA history, his determination to maintain his offensive duty made him the leading assist maker in that season.
That historic season gave both of them honorable places in the NBA hall of fame for which the Lakers fans still reminisce this duo with the utmost respect.
#09. Karl Malone and John Stockton (Utah Jazz)
Duration: 1985-2003
NBA Championship: Null
Well, this inclusion might surprise you a bit. However, to make the dynamic duos list of NBA, you simply can't keep this duo out of the context. Championships don't tell the full story always. Rather, both of them still dazzle in the history of Utah Jazz for their marvelous partnership over 18 years.
Even though Malone was selected by Utah Jazz one year after the addition of Stockton in 1984, they turned Utah into an ultimate powerhouse. In their 18 seasons together, they were promoted to playoffs every season.
Stockton is remembered mostly for being featured in the best NBA point guards list. He proved this recognition veritable by topping the assist provider list for nine consecutive seasons. Credit goes to Malone's high powered offense as well. Meanwhile, Malone still ranks second in the list of NBA all time point leaders for his extraordinary performance.
The classic combination of Malone's mid-range jumping and Stockton's pinpoint awareness around the rim handled the Jazz inconceivable success which they never experienced before. Still, fans adjudge them as one of the greatest duos of all time even after not gifting the Utah Jazz any title.
#08. Tim Duncan and Tony Parker (Sun Antonio Spurs)
Duration: 2001-2016
NBA Championship: 4 (2003,2005,2007,2014)
After the retirement of David Robinson from the Spurs in 2003, a golden age in the history of Spurs came to an end. Tony Parker, the greatest European player in the eyes of many had another idea though. His arrival in the team started a new era in the Spurs. Later, he created one of the most popular duos with Tim Duncan.
Under the coaching of great Gregg Popovich, this duo performed magnificently well for their team. Because of their extreme dominance, they never missed the playoffs while playing together for 15 years in the NBA.
Moreover, they went through the NBA finals five times and won four of them in this period. To win those trophies, Duncan won the MVP title three times while Parker bagged it once in the 2007 NBA final.
But Duncan was much more consistent and stats don't lie as well. He was awarded the season MVP two times and got featured in the All-NBA first team ten times.
#07. Kevin Durant and Stephen Curry (Golden State Warriors)
Duration: 2016-2018
NBA Championship: 2 (2017,2018)
If you utter the name of modern day NBA legends, you are bound to mention the famous dynamic duo consisted of Kevin Durant and Stephen Curry. Since Durant decided to join Golden State Warriors in the summer of 2016, there has been a revolution in the Warriors team. Thanks to this amazing duo who has made it possible for them.
Being offensive players, they contributed largely to the domination of Warriors in the league. Both of them performed significantly well to establish a dynasty in the NBA. After coupling with Durant, Curry's smooth ball handling capability made him considered one of the most prominent ball handlers in the NBA.
Curry finished the historic 2018-19 season with 27.3 points per game whereas Durant managed to earn 26 points per game. Their superb understanding is reflected in the overall team performance of Warriors by winning back to back NBA championship. Curry already achieved two straight season MVP awards prior to those championships while Durant acquired the finals MVP awards on both occasions.
Nonetheless, it's fascinating for the viewers that there is still plenty more left to witness both of them in the NBA.
#06. Dwyane Wade and LeBron James (Miami Heat)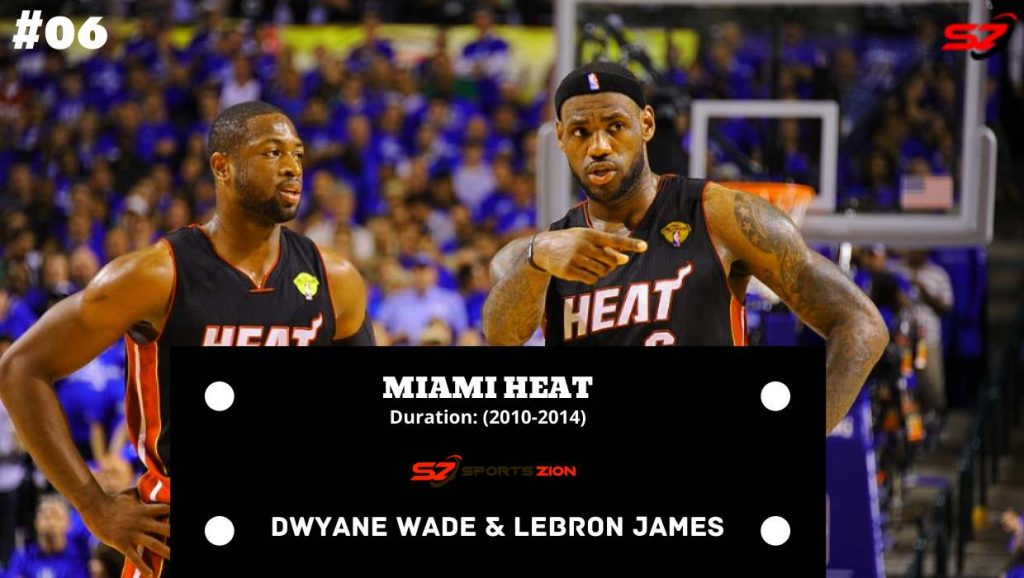 Duration: 2010-2014
NBA Championship: 2 (2012,2013)
Dreams came true for Miami Heat fans when LeBron James announced to pair with Dwyane Wade in Heat during the 2010 summer. It was evitable that LeBron's friendship with Wade would boost their efficiency to improve the overall team performance. Eventually, they proved their capability in just four years making the fans' assumption authentic.
LeBron was a complete package with multiple exclusive features. He had extra-ordinary athleticism to cope with any match condition. Ferocious passing ability and unique ways to block shots of the opponents made him more formidable.
His versatile nature of playing turned out to be very effective after making duo with Wade who was very decisive in terms of shooting ability. They appeared in four consecutive NBA finals from 2010-14 where they earned the NBA championship two times. LeBron was selected as the season MVP both times to conquer the titles.
#05. Larry Bird and Kevin McHale (Boston Celtics)
Duration: 1980-1992
NBA Championship: 3 (1981,1984,1986)
The Lakers were a massive powerhouse with some legendary NBA stars in the 1980s. Yet, Celtics came out with some major achievements later. Larry and McHale were the real heroes of that revolution. McHale started his Celtics career in 1980, two years after the drafting of Larry.
NBA has experienced plenty of breathtaking pure shooters in a lifetime. Larry was an elegant one among them who could score from any position on the court for his supreme shooting ability. Leading from the front offensively in Celtics, he knew exactly when to release the ball, when to loop the ball into the rim. His stats speak for himself too. He is an elite member of the 50-40-90 club and also represented the All NBA first team for nine seasons.
Still, he was lacking the help of another superstar in the team. Eventually, McHale turned into that missing pearl in Celtics. His 'never give up' mentality to score made him a superb power forward. They played 12 seasons as a pair in Celtics, took their team to the NBA final 5 times and made 3 titles their own. To succeed in those 3 years, Bird claimed the Season MVP title each time.
The emergence of Larry Bird and Kevin McHale duo in Boston Celtics is still a fairy tale in the NBA history indeed.
#04. Shaquille O'Neal and Kobe Bryant (Los Angeles Lakers)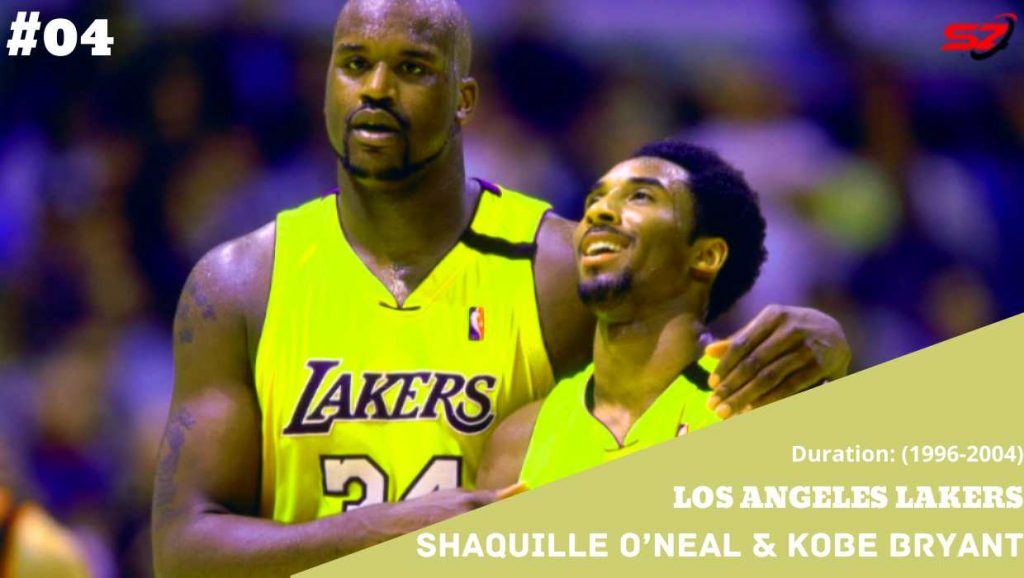 Duration: 1996-2004
NBA Championship: 3 (2000,2001,2002)
You are being emotional, right? That's obvious. This majestic duo has given us so many wonderful memories that we always cherish. Lakers have drafted in so many dynamic duos in their den. But this duo was the most influential one of their generation.
This dream journey started after Lakers picked Shaquille from Orlando in 1996. He along with the newbie Kobe formed a duo which gave a new life to the Lakers. With a massive 7'1" height, Shaq literally dominated his opponents on the court resulting in the highest field-goal percentage in 10 of his total 19 NBA seasons.
Still, Kobe made his way in the limelight for his defensively rock solid nature making him a valuable part of best defensive shooting guards of all time. After all, he had All-Defensive team selection 12 times, Shaq had only three. With such awesome addendum, they accomplished 3 consecutive titles spanning from 2000 to 2002. Shaq showed a sparkling display of basketball by winning MVP of the final award each time.
Unfortunately, Shaq parted his way in 2004 from Lakers because of one of the worst drafts in NBA history. In their personal life, they also had a cold war going on. Keeping aside their topsy-turvy relation, this duo never failed to charm anyone by their style of play.
#03. Bob Cousy and Bill Russell (Boston Celtics)
Duration: 1956-1963
NBA Championship: 6 (1957,1959,1960,1961,1962,1963)
Ever heard of supreme dominance? This duo started this trend way back in the '50s and '60s. When Bill Russell started his career in Boston Celtics and made Bob Cousy his partner, the world wasn't prepared to observe the precedence of one of the best duos in NBA history. But what happened later was beyond everyone's imagination.
Cousy followed his traditional ways to build up the set-pieces. Also, he delivered the ball forward and defend the attackers at the same time whereas Bill showed his exceptional defensive skills to avert the shots. Both of them were truly the names of scandalous terror to the opposition.
Therefore, even Chamberlain in his peak couldn't manage to topple over them with his team to rule the NBA then. This duo only played seven years together in the NBA. Nonetheless, they won six NBA championships in this period with the most successful title run in NBA history.
Anyway, Bill Russell added five more titles to his tally after the retirement of Cousy. He ensured a record 12 times of enrollment in the NBA finals to earn this achievement. That's why he holds the record of being featured in most NBA final appearances by any player.
#02. Kareem Abdul Jabbar and Magic Johnson (Los Angeles Lakers)
Duration: 1979-1989
NBA Championship: 5 (1980,1982,1985,1987,1988)
Like most iconic duos, this duo made a major impact on the NBA by their successful career. After passing six years in Milwaukee Bucks, Kareem decided to join the Lakers in 1975. Who would have thought that he would make great chemistry with Magic Johnson later?
Formerly known as Lew Alcindor, it was simply impossible to deceive a mammoth guy with 7'2" frame. For being one of the tallest NBA players, Karim was just unstoppable to beat. In consequence of his defensively resistless characteristics, he ranks third in the all-time highest shot blockers with 3,189 career blocks. Also, he was renowned for his trademark "Sky Hook" shot making him such a prolific scorer.
But to make his presence significant, it was crucial to have the right person behind him. Magic took that challenge to put up a great combination with Kareem and found himself 9 times in the All-NBA first team, Karim had rather 10 selections. With such all-round attributes, they took Lakers to a commanding position to fight for the glory.
Eventually, they brought five NBA titles at home in the 1980s. Despite being a rookie, Magic came out with flying colors to win the NBA finals MVP award three times.  Later, Magic had to retire for his unexpected illness. But they still shine like the resplendent stars in NBA history as the best NBA duos of all time.
#01. Michael Jordan and Scottie Pippen (Chicago Bulls)
Duration: 1987-1993; 1994-1998
NBA Championship: 6 (1991,1992,1993,1996,1997,1998)
So who has occupied our no.1 spot for the best duo ever? Yeah, you guessed it right. It's time to glorify this legendary duo emerging in the late 1980s. Jordan started ruling the NBA after being drafted in 1984 by Chicago whereas Pippen showed up in the fort three years later in 1987.
To deter other NBA contenders of that time, Jordan played a major part. With his impressive scoring ability, he arguably tops the best scorers list of NBA history. After finishing his career with averaging 30.1 points, 5.3 assists, and 6.2 rebounds per game, he already made himself the undisputed king of the NBA.
However, Pippen was the guy who made him more complete. His addition in the team made the Bulls defensively compact too. In this way, this duo gifted Bulls six NBA championships in just eight years. Without a question in mind, Jordan bagged the NBA finals MVP each of the six times. He also gained the season MVP four times to win those NBA titles. In the meantime, Pippen got selected in the All-Defensive 1st team 8 times, Jordan had one more selection.
So that's all about the best NBA duos? Obviously not. We believe there are some other famous dynamic duos who deserve to be in the list of the best duos in NBA history. Here are the honorable mentions:
Isiah Thomas and Joe Dumars (Detroit Pistons)
Hakeem Olajuwon and Clyde Drexler (Houston Rockets)
Lew Alcindor (Kareem Abdul Jabbar) and Oscar Robertson (Milwaukee Bucks)
Julius Erving and Moses Malone (Philadelphia 76ers)
Wilt Frazier and Willis Reed (New York Knicks)
Finally, it's time to say goodbye to all of you. We hope we have been able to provide you an informative article about the best NBA duos of all time. We will again return with another article for your knowledge soon. Till then, stay safe.