The Ultimate List of Most NBA Finals Appearances by Player
To reach an NBA final and help the team clinch the title may be the dream of any player. In its history, the NBA has seen many players reach that level of triumph more than once. Some of them did it so often that making a final appearance almost became regular for them.
In this article, we'll talk about players who shone not only in their time but also stand as a source of inspiration for those who reach the highest end of the tournament each season.
Should anyone have to tell anything about the most NBA finals appearances by player, it's nearly impossible to do that without including the stars from two great sides namely Boston Celtics and Los Angeles Lakers.
These two sides brought dozens of legends into the scene, and it's no wonder why most of our choices are from these franchises.
Most NBA Finals Appearances by Player
Every player here has their names in the history of the Eastern Conference. Except for LeBron James, all of them retired from the game years ago, but the feat they achieved still make readers want to learn how they basked in the glory.
#10.

Tom Sanders
Born: November 8, 1938
Position: Power Forward
Team: Boston Celtics (1960-1973)
Finals Appearances: 8
Finals Won: 8
Consecutive Finals: 6
Known as Satch Sanders, Tom Sanders was one of the most underrated Boston Celtics legends. After playing at New York University, he spent all of his 13 seasons in the NBA with the Boston Celtics, having won eight NBA titles from 1961 to 1966, in 1968 and in 1969.
Sanders won 6 of them in his first 6 years of career. Only his partner K. C. Jones surpasses him in this aspect as Jones got 8 rings in his first 8 years of career. In the history of the NBA, only teammates Bill Russell and Sam Jones have won more championship rings than him.
He ended his career in 1973and he coached a team for a brief period in 1978. He worked at Harvard, and later for the NBA for several years and retired completely from basketball in 2006.
#9.

K.C. Jones
Born: May 25, 1932
Position: Point Guard
Team: Boston Celtics (1958-1967)
Finals Appearances: 8
Finals Won: 8
Consecutive Finals: 7
Many thought that K.C. stands for something particular, but it doesn't. He was really born as K.C. Jones in a poor family. The guard received a scholarship from the University of San Francisco and became a roommate with Bill Russell, the man who made it to the most NBA finals.
Together, they won Olympic gold for the United States in 1956. When Russell was drafted by Coach Red Auerbach for the Boston Celtics in the same year, they parted ways, but in 1958 Jones was drafted to the Celtics after completing US military service.
After Sharman left in 1961 and Cousy in 1962, the Jones Brothers (they are not biologically related though) became one of the league's most feared guards' duos. While Sam was responsible for scoring points, K. C. played with his defensive toughness. He scored only 7.4 points and 4.3 assists per game, but his influence remained considerable.
Jones upped his defensive plays and gave troubles to opposing star guards like Oscar Robertson or Jerry West who was trying run their offense against the Celtics. With a team that included some of the most efficient defenders of the 1960s (Bill Russell, Tom Sanders and John Havlicek), the Celtics won the NBA championship each year from 1959 to 1966.
Like James Jones, K.C. went to the NBA Finals for seven consecutive times. His jersey number 25 was retired by the Celtics ever since his departure from the court.
#8.

John Havlicek
Born: April 8, 1940
Position: Shooting Guard / Small Forward
Team: Boston Celtics (1962-1978)
Finals Appearances: 8
Finals Won: 8
Consecutive Finals: 4
Havlicek played 16 seasons and won eight NBA championship titles. Four of those grand successes came in the first four seasons granting him rare stardom and making him one of only four players to share the story of 8 championships throughout the career.
He was the fellow mates of greats like Sam Jones and Bill Russells. So, there's little to wonder why Havlicek is regarded as one of the most talented players in the game's history.
#7.

Jerry West
Born: May 28, 1938
Position: Point Guard / Shooting Guard
Team: Los Angeles Lakers (1960-1974)
Finals Appearances: 9
Finals Won: 1
Consecutive Finals: 3
Jerry West is the only example whose depth of success can't be fathomed with the number of championship titles. He got his way into the All-NBA First and Second Teams a dozen times. He got elected into the All-Star Team for 14 times. The year 1972 was perhaps the best time in his career as he became the All-Star MVP and won the only championship title that year.
His average points per game are higher than those of all retired greats except Michael Jordan, Wilt Chamberlain, and Elgin Baylor. Such consistency speaks for him quite legibly when we talk about the finest NBA scorers.
#6.

LeBron James
Born: December 30, 1984
Position: Power Forward / Small Forward
Team: Cleveland Cavaliers (2003-2010, 2014-2018), Miami Heat (2010-2014), Los Angeles Lakers (2018-Present)
Finals Appearances: 9
Finals Won: 3
Consecutive Finals: 7
Such a talent barely needs an introduction. Praised as a future NBA superstar during his high school years, he won the Rookie of the Year award in his first NBA season with the Cavaliers and won back-to-back MVPs in 2009 and 2010.
From 2006 to 2010, The King led the Cavaliers to the playoffs five times in a row and in 2007 allowing the fans to feel the gravity of LeBron James consecutive finals. Eventually, James has established himself as a player who is capable of doing everything.
His physical stature and talent have placed him as one of the great players in the league hence he makes recording triple-double look easy. Until today, he averages 27.1 PPG, 7.4 RPG and 7.3 APG, 12. Offensively, James takes advantage of his speed, size and strength to get rid of his defenders. One of the great qualities of LeBron is precisely his exceptional physical form he uses every time he penetrates the paint area.
In those circumstances, LeBron has great control over his body to stay stable air-borne. Despite his size, he is also a good shooter as he can adjust the shot well according to the defenders. However, present-day spectators still have to wait to know if these positive aspects will lead to more of LeBron consecutive finals in the days ahead.
#5.

Magic Johnson
Born: August 14, 1959
Position: Point Guard
Team: Los Angeles Lakers (1979-1991, 1996)
Finals Appearances: 9
Finals Won: 5
Consecutive Finals: 7
A lot of stories have been written to describe how Magic Johnson managed to become the kingpin of the Showtime Lakers that played 9 NBA Finals from 1980 to 1991. The 5-time champion and the best of all point guards enjoyed the peak of his success from 1980 to 1988.
Throughout his illustrious career, he achieved many things which include 12 All-Star games, and 10 All-NBA First and Second Team nominations, and three NBA MVP Awards. Besides all the accolades and big things that made him famous, his longstanding with the great Larry Bird is unforgettable.
#4.

Tom Heinsohn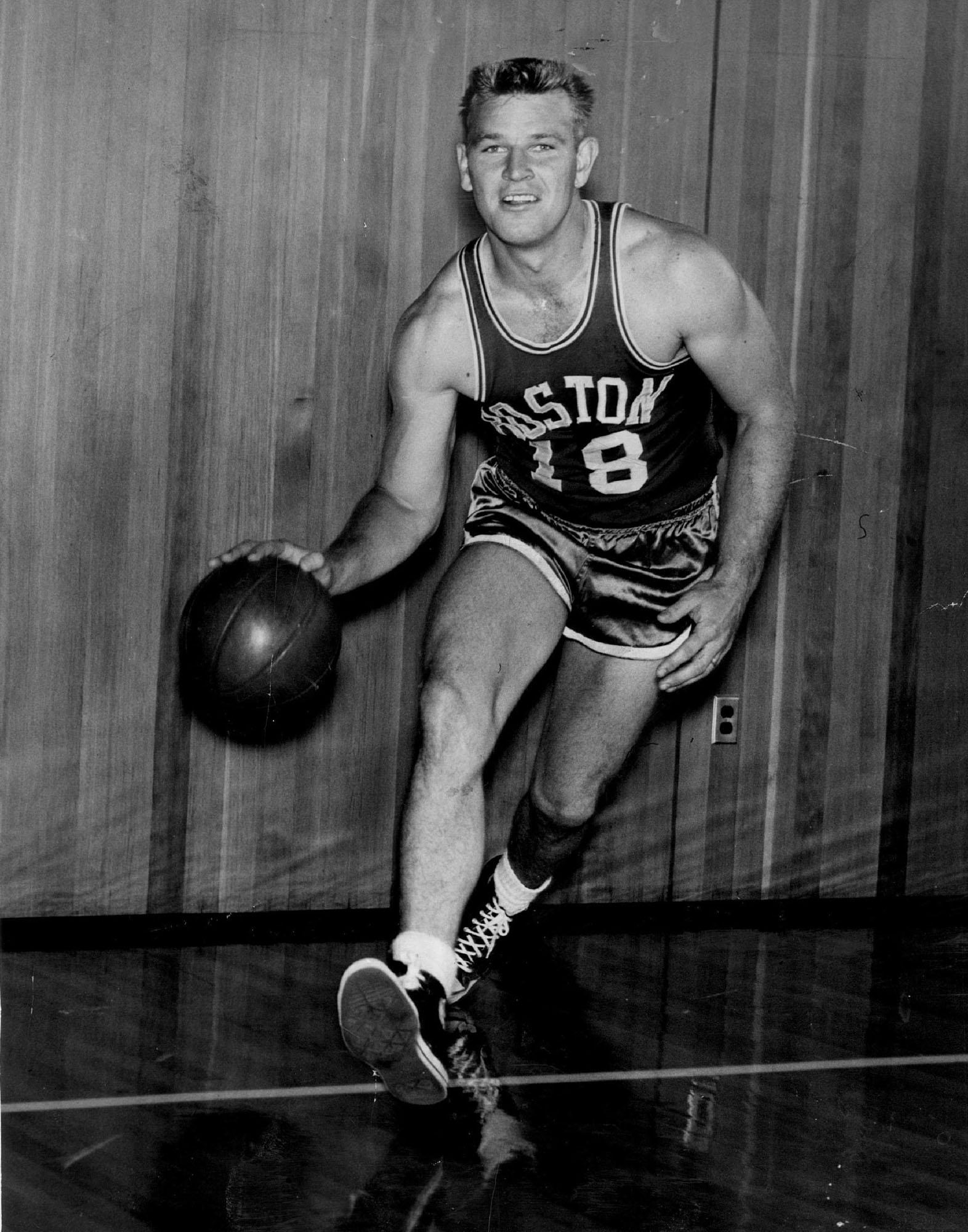 Born: August 26, 1934
Position: Power Forward
Team: Boston Celtics (1956-1965)
Finals Appearances: 9
Finals Won: 8
Consecutive Finals: 9
Heinsohn played in the NCAA for the Holy Cross Crusaders which at that time were one of the best college teams. He was selected as a territorial pick by the Boston Celtics in the 1956 NBA Draft, the same year that Bill Russell went pro.
After his first season, he won the Rookie of the Year award, named an All-star team of the Eastern Conference and won his first championship with the Celtics. Although the Celtics lost to St. Louis Hawks in playoffs the following season, Heinsohn won the NBA championship with the Celtics each time in the following seven years.
That was not surprising because Heinsohn was the top scorer of the Celtics from 1960 to 1962. He was nicknamed "Tommy Gun" by his teammates for he was an accomplished shooter. He played the role of the president of the National Basketball Players Association from 1958 to 1965.
#3.

Kareem Abdul-Jabbar
Born: April 16, 1947 (As Ferdinand Lewis Alcindor Jr.)
Position: Center
Team: Milwaukee Bucks (1969-1975), Los Angeles Lakers (1975-1989)
Finals Appearances: 10
Finals Won: 6
Consecutive Finals: 7
Kareem Abdul-Jabbar has been a familiar name on a lot of lists that highlight the best or most significant NBA events. 19 All-Star games, six championships, and six MVPs are all of his achievements throughout the career that lasted over two decades.
Declining an offer of $1 million from Harlem Globetrotters, he got picked the Milwaukee Bucks as the first in the 1969 NBA draft. Kareem managed to stay as a dominant figure for his side no matter how much the team struggled.
In the 1970–71 season, the Bucks went on to set their best record with 66 victories, including 20 straight wins, a record at that time. In the playoffs, Milwaukee went 12–2 and claimed the championship title while Kareem was announced as the Finals MVP.
Los Angeles Lakers acquired him in 1975, and he responded with unforgettable displays of his prowess as the side reached the NBA Finals in all of his last three seasons and won in 1987 and 1988. His final season wasn't as glorious as the previous two since the Lakers were defeated by the Pistons.
This elegant center may not be on top of the list of NBA finals winners, but his position is still an important one among those who made the most finals appearances.
#2.

Sam Jones
Born: June 24, 1933
Position: Shooting Guard
Team: Boston Celtics (1957-1969)
Finals Appearances: 11
Finals Won: 10
Consecutive Finals: 9
Although Jones was a talented basketball player as a teenager, the legend initially wanted to become a teacher. When Celtics coach Red Auerbach drafted him with their eighth pick in the 1957 NBA Draft, he was expected to hardly get any playing time behind the regulars Bob Cousy and Bill Sharman. At 1.94 meters, Jones was also considered too big and awkward to play a point guard.
Auerbach, however, deployed Jones as a sixth man who came from the bench to score some easy points against exhausted opponents. Jones converted 45% of his shots when the league average for shooting guards was below 40% at the time. With him, the Celtics won a three-peat from 1959 to 1961. Jones was a good fast break specialist who used the many rebounds from Bill Russell for easy baskets.
In particular, Jones perfected his shot with the help of the board (bank shot) which became his trademark. By the time he retired, he already had his place among those with the most NBA titles and the most NBA finals appearances, only behind his long-time teammate Bill Russell.
#1.

Bill Russell
Born: February 12, 1934
Position: Center
Team: Boston Celtics (1956-1969)
Finals Appearances: 12
Finals Won: 11
Consecutive Finals: 10
This rival of Wilt Chamberlain does not have enough fingers to put all (11) of his rings on. After his college career, Russell was meant to be drafted as a second pick by the St. Louis Hawks. Red Auerbach, however, managed to get him to Boston in exchange for Ed Macauley, a six-time All-Star, and Cliff Hagan, a future Hall of Famer and some other All-Stars.
The trade was worth it as Russell won his first championship with the Celtics as a rookie. After eight straight championships, Red Auerbach stepped down as the coach in 1966 allowing Bill Russell a chance to become the Celtics' player-coach, which also made him the first African American head coach of an NBA team.
His first season as a player-coach wasn't much of a success since the year 1967 was the first and only season Russell as well as the Celtics couldn't make it to the NBA Finals. The following season, they won the finals against the Lakers.
Russell was voted Sportsman of the Year by Sports Illustrated magazine the same year. He currently holds the record for being the most NBA titles player. Few fans believe that anyone could ever be able to break Bill Russell Finals record.
So, that's the end of our list of the most NBA finals appearances by player. However, the list couldn't be a complete one without an honorable mention, such as Frank Ramsey who played eight straight NBA Finals and won all 6 titles from 1959-64 and made 7 until the end.
Two legends we couldn't forget about are Derek Fisher and Michael Cooper who played 8 finals and won five titles each. Some other names known for the most consecutive NBA finals appearances by player include James Jones and Bob Cousy who played 7 final games each. Last but not the least on this list is Bill Sharman who made it with Celtics straight from 1957 to 1960.