Top 10 European NBA Players Who Made History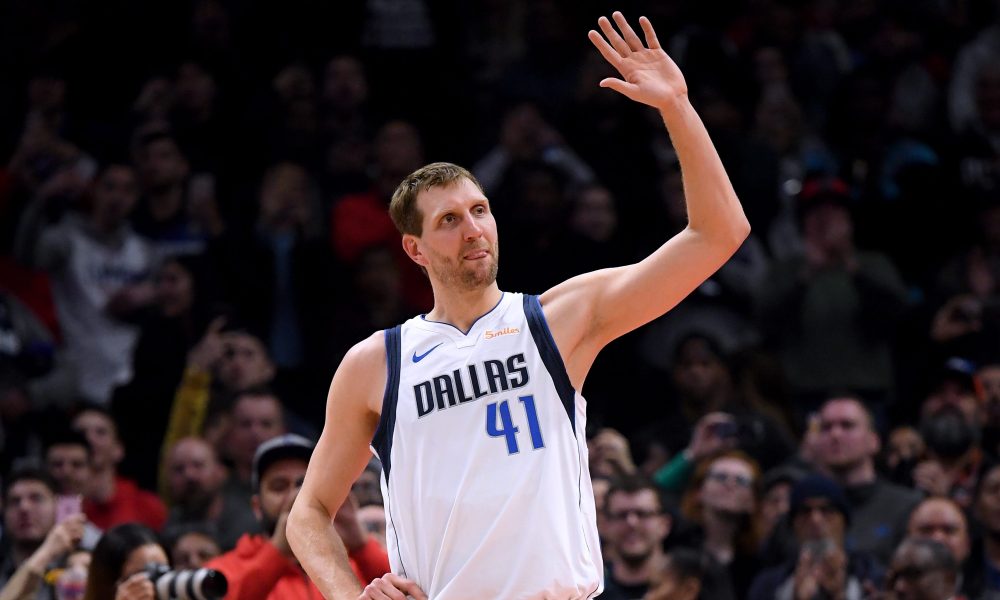 The NBA is a basketball league based in the United States of America and Canada. This does not prohibit other nationals to have their time in the league. As of today, more international players are entering the league, and some are leading their teams. Names like Giannis, Porzingis, and Schröder are extremely popular. Guess where they came from. Europe!
The NBA has seen a lot of foreigners among who European NBA players are known to make the most remarkable career progression in the Land of Opportunity while living the American Dream since 1980s. Some of them have played for legendary teams like the Los Angeles Lakers, Boston Celtics. Many of them are even named to the Hall of Fame today.
Best European NBA Players of All Time
Here's a quick look at the best European basketball players who have basked in glory and thus earned tribute not only from their successors but also the entire NBA community.
10. Detlef Schrempf
Position: Power Forward
Shoots: Right
Born: January 21, 1963
Location: West Germany
NBA Drafts: 1985: Rd 1, Pk 8 (Dallas Mavericks)
NBA Teams: Dallas Mavericks (1985–1989), Indiana Pacers (1989–1993), Seattle SuperSonics (1993–1999), Portland Trail Blazers (1999–2001)
Career Stats: 1,136 Games Played, 15761 Points (13.9 ppg), 7,023 Rebounds (6.2 rpg), 3,833 Assists (3.4 apg), 856 Steals
Before the world knew Dirk Nowitzki, Schrempf was considered the top of all German NBA players and rightly so for a long time. The Leverkusen-native was brought in as the eighth of Dallas Mavericks draft picks in 1985, but his breakthrough happened as he moved to the Pacers in 1989.
In Indianapolis, he was twice named Sixth Man of the Year in 1991 and 1992 and Schrempf was said to be one of the most reliable scorers in the league for many years. In 1993, he became an All-Star with the Pacers and repeated the feat twice after moving to the SuperSonics.
In 1996, he became the first German player to play in the NBA Finals, but the Bulls which were led by Michael Jordan were too strong for Payton, Kemp and Schrempf.
9. Toni Kukoc
Position: Small Forward 
Shoots: Left
Born: September 18, 196
Location: Yugoslavia
NBA Drafts: 1990: Rd 2, Pk 29 (Chicago Bulls)
NBA Teams: Chicago Bulls (1993–2000), Philadelphia 76ers (2000–2001), Atlanta Hawks (2001–2002), Milwaukee Bucks (2002–2006)
Career Stats: 846 Games Played, 9810 Points (11.6 ppg), 3,555 Rebounds (4.2 rpg), 3119 Assists (3.7 apg), 817 Steals
From today's observations, the Croatian must be seen as a harbinger of the current NBA playing style. Despite his 2.08-meter height, he had an excellent touch from downtown and was known for his versatility. Kukoc was actually a power forward, but was used in all five positions during his time with the Bulls from 1993 to 2000.
The "White Magic", as he was often called in Europe, won three titles alongside Michael Jordan, Scottie Pippen and the gang. He also became the Sixth Man of the Year in 1996 since when no player has been the best sixth man and am NBA champion in the same season.
However, Kukoc was less successful with the Philadelphia 76ers, Atlanta Hawks, and Milwaukee Bucks. In 2006, he ended his career with some impressive scores which establish his position among the best European NBA players.
8. Arvydas Sabonis
Position: Center 
Shoots: Right
Born: December 19, 1964
Location: Lithuania
NBA Drafts: 1986: Rd 1, Pk 24 (Portland Trail Blazers)
NBA Teams: Portland Trail Blazers (1995-2001, 2002-2003)
Career Stats: 470 Games Played, 5,629 Points (12 ppg), 3,436 Rebounds (7.3 rpg), 964 Assists (2.1 apg), 494 Blocks
Being picked by the Trail Blazers in 1986, Sabonis got to be the first European player drafted in NBA. It also marked a new era as Sabonis managed his way to become the first European basketball player NBA. Sadly, the pick by the Portland Trail Blazers was declared invalid by the NBA because the Lithuanian was yet to be 21 at that time.
It was only in 1995 – at the age of 31 and after several injuries – that he signed his first contract and was promptly elected to the All-Rookie First Team. In 1996, his 14.5 PPG and 8.1 RPG had made a powerful impression.
The father of Indiana Pacers forward Domantas Sabonis had his best year in 1997-98  season when he recorded a double-double on average with 16.0 PPG and 10.0 RPG. Many fans and players seem to go crazy wondering how good Sabonis and the Blazers could have been if he had spent his prime in Portland.
"Then we would have won four or five titles. He was just so good." recalls Clyde Drexler, a Trail Blazers legend.
7. Peja Stojakovic
Position: Small Forward 
Shoots: Right
Born: June 9, 1977

Location: Yugoslavia
NBA Draft: 1996: Rd 1, Pk 14 (Sacramento Kings)
NBA Teams: Sacramento Kings (1998–2006), Indiana Pacers (2006), New Orleans Hornets (2006–2010), Toronto Raptors (2010–2011), Dallas Mavericks (2011)
Career Stats: 804 Games Played, 13,647 Points (17 ppg), 3,782 Rebounds (4.7 rpg), 1408 Assists (1.8 apg)
Like Petrovic, Stojakovic particularly fascinated American fans with his shooting skills from different positions. His three-pointers made him a valuable part of the offense at each of his teams. During his best stint in the Sacramento Kings, Stojakovic was an All-star three times in a row and in 2004, he was appointed to the All-NBA Second Team.
However, his desired title which was also longed by teammates Chris Webber and Mike Bibby was yet to come by. It was only in his last NBA season that he got a chance winning a championship with Dallas Mavericks and contributed two 20-point games in the playoff run which was obviously a better feat pulled by any other contemporary NBA draft by Dallas Mavericks.
Stojakovic has been a great inspiration to many of today's aspiring small forwards. He works as General Manager of Reno Bighorns, the Kings G-League team, and his jersey number (16) is retired.
6. Vlade Divac
Position: Center 
Shoots: Right
Born: February 3, 1968

Location: Yugoslavia
NBA Draft: 1989: Rd 1, Pk 26 (Los Angeles Lakers)
NBA Teams: Los Angeles Lakers (1989-1996, 2004-2005), Charlotte Hornets (1996-1998), Sacramento Kings (1998-2004)
Career Stats: 1134 Games Played, 13,398 Points (11.8 ppg), 9,326 Rebounds (8.2 rpg), 3,541 Assists (3.1 apg), 1,631 Blocks
Anyone would think that Vlade Divac's worst experience in the NBA was his being traded for Kobe Bryant by the Lakers to the Hornets in 1996. On the contrary, the 2.16m-tall center did what few Serbian NBA players could even imagine. He was one of the formidable centers in the NBA for years.
Like Stojakovic, he was part of the exciting Kings team from 1998 to 2004. His jersey number (21) is retired by the Kings which were based in California's capital. His amazing stats put him beside some greats of the game like Kareem Abdul-Jabbar, Tim Duncan, Shaquille O'Neal, Kevin Garnett, Pau Gasol, and Hakeem Olajuwon.
In 2001, Divac even made it into the All-star game. He ended his career at the age of 37 in 2005 by which time, he had earned a good $93 million.
5. Drazen Petrovic
Position: Shooting Guard 
Shoots: Right
Born: October 22, 1964

Location: Yugoslavia
NBA Draft: 1986: Rd 3, Pk 60 (Portland Trail Blazers)
NBA Teams: Portland Trail Blazers (1989-1991), New Jersey Nets (1991-1993)
Career Stats: 830 Games Played, 4,461 Points (15.4 ppg), 669 Rebounds (2.3 rpg), 701 Assists (2.4 apg)
Petrovic's exceptional talent was recognized at the age of 15 when he played in the national team of Yugoslavia, one of the strongest basketball teams in the world. At 18, he was already the best player in Yugoslavia. Scouts from American universities offered him sports scholarships which he didn't accept.
In figures, the value of Drazen Petrovic for European basketball cannot be measured. But the native Yugoslav, who died in a car accident in 1993 at the age of 28, is considered a great pioneer for NBA's European players.
Petrovic had achieved everything in Europe and longed for a new stage when he joined the NBA in 1989 – three years after his draft. However, he found it difficult to get going with the Trail Blazers so he was traded to the New Jersey Nets which led to a breakthrough season.
In his last two years in the NBA, he had over 20 PPG and 50 percent field goal rate, which was very appealing to even the greatest shooting guards and any of the Croatian NBA players at that time. In 1993, he was elected to the All-NBA Third Team.
4. Marc Gasol
Position: Center 
Shoots: Right
Born: January 29, 1985
Location: Spain
NBA Draft: 2007: Rd 2, Pk 48 (Los Angeles Lakers)
NBA Teams: Memphis Grizzlies (2008-2019), Toronto Raptors (2019- )
Career Stats: 830 Games Played, 12,193 Points (7.8 ppg), 6,339 Rebounds (6.5 rpg), 2,862 Assists (3.5 apg), 1,191 Blocks
The younger Gasol brother is considered by many experts to be more talented than many of NBA's international players including his big brother, but unlike Pau, he was not always at the right place and at the right time as he spent the majority of his career stuck in Memphis Grizzlies.
There, the 33-year-old has had decent numbers in his career average since his rookie year 2008/09 with 15.1 PPG and 7.7 RPG, but success was a very foreign word with the Grizzlies. Although stuck with the Grizzlies, Gasol always made the best of it. In 2012, 2015, and 2017, he was an All-Star. He was even selected for the All-NBA First Team in 2015 and the All-NBA Second team in 2013.
Perhaps, his biggest award was given to him in 2013 where Gasol won his only Defensive Player of the Year award. Alas, he had some irony of fate. Had Marc not been traded by the Lakers to the Grizzlies when he was drafted in the 2007 NBA Draft, he might be ranked second place in this and have won more titles.
Fortune favored him as he nears the end of his career. In 2019, Gasol was traded to the Toronto Raptors for some players including C.J. Miles, Jonas Valanciunas and others. With the absence of Valanciunas, Gasol becomes a starting center in Toronto and he brought the Raptors to the 2019 NBA Finals with Kawhi Leonard and Kyle Lowry.
In that NBA Finals, they beat the Golden State Warriors who were also star-studded with players like Kevin Durant, Stephen Curry, Klay Thompson and Draymond Green. So, wishing to see Marc with a more enriched NBA profile may not be a bold thing after all.
3. Pau Gasol
Position: Center 
Shoots: Right
Born: July 6, 1980
Location: Spain
NBA Draft: 2001: Rd 1, Pk 3 (Atlanta Hawks)
NBA Teams: Memphis Grizzlies (2001-2008), Los Angeles Lakers (2008-2014), Chicago Bulls (2014-2016), San Antonio Spurs (2016-2019), Milwaukee Bucks (2019- )
Career Stats: 1,226 Games Played, 20,894 Points (17 ppg), 11,305 Rebounds (9.2 rpg), 3,926 Assists (3.2 apg), 1941 Blocks

The Spanish center is ranked top 3 as he is an extremely effective player. Gasol and his little brother are the only active Spanish NBA players to ascend to an unforgettable stardom. In 2001, Gasol entered the NBA as a 3rd pick overall and was the first non-American to be awarded the Rookie of the Year award.
What followed that was one of the best European careers ever. With the Lakers, Gasol became NBA champion twice in 2009 and 2010. He was chosen to play in the All-star game six times and twice his name appeared in the All-NBA Second Team and All-NBA Third Team.
Pau Gasol may not be the most popular player on the court as he regularly screams to the referees to get fouls called on his opponents. However, that cannot thwart his right to third place on this list.
2. Tony Parker
Position: Point Guard 
Shoots: Right
Born: May 17, 1982

Location: Belgium
NBA Draft: 2001: Rd 1, Pk 28 (San Antonio Spurs)
NBA Teams: San Antonio Spurs (2001–2018), Charlotte Hornets (2018–2019)
Career Stats: 1,254 Games Played, 19,473 Points (15.5 ppg), 7,036 Assists (5.6 apg), 3,396 Rebounds (2.7 rpg)

The Frenchman was drafted 28th overall by the San Antonio Spurs in the 2001 NBA Draft. Since then, he has exemplified the continued success of the Texas franchise. Parker has been a champion with San Antonio four times and in 2007, he was even named the Finals MVP.
The Belgian-born was included in an All-star team six times. He was nominated to the All-NBA Second Team from 2012 to 2014, three times in a row. His career stats can be superseded, but the consistency that Parker demonstrated in his prime which spanned from 2002 to 2014 was extremely impressive and formative for even the most successful point guards.
After his long-time teammates Tim Duncan and Manu Ginóbili retired, Parker also left the Spurs after 17 years and signed a contract with the Charlotte Hornets. In June 2019, he announced the end of his career that makes him a highly celebrated NBA European.
The Frenchman achieved a total of 19,473 points in the NBA and was thus at the time of his retirement on the 49th rank of the NBA all-time scoring list. The San Antonio Spurs retired his jersey number (9) in November 2019, an honor that only a few french NBA players have had.
1. Dirk Nowitzki – Finest Among European NBA Players

Position: Power Forward

Shoots: Right
Born: June 19, 1978
Location: West Germany
NBA Draft: 1998: Rd 1, Pk 9 (Milwaukee Bucks)
NBA Teams: Dallas Mavericks (1998–2019)
Career Stats: 1522 Games Played, 31,560 Points (20.7 ppg), 11,490 Rebounds (7.5 rpg), 3,651 Assists (2.4 apg) 
In retrospect, the story of the "German Wunderkind" still seems incredible: a shy, blonde giant from Germany comes to the NBA and grows into one of the best foreign NBA players. Nowitzki has been an All-Star for 13 times. He was not a Dallas Mavericks draft but later joined the side and led them to the 2006 NBA Finals and the 2011 championship while  securing himself the Finals MVP in that same year.
Apart from Nowitzki, there are just only other five players to have scored more than his 31,560 points in the NBA history. Nowitzki has had a decisive influence on the development of the NBA. There are hardly any seven-footers in the NBA that are able to shoot treys in front of their opponents like Nowitzki.
He revolutionized the position of the power forward and moved the game of the big men further outside the paint area. His solid career stats speak for themselves anyway. It's certainly a herculean task for any European to keep up with this legacy, at least until today.
Here's a video showing all these stars in action!