10 Biggest NBA Fights That Fans Still Remember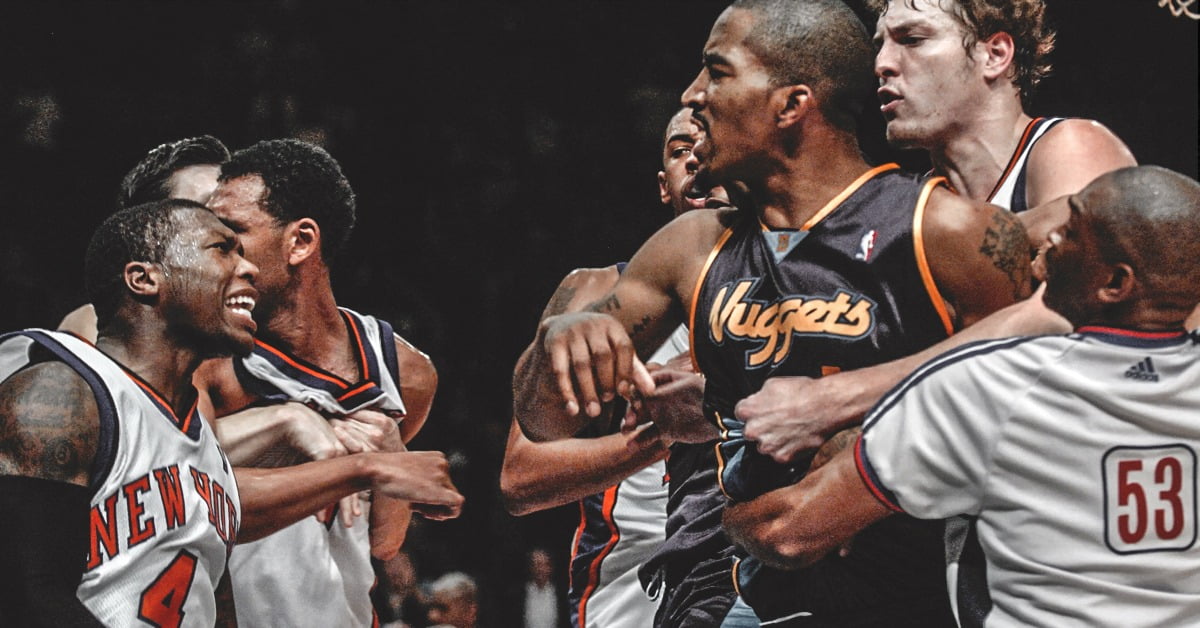 The NBA is a sum of spectacular actions and amazing feats of athleticism by the players on the court. There have been many accidents and hideous scandals too.
Because of the physical nature of the sport, fights may break out, but what appalls spectators most is some of the biggest NBA fights which not only mar the league's beauty but also inspire belligerent existence of players and fans.
Here is an NBA fights and brawls compilation that even the excitement seekers fans cannot approve.
10 Biggest NBA Fights That Couldn't Go Unjustified
Not all fights are measurable by the degree of violence committed or the harms inflicted upon the parties involved. These NBA fights weren't premeditated, but they happened anyway leaving the supporters along with the authorities stupefied.
#10 Alonzo Mourning vs Larry Johnson
When an NBA player fights, violence may not be the only thing to come to light. The fight between Alonzo Mourning and Larry Johnson is a notable example. The key sequence took place when Jeff Van Gundy entered the fray and wrapped himself around the Miami Heat star's legs to try and stop it from escalating.
Those incidents between the New York Knicks and the Miami Heat remind fans of both sides how NBA playoff fights might take a diabolical turn. Heat center Alonzo Mourning and Knicks power forward Larry Johnson kickstarted a brawl that involved both benches.
The incident took place after the game had finished but both players were intent on causing as much harm as possible.
With Mourning and Johnson throwing air-punches at each other, Van Gundy flew in from the bench and threw himself around the Heat center's legs, trying to put an end to the fight.
Van Gundy held on for dear life even as Mourning continued to swing wildly, and it remains as a distinguished precedence among all basketball fights.
Luckily for Van Gundy, he did not get trampled during the melee and emerged unscathed.
#9 The "Charles Barkley Shaq Fight"
The headline "Shaq fights Brad miller" didn't come as a surprise for many, but another story came quite differently when it involved the great power forward Charles Barkley who never won a ring.
Seeing how Shaquille O'Neal and Barkley get along with each other at the moment, one might wonder, "Could Shaq and Barkley fight in real?" But, they did as things were not always rosy between them.
The two rivals were involved in quite a few on-court altercations during their time together in the NBA. One particular incident stands out though.
Barkley, while driving to the basket, gets fouled hard by Shaq. Taking offense, Barkley hurled the ball straight at Shaq's head with quite some force.
Shaq then retaliated by taking a swing at Barkley, only just missing. The two then ended up wrestling each other to the ground which took some sting out of the encounter defining an unfading view of the "Barkley Shaq fight".
#8 Bill Laimbeer vs. Robert Parish
Bill Laimbeer gained a reputation for being a nasty player on the court, constantly jawing at opponents and making dirty moves to gain an advantage.
However, he met his match in Robert Parish during a game between the Pistons and Celtics back in 1987. While fighting for a rebound, Parish got overly physical and threw multiple solid punches at Laimbeer, leaving the Pistons man stunned.
Parish incredibly did not get ejected for his involvement in the incident, but he did get suspended for the following game after the incident was reviewed by the league office.
Parish went on to speak about the infamous punch during an interview in 2012, saying: "Bill [Laimbeer] always crossed the line…I had enough of all the dirty play. It was the first and only time I ever lost my composure during a game."
Should the statement read as simple as its sounds, the ugly situation on the court enriched the shortlist of NBA's biggest fights.
#7 Miami Heat vs New York Knicks
Games between the Miami Heat and New York Knicks have historically been filled with untoward incidents and things came to a head when the two sides clashed in the 1997 Playoffs.
While Brown and Ward were fighting to secure a rebound following a free-throw attempt for the Heat, Brown shoved Ward into a row of reporters sitting at courtside.
This led to a huge melee with both sets of benches getting involved. Ultimately, after the players were separated and peace was restored, four New York players were handed suspensions.
Allan Houston, Patrick Ewing, Larry Johnson and John Starks were all suspended for leaving the Knicks bench and getting involved in one of the best basketball fights, and the suspensions were upheld by a U.S. District Court judge.
#6 Kobe Bryant vs Chris Childs
Kobe Bryant was involved in some of the biggest basketball fights over the course of his NBA career, a notable one came in 2000 when the New York Knicks squared off against the Los Angeles Lakers.
With under a minute left in the third quarter, Bryant, the great trash talker, allegedly said something offensive to Childs, who was guarding the Lakers guard at the time.
Childs immediately retaliated and shoved Bryant, which drew a response from the Laker. However, little did Bryant know what was about to unfold.
Childs, who was seeing red at the time, unfurled a huge one-two that landed square on Kobe's jaw. Kobe was never one to back down from a fight and despite being stunned by the punches, decided to launch himself at Childs.
However, he was restrained by his teammates and two NBA officials. In the aftermath of the incident, Childs was suspended for two games and fined $15,000 while Kobe was suspended for one game and fined $5,000.
Childs, in a recent interview, explained what went down between the two players.
"When you watch the tape, when he comes around a pick, he kind of lightweight head butts me to get me off. Once he did that, he's taller than me and I'm in striking distance. I took off on him. I didn't want to knock him out, because I could have. But if I did, I'd still be suspended right now. I didn't put the shoulder in or lean in to it. I didn't want to hurt him."
#5 Marcus Camby vs. Jeff Van Gundy
In a 2001 clash between the New York Knicks and San Antonio Spurs, things seemed to be going according to plan for the Knicks as they dominated the game for the most part.
However, late in the fourth quarter, all hell broke loose. During a routine boxout, San Antonio Spurs' forward Danny Ferry appeared to poke Knicks center Marcus Camby in the eye.
After conversing with officials, Camby charged towards the Spurs bench to launch a punch at Ferry. However, Jeff Van Gundy, who was the Knicks coach at the time, was trying to break up the fight and inadvertently got in Camby's way.
The punch did not land, but Camby ended up on top of Van Gundy, drawing blood from the coach's face. Van Gundy lay on the court for a good three minutes before being led out with blood oozing out of his face. Thus came a gruesome NBA fight!
#4 The "Bird and Erving Fight"
Arguably the most famous and best NBA fight took place in 1984 when two epic performers of the game, Larry Bird and Julius Erving, decided to let their fists do the talking.
Bird was in the midst of a sensational game, having scored 42 points in just 30 minutes on the court. However, he made headlines for what followed soon after. Bird appeared to throw an elbow at Erving and was called for an offensive foul. This sparked a melee with players from both sides getting involved.
After things settled down, both players were fined $7,500 which was the second-highest fine for player conduct in league history at the time.
Erving who is regarded as one of the finest NBA dunkers spoke about the incident on ESPN's Get Up show, saying:
"There's a photograph of Larry and I choking one another, and neither one of us sign it. It always shows up at the card shows and whatever, we're not going to dignify it, dignify the moment, because the game isn't really about fighting unless you're in game and the clock is running. Then it's always a fight, it's always a battle."
#3 Kermit Washington vs. Rudy Tomjanovich
While the incident between Kermit Washington and Rudy Tomjanovich does not exactly constitute an NBA basketball fight, it is among the most infamous moments in NBA history and has to feature on this list.
Washington's punch on Rudy Tomjanovich is considered one of the most lethal in NBA history. During a game between the Rockets and the Lakers, a scuffle broke out between several players of both teams.
Kareem Abdul-Jabbar who was one of the top shot blockers battled against Kevin Kunnert for a rebound, which the latter secured. Washington then pulled him back to ensure Kunnert couldn't get away in a fast break.
Kunnert did not take too kindly to Washington's actions and threw an elbow at his rival. Washington then threw a punch at Kunnert himself, while Abdul-Jabbar also entered the fray and tried to serve as the peacemaker.
Just as it seemed as though the situation was under control, Washington spotted Tomjanovich running towards him. Assuming he was going to be attacked by Tomjanovich, Washington threw a sharp right hand that caught the Rockets player flush on the face, knocking him out in the process.
Tomjanovich crumpled in a heap of blood with a fractured face and spinal fluid leaking into his skull capsule. He needed multiple surgeries to fix fractures throughout his face and missed the rest of the season.
Tomjanovich was able to make a full recovery eventually and returned to the court but he never quite managed to hit the same heights again and many attribute his downfall to this incident.
#2 Denver Nuggets vs New York Knicks
The brawl between the Denver Nuggets and New York Knicks back in 2006 went down in history at the time as the most penalized on-court fight in the NBA.
The fight began when Knicks guard Mardy Collins committed a flagrant foul on Nuggets guard J. R. Smith with the game done and dusted.
Nuggets players took offence and this resulted in a large-scale brawl between the two teams, with multiple players getting involved.
Punches were thrown, words were exchanged and the fight even spilled into the stands. Carmelo Anthony, who was the NBA's leading scorer at the time, had to be restrained by his teammates but still managed to break free and throw a huge punch at Collins.
Thankfully, the incident didn't escalate beyond that as officials managed to get things under control. However, heavy sanctions were put into place and each of the 10 players on the court was ejected.
Both teams were fined $500,000 each and the seven players involved were handed a 47-game suspension. All these tell why this unwanted happening has to be among the best NBA fights.
Anthony received a 15-game suspension for his involvement in the incident.
#1 Malice in the Palace
The narratives of the biggest NBA fights ever would be lacking vividness if Malice in the Palace weren't included. The show of madness took place in 2004 when the Indiana Pacers traveled to Detroit to take on the Pistons.
Ron Artest committed a personal foul on Ben Wallace with under a minute remaining on the clock. Wallace took offense to Artest's actions and immediately shoved him in the face. This resulted in a brawl between the two teams, with both benches getting involved and adding to the chaos.
Just when it looked like the worst had passed, a Pistons fan got in on the act, throwing a can of diet coke at Artest, which immediately triggered the Pistons star.
Artest launched himself into the crowd in an attempt to take on the fan in question, but somehow got involved in a fight with a different fan, with several other players also getting in on the act.
Ultimately, when the situation had been brought under control, the NBA suspended as many as nine players for a total of 146 games.
Artest, Stephen Jackson, Jermaine O'Neal, David Harrison and Anthony Johnson were all handed severe punishments for their involvement, including a one-year probation, community service, fine and anger management.
Artest did not seem to regret his actions at the time and was quoted saying: "Someone started trouble but I ended it."
The NBA was forced to increase security at all league games in the aftermath of this incident and also limit the sale of alcohol and other such substances during games.
Till date, this remains an infamous precedence among the top 10 NBA fights.