The NBA has witnessed some truly world class players grace its courts in its 73-year history. The likes of Michael Jordan, LeBron James, Kobe Bryant and Shaquille O'Neal are just a few names that have enjoyed tremendous success in the NBA.
Bill Russell, who enjoyed a tremendous career with the Boston Celtics, is the most successful player of all-time, having won a whopping 11 rings over the course of his NBA career.
However, for every successful player, there are tons of others who have failed to achieve the same levels of greatness due to a variety of factors. These could range from the lack of a world-class supporting cast, to injuries or even sheer bad luck.
Plenty of NBA superstars have starred on an individual level but failed to guide their respective teams to a ring. This has tarnished their legacy to an extent, although they still remain highly regarded in basketball circles.
On that note, here's a look at the 10 greatest NBA players who have failed to win a championship/ring.
(Note: Active players like Russell Westbrook and James Harden have not been included in this list).
#10. George Gervin
A prolific scorer, George Gervin averaged at least 14 points per game every single season he played in the NBA. He also averaged 26.2 points per game at the end of his NBA career and remains the San Antonio Spurs' most prolific scorer.
A four-time scoring champion, Gervin tore through the NBA during his early years, tormenting teams with his famous finger roll.
Gervin earned nine nominations to the All-Star teams in just 10 seasons in the NBA, but despite his individual success, he could not inspire San Antonio to a championship.
In fact, Gervin never even managed to make it past the Conference Finals which means he finds a spot on this unfortunate list.
He was, however, rewarded for his contributions to the league with a spot in the Basketball Hall of Fame in 1996.
#9. Steve Nash
Steve Nash re-defined the role of the NBA point guard as his style of up-tempo offense led to wholesale changes in the way the game was played.
Nash was drafted by the Phoenix Suns in 1996, but his breakthrough came after his trade to the Dallas Mavericks. With the Mavericks, Nash was part of a Big 3 alongside Dirk Nowitzki and Michael Finley. Despite his obvious talent though, Nash was never able to lead his side to a ring.
In fact, Nash never even made it to the NBA Finals, which is a blot on his otherwise stellar career.
The Canadian ended his career with the Los Angeles Lakers in 2015 as a two-time MVP and 8-time All-Star. He is also currently third on the all-time assists leaders with 10,335 to his name. Nash is also regarded as one of the purest shooters the league has ever seen as he averaged a whopping 42.78% from beyond the arc.
#8. Allen Iverson
Allen Iverson was easily one of the most polarizing players of his era. A gifted athlete, Iverson was selected with the 1st overall pick of the 1996 NBA Draft.
He instantly transformed the Philadelphia 76ers into contenders and even led them to the NBA Finals in 2001. However, the lack of a supporting cast meant the Sixers fell to the Los Angeles Lakers in the Finals.
Iverson's career peaked during the late-90s and early 2000s as he was named the league's MVP in 2001 on the back of some stellar performances.
A scoring machine, Iverson averaged 26.7 points per game over the course of his career and his 24,368 points place him 25th on the all-time scoring list. He will go down in history as one of Philadelphia's greatest ever talents, who simply arrived in the league at an inopportune time.
#7. Reggie Miller
Reggie Miller is considered one of the greatest shooters of all-time. An offensive juggernaut, Miller is 21st in the all-time scoring list with 25,279 points to his name.
He is also fondly remembered for his clutch performances down the stretch as he had the ability to take over games in the fourth quarter and lead his side to victories.
A one-team man, Miller represented the Pacers between 1987 and 2005, but could only manage one NBA Finals appearance. That came in 2000, but Miller's Pacers were halted by the force of nature that was the Los Angeles Lakers at the time.
Miller broke a plethora of records during his stellar career with the Pacers. He was the first Pacer to start an All-Star game, achieving the feat back in 1990.
Miller would go on to make four more All-Star appearances while also being named to the All-NBA Third Team on three separate occasions.
#6. Patrick Ewing
Great things were expected of Patrick Ewing when he was selected with the first overall pick of the 1985 Draft by the New York Knicks. Although he went on to have a storied career, breaking multiple franchise records, he never managed to lead his side to a championship.
Ewing was named Rookie of the Year in 1986 despite missing a chunk of the season due to injury. He averaged 20 points, 9 rebounds, and 2 blocks per game and soon enough, developed into one of the finest centers in the game.
Ewing led the Knicks to two NBA Finals appearances in 1994 and 1999 but came up short against the Houston Rockets and San Antonio Spurs respectively.
At the time of his retirement, Ewing had racked up 2,894 blocks, 24,815 points and 11,607 rebounds, making him one of only six players to have amassed at least 20,000 points, 10,000 rebounds and 2,500 blocks.
#5. Dominique Wilkins
The NBA's forgotten man, Dominique Wilkins had an enormously successful career from a personal standpoint. He represented as many as 5 NBA franchises, with his most successful stint coming with the Atlanta Hawks between 1982 and 1994.
Wilkins is 13th on the all-time scoring list with 26,668 points.
However, he is best remembered for his sensational Slam Dunk contest with Michael Jordan. Wilkins was a gifted athlete and made the most ridiculous of dunks look like a piece of cake.
Despite his flashy plays on the court though, he could never lead any of his sides to an NBA Finals, which detracts from his legacy.
He was, however, a 9-time all-star and a scoring champion in 1986.
#4. John Stockton
One of the greatest pass-first point guards to have played the game, John Stockton formed a dynamic partnership with Karl Malone during his time with the Utah Jazz.
Stockton spent 19 seasons with the Jazz and led them to the playoffs on every single occasion. He also made two NBA Finals appearances, in 1997 and 1998, but like many others on this list, came up short against Michael Jordan's Chicago Bulls side.
Stockton set multiple records during his tenure with the Jazz. He ended his NBA career with 15,806 assists to his name, a record which has stood the test of time. To put things into perspective, Jason Kidd, who is second on the list, is a whole 3000 assists behind Stockton.
Stockton was a 10-time All-Star and 2-time Steals leader as well.
#3. Charles Barkley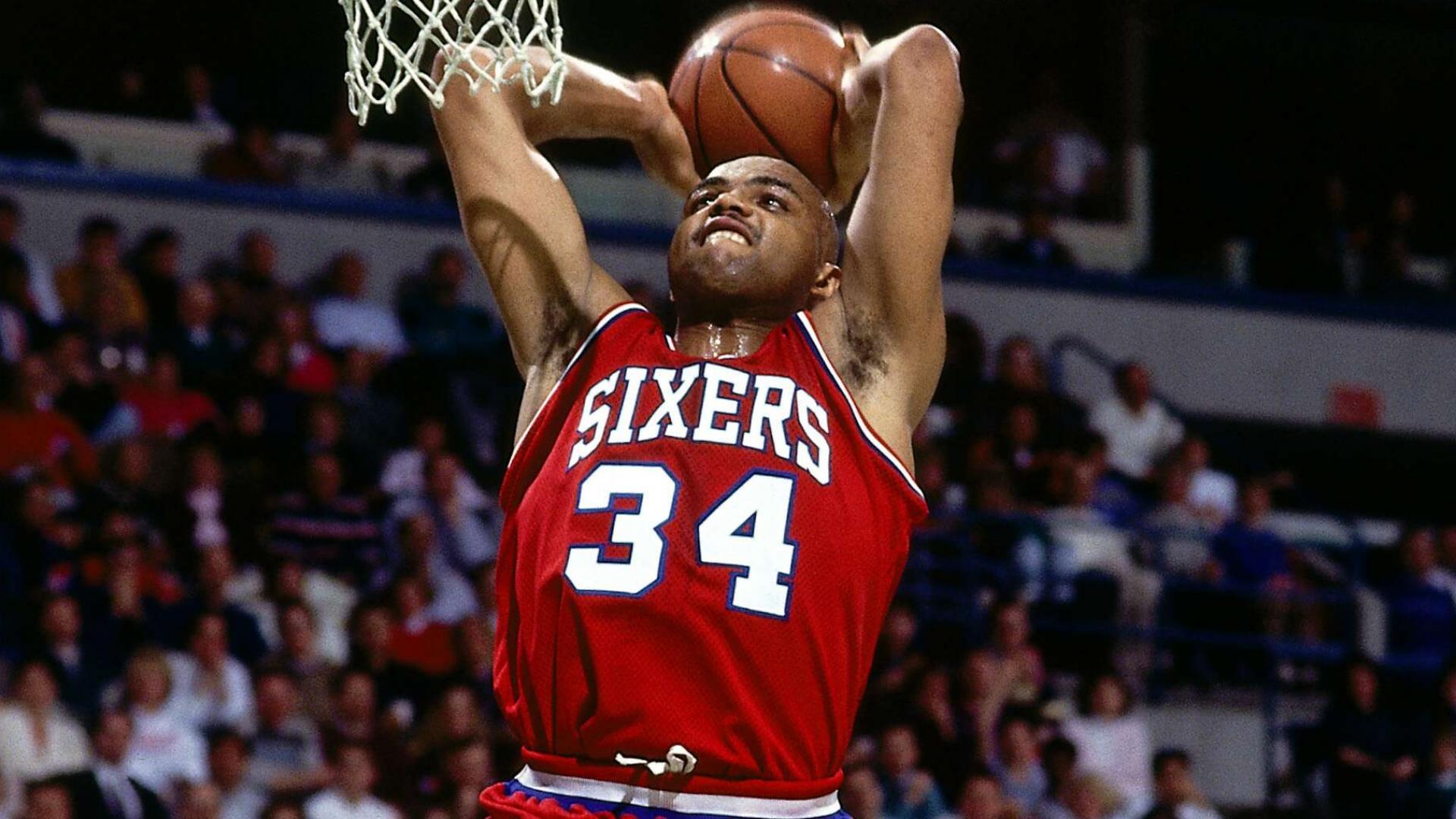 The fifth overall pick of the 1984 NBA Draft, Charles Barkley was a force to be reckoned with in the NBA. Despite his short stature, Barkley was a tremendous rebounder, using his aggression and awareness to grab offensive and defensive boards at an alarming rate.
Barkley managed just one NBA Finals appearance in his storied career, and was denied a ring by Michael Jordan's Chicago Bulls.
However, Barkley did win an MVP award that season after leading the Phoenix Suns to the NBA Finals.
'Chuck', at the time of his retirement, was one of just four players to have achieved the sensational feat of 20,000 points, 10,000 rebounds and 4,000 assists.
He remains involved in the sport and serves as an analyst on TNT's Inside the NBA show on game days.
#2. Karl Malone
Karl Malone, like many others on this list, was an unfortunate victim of circumstance. Malone was drafted by the Utah Jazz with the 13th overall pick of the 1985 draft.
Malone would go on to form a formidable pairing with John Stockton, leading the Jazz to 2 NBA Finals. However, he came up short on both occasions, losing to the Michael Jordan-led Chicago Bulls in 1997 and 1998.
Malone continued to enjoy tremendous success following his move to the Lakers, but his sole trip to the NBA Finals resulted in more disappointment as Los Angeles were defeated by the Detroit Pistons in 2004.
Malone retired with 36,928 points, 14,968 rebounds and 5,248 assists to his name. He was also a two-time league MVP, 14-time NBA All-Star and named to the All-Defensive First Team three times.
#1. Elgin Baylor
One of the greatest players of all time, Elgin Baylor was selected with the No.1 overall pick in the 1958 NBA Draft. Baylor would go on to have a stunning rookie season, averaging 24.9 points per game to go with 15 rebounds and 4.1 assists.
Baylor was named the Rookie of the Year for his efforts and he managed to lead a Lakers side that had finished at the bottom of the pile the previous season, to the NBA Finals.
However, Los Angeles came up short in the Finals, losing to the Boston Celtics. Baylor continued his dominant displays in subsequent seasons as well, and over the course of his career, made it to 8 NBA Finals.
However, he succumbed at the final hurdle every single time and is often considered the greatest player to have never won a Championship.
Interestingly enough, Baylor retired in the 1971/72 season due to a knee problem and missed the Lakers' run to the Championship that very season.
Baylor retired from the sport with a host of accolades to his name. He was an 11× NBA All-Star, NBA Rookie of the Year and 10× All-NBA First Team. He ended his career with 23,149 points, 11,463 rebounds and 3,650 assists to his name.