American football is easily one of the most physically challenging sports in the world. With players constantly charging into one another and taking massive hits in the process, it is only natural that there exists bad blood between them.
That often spills over into the fanbase, resulting in hostile atmospheres for visiting teams which forms the basis of all the rivalries we have grown accustomed to in the NFL.
From punches to huge hits and even off-the-field ugliness, rivalries between NFL teams have grown over the years and shaped the way the game is played today.
Here, we take a look at the 10 most intense rivalries in NFL history:
#10. Dallas Cowboys vs Washington Redskins
Ranked as the #1 rivalry in NFL history by Sports Illustrated, the Cowboys and Redskins share history that dates way back to 1960.
It all started with the battle between Redskins owner George Marshall and Cowboys owner Clint Murchison Jr.
Marshall did not want the NFL to allow a Dallas team to be formed as he was afraid it would affect broadcast rights. Murchison Jr though was ready to do everything in his power to get a team in Dallas and he went on to gain leverage by purchasing the rights to the Redskins' fight song.
Things gained steam the following year courtesy the Cowboy Chicken Club. A group of Dallas fans entered DC Stadium and attempted to scatter chicken feed. They also planned to release a bunch of hungry chickens onto the field at half-time, but their attempts were thwarted by Redskins general manager Dick McCann.
The rivalry has continued till this date and games between the two sides are extremely fiercely contested.
#9. Detroit Lions vs Green Bay Packers
The longest-rivalry in NFL history, the Lions and the Packers have been rivals since 1933 and are often involved in close, heated battles on the field.
The rivalry between these two teams is best remembered for the Miracle in Motown. With the Packers trailing the Lions by 2 points on the final drive of the game, Green Bay quarterback Aaron Rodgers looked to have sealed his side's fate when he was tackled as the clock expired.
However, a face mask penalty was called on Devin Taylor and the Packers were handed one final possession. Rodgers hurled a 61-yard Hail Mary into the End Zone and it was grabbed by Richard Rodgers, who sealed a historic victory for the Packers.
#8. New York Giants vs Dallas Cowboys
A rivalry between the two most popular teams in the NFL. Although Giants-Cowboys games have not had too many instances of violence like others on this list, there have been the isolated fistfights and name-calling incidents.
Games between these two teams are famous for their hard-fought nature and star attractions.
The most notable incident from previous Giants-Cowboys games remains the violent brawl that took place in 1974.
Cowboys receiver Alvin Harper leaped up to catch a throw from quarterback Troy Aikman but was hit mid-air by Giants safety Tito Wooten and suffered a sprained knee. This sparked a sideline brawl between the two teams, with Cowboys receivers coach Hubbard Alexander, Jarvis Williams and Michael Irvin exchanging punches.
Cowboys safety James Washington also added fuel to the fire when he grabbed a camera and requested the Giants to have a go at him. Irvin and Washington were both fined heavily for their actions.
#7. Seattle Seahawks vs San Francisco 49ers
The Seahawks and 49ers first squared off in 1976, but it was only after they became divisional rivals in 2002 that thing started heating up. The Seahawks lead the head-to-head between the two teams 26-16 and even embarked on a 10-game win streak between 2014 and 2018.
The feud truly began to take shape when rival coaches Pete Carroll and Jim Harbaugh took charge of the Seahawks and San Francisco respectively in 2011.
Although there haven't been too many instances of violence on the field, the rivalry between these two teams can be gauged from the behavior of the fans, most notably the ones from Seattle, who burned Richard Sherman's jersey after the cornerback moved to San Francisco in 2018.
#6. New York Giants vs Philadelphia Eagles
The rivalry between the Giants and the Eagles is one of the fiercest and also the most closely-contested, with the two teams tied with 86 wins apiece.
Although games between the two sides were not particularly hostile initially, things truly heated up in 1960 when the Eagles' Chuck Bednarik slammed into Frank Gifford in one of the most controversial tackles in NFL history. The image of Bednarik standing over Gifford's motionless body is remembered by fans till this date.
Another nasty incident involving the two sides came in 2014 when New York wide receiver Victor Cruz suffered a season-ending injury on a fourth and goal attempt. The next morning, a New York newspaper showed a picture of a prone Cruz with a cheering Eagles employee standing over him along with the headline 'PHILTHY.'
#5. Oakland Raiders vs Kansas City Chiefs
Division rivals Oakland Raiders and Kansas City Chiefs have one of the most bitter rivalries in the AFC. The Chiefs have enjoyed a lion's share of the success in battles between these two sides, boasting a 67–53–2 win-loss-draw record.
Matchups between these two sides have had a bit of everything, including dirty hits, ejections, fan violence and subsequent lawsuits.
Way back in 1970, Raiders defensive end Ben Davidson was ejected for his involvement in a brawl with Chiefs wide receiver Otis Taylor. Davidson dove into Chiefs quarterback Len Dawson with his helmet which resulted in Taylor getting involved and after a brawl between both teams, Davidson and Taylor were ejected from the game.
In 2011, a Raiders fan was allegedly beaten up by Chiefs fans, prompting him to file a lawsuit against the franchise and the fans in question.
Coming to the action on the field, the Chiefs have won five straight contests between these two sides and look poised to extend their dominance over the next few years.
#4. New England Patriots vs New York Jets
While this may no longer be one of the most intense rivalries in the NFL, considering the standings of the two teams at the moment, they have enjoyed several historic battles in the past. However, unlike most of the rivalries on this list, bad blood between the Jets and Patriots was caused due to a coach.
First up, Jets coach Bill Parcells opted to swap New England for New York after a rather successful 1996 season which prompted an angry backlash from the Patriots fans.
Things took a turn for the worse when Bill Belichick, who had signed up to be coach of the Jets, resigned after just one day to take up the vacant head coach role at New England.
Relations between the two teams continued to sour and soon enough, Belichick's protege, Eric Mangini, was named the Jets coach to add further fuel to an already raging fire. Mangini was also responsible for raising questions about New England's videotaping practices that eventually came to be known as Spygate.
#3. Green Bay Packers vs Chicago Bears
The two teams first squared off way back in 1921 and have since faced each other in 199 meetings over the years.
The Packers shade the head-to-head between these two teams, having registered 98 victories to the Bears' 96.
Legends of the game, including Aaron Rodgers, Vince Lombardi, Walter Payton among others have featured in this rivalry that's among the most intense in the NFL.
Games involving these two have historically been bad-tempered, with late hits and severe injuries a regular feature of this rivalry.
The two teams are also not averse to playing the occasional prank, most notable of which is the Packers' decision to fill the Bears' locker-room with horse manure prior to their clash in 1985.
#2. Pittsburgh Steelers vs Baltimore Ravens
Easily the most heated rivalry in the NFL, matches involving the Steelers and Ravens are renowned for their violence, unsportsmanlike behavior and gross misconduct.
Both teams are often filled with physical players who enjoy smashing into opposition bodies, making for ugly if entertaining viewing.
Players haven't shied away from expressing their opinion about this rivalry, with former Steelers receiver Hines Ward once saying: "It's just pure hatred – just like two old-fashioned bullies meeting in an alley. I tried to tell young guys, 'When it's Baltimore week, you tend to stay in the weight room longer because it's going to be a hard-fought, physical battle."
The Steelers have enjoyed more success in this rivalry, winning 28 of the 51 meetings between the two sides.
#1. Cincinnati Bengals vs Pittsburgh Steelers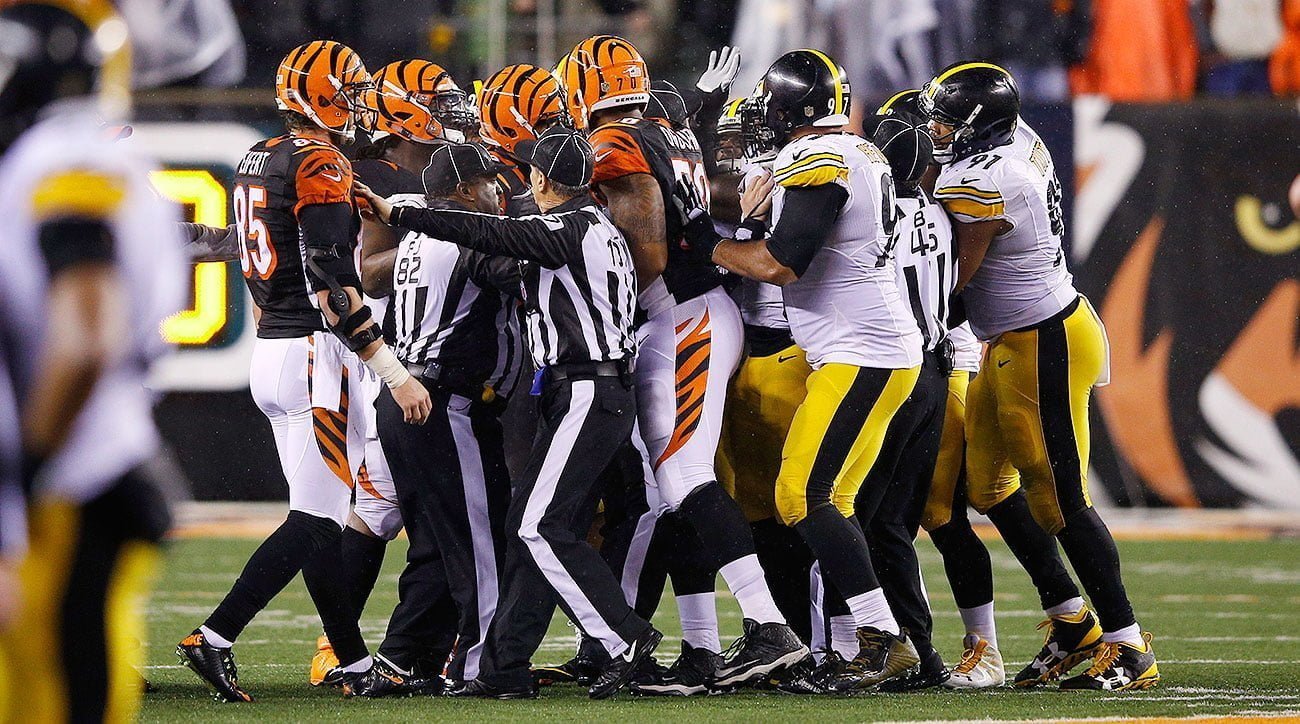 The Steelers-Bengals rivalry has historically brought out the worst in both teams. Tempers have flared, words have been said, and far too many punches have been thrown.
Former Bengals wide-receiver Marvin Jones aptly summed up the bad blood between the two sides when he said: "I actually saw [the rivalry] really turn into what it's become last year. It was always heat of the game, but it never got too frisky and stuff like that. It was just always a good, ground-and-pound AFC North game. But after last year obviously it spiked up and I'm not going to say I didn't like it. … It just made me feel like, 'Man, this is football. This is gritty and this is grimy.'"
Jones' comments came on the back of the Steelers' clash against the Bengals in the 2015 AFC Wild Card encounter.
The Bengals led 16-15 and looked poised to secure a huge upset until tempers began to get the better of the players on the field.
First up, Steelers receiver Antonio Brown was dealt a concussing blow by Bengals linebacker Vontaze Burfict, who was subsequently penalised for three games. Soon after, Bengals cornerback Adam Jones and Steelers assistant coach Joey Porter got into an altercation, which resulted in a personal foul for Jones, while Steelers offensive line coach Mike Munchak was also called for a personal foul after he had grabbed hold of Reggie Nelson's hair.
Two years later, the bad blood continued, with the Ryan Shazier, Joe Mixon and Burfict suffering serious injuries and JuJu Smith-Schuster and George Iloka being handed suspensions.