The NBA is one of the most popular sporting leagues in the world. Fans stream into arenas and also tune into their television sets to catch the best teams in action on a nightly basis.
However, despite the NBA's growing popularity across the globe, there remain plenty of instances in which the league has been portrayed in a negative light.
From on-court brawls to sexual assault cases and even racist comments from higher authorities, the NBA has been plagued by scandals in its history.
Here, we take a look at the top 10 scandals in NBA history:
#10. Rudy Tomjanovich gets KO'ed by Kermit Washington
The NBA has witnessed some rather malicious fights over the years, which is understandable considering the stakes that are involved in high-intensity games. Often, punches are thrown by members of opposing teams in the heat of the moment.
While most of them are forgotten in time, some are remembered till date for their devastating effect on the players involved and the league as a whole.
Kermit Washington's punch on Rudy Tomjanovich is considered one of the most lethal in NBA history. During a game between the Rockets and the Lakers, a scuffle broke out between several players of both teams.
Kareem Abdul-Jabbar and Kevin Kunnert battled for a rebound, which Kunnert secured. Washington then pulled him back to ensure Kunnert couldn't get away in a fast break.
Kunnert, infuriated by the incident, threw an elbow at Washington, which connected. While Abdul-Jabbar tried to play peacemaker, Washington responded by throwing a punch at Kunnert.
Washington then spotted Tomjanovich running towards him, and, assuming he was going to be attacked, threw a sharp right hand that caught the Rockets player flush on the face, knocking him out in the process.
Tomjanovich crumpled in a heap of blood with a fractured face and spinal fluid leaking into his skull capsule. However, despite the seriousness of the injury, he was able to make a full recovery and returned to NBA action soon after.
#9. Malice in the Palace
The Indiana Pacers travelled to Detroit to take on the Pistons in a routine game in 2004. However, things descended into absolute chaos when a fan threw soda on the Pacers' Ron Artest.
Artest had committed a personal foul on Ben Wallace with under a minute remaining on the clock. Wallace took offense to Artest's actions and immediately shoved him in the face. This resulted in a brawl between the two teams, with both benches getting involves.
Just when it looked like the worst had passed, a Pistons fans threw a can of diet coke at Artest, which immediately triggered the Pistons star.
Artest launched himself into the ground in an attempt to take on the fan in question, but somehow got involved in a fight with a different fan, with several other players also getting in on the act.
Ultimately, when the situation had been brought under control, the NBA suspended as many as nine players for a total of 146 games.
Artest, Stephen Jackson, Jermaine O'Neal, David Harrison and Anthony Johnson were all handed severe punishments for their involvement, including a one-year probation, community service, fine and anger management.
The NBA was forced to increase security at all league games in the aftermath of this incident and also limit the sale of alcohol and other such substances during games.
Till date, this remains the most infamous fight in NBA history.
#8. Jayson Williams' manslaughter case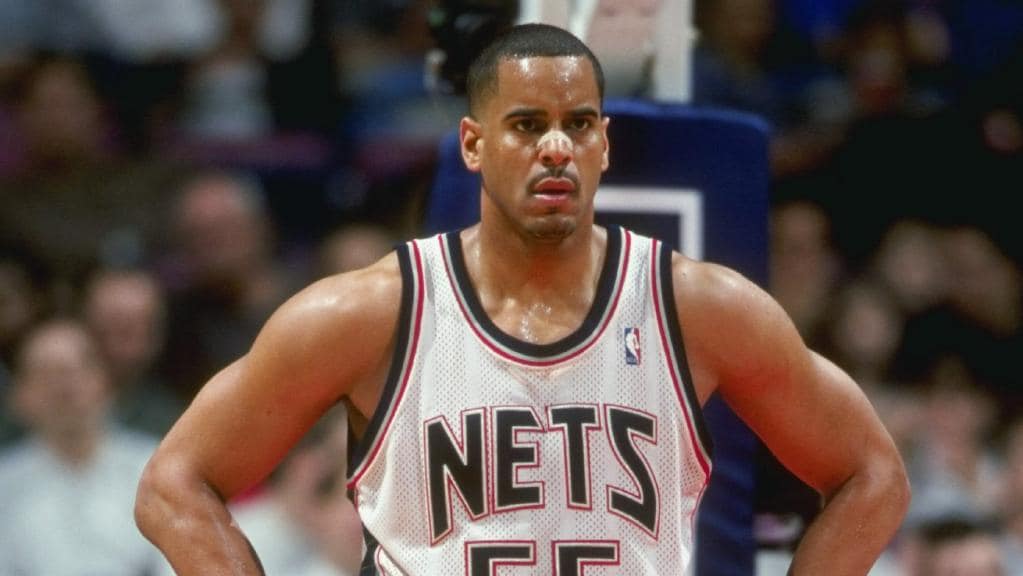 Williams represented the Philadelphia 76ers and New Jersey Nets during his NBA career which was littered with controversy.
Williams was constantly in the headlines for his antics off the court. He was often involved in brawls in bars and once smashed a beer mug over the head of a patron. He also had a tendency to play with guns and came close, on more than one occasion, to shooting a member of the public.
Two years after his retirement, Williams ended up shooting his 55-year-old limousine driver Costas "Gus" Christofi while playing with his shotgun during an NBA charity event in front of the rest of the team members.
He was tried in a court for charges of manslaughter but the jury ended up in a deadlock. He still served a 27-month prison sentence and was released in April 2012.
#7. Washington Wizards star brings guns to the arena
Although Washington Wizards star Gilbert Arenas had a rather storied career, his most memorable moment came in December 2009 when he ended up bringing loaded guns to the Verizon Center ahead of a game.
At the time, private ownership of firearms was illegal which landed Arenas in huge trouble.
According to reports, the Wizards'Javaris Crittenton had lost a card game to JaVale McGee, leading to an argument between the two.
When Arenas got involved, Crittenton threatened to shoot him. Although it was likely said in jest, Arenas took offense to Crittenton's statements and ended up bringing four loaded firearms to the Wizards' stadium just days later, asking Crittenton to pick his weapon of choice.
Both players were suspended for the remainder of the 2009/10 season after the NBA caught wind of the situation.
Luckily for everyone involved, no one ended up with a bullet in their body.
#6. Len Bias' death
Len Bias' death rocked the foundations of the NBA during the time. Described as a once-in-a-generation talent and touted for greatness following a stellar college career, Bias was selected with the second overall pick of the 1986 NBA draft by the Boston Celtics.
However, he never managed to play a single game in the league. Bias passed away less than 48 hours after being drafted.
The cause of death was attributed to a cardiac arrhythmia induced by a cocaine overdose. In the aftermath, the NBA introduced a drug awareness program for youngsters like Bias to help avoid such scenarios in the future.
Bias was a two-time ACC Player of the Year and a consensus first-team All-American and could have gone on to have a stellar career had he made it to the NBA.
#5. Tim Donaghy betting scandal
Betting has become increasingly prevalent in the modern era of sports, with players and even referees often finding themselves on the wrong end of gambling problems.
Tim Donaghy was an NBA referee between 1994 and 2007. He had quite a decorated career in that period, officiating in 772 regular-season and 20 playoff games in total.
However, he was involved in one of the most controversial NBA scandals of all time.
Donaghy was a serial gambler and used his knowledge of the NBA, the referees and the coaches to bet and even attempt to fix matches.
He was even involved with organized crime gangs according to multiple reports. Donaghy was eventually sentenced to 15 months of jail after pleading guilty to two charges.
Donaghy went on to reveal that many games in the NBA were fixed for the league's best interest, including the 2002 NBA Finals between the Kings and the Lakers.
Donaghy claimed that personal fouls were often overlooked as the referees wanted to extend the series to seven games.
Following Donaghy's claims and arrest, NBA commissioner David Stern made significant changes on the guidelines for referee behaviour.
#4. Tim Hardaway's homophobic comments
Former Dallas Mavericks and Miami Heat guard Tim Hardaway made headlines with some extremely homophobic comments during an interview with Dan LeBatard in 2007. In response to John Amaechi's revelation that he was gay, Hardaway launched into a homophobic rant that shocked the NBA world at the time.
"Well, you know I hate gay people, so I let it be known. I don't like gay people and I don't like to be around gay people. I am homophobic. I don't like it. It shouldn't be in the world or in the United States."
Hardaway also threated to get any gay player he knew fired from the NBA. Although he would go on to apologize for his comments the very next day, he was still removed from the NBA's All-Star weekend activities and also fired as Chief Basketball Operations Advisor by Trinity Sports.
#3. Dallas Mavericks sexual harassment
In 2018, Sports Illustrated published a report providing details about widespread sexual harassment in the Dallas Mavericks organization.
According to the report, there was widespread harassment and inappropriate behavior in the team's ticket office, which was confirmed after conducting interviews with 215 current and former employees of the Dallas organization.
Much of the blame was attributed to the head of Human Resources Buddy Pittman, who failed to listen to the complaints of many of the victims.
Although Mavericks owner Mark Cuban was also accused of negligence in the matter, he was soon absolved of blame.
#2. Kobe Bryant sexual assault
Kobe Bryant had established himself as one of the league's top players back in 2003. However, his reputation took a massive hit in July of that year when he was accused of sexually assaulting a hotel employee in Colorado.
Bryant had flown to Colorado to have surgery on an injured rotator cuff. He checked into a hotel in Edwards following which he invited a 19-year-old employee to his room and allegedly forced himself onto her.
Bryant denied the sexual assault claims that were placed against him although he did admit to having a consensual sexual encounter with the woman.
The accuser eventually refused to testify in court and the charges against Bryant were dropped. However, he was forced to provide an apology and also settle an out-of-court civil case which tarnished his reputation to a great extent.
#1. Donald Sterling fired for racism
The outspoken owner of the Los Angeles Clippers, Donald Sterling landed himself in serious hot water after making racist statements to his mistress at the time, V. Stiviano.
Sterling had a controversial past, involving late payments to players and staff, as well as being renowned for heckling his own players during games.
However, Sterling's most controversial actions came in 2014 when the Clippers were preparing to face the Golden State Warriors in the playoffs.
TMZ Sports released a recording in which Sterling could be heard making shocking racist remarks to Stiviano, chastising her for her association with African-American people.
"It bothers me a lot that you want to broadcast that you're associating with black people. Do you have to? –You can sleep with [black people]. You can bring them in, you can do whatever you want. The little I ask you is not to promote it on that … and not to bring them to my games. — I'm just saying, in your lousy f******* Instagrams, you don't have to have yourself with, walking with black people. — …Don't put him [Magic] on an Instagram for the world to have to see so they have to call me. And don't bring him to my games."
His statements rocked the NBA and he was subsequently banned for life. He was also handed a whopping $2.5 million fine by NBA commissioner Adam Silver and was forced to sell the team subsequently.
The players, on their part, reacted extremely strongly, refusing to display the team's logo by wearing their shirts inside out.