Whenever the debate over who the greatest player in football pops up, a lot of names are often thrown around. However, for those born in this generation, only two names stand out: Cristiano Ronaldo and Lionel Messi.
The two superstars redefined rivalry and dominated the game for over a decade. From 2007 to 2017, Ronaldo and Messi dominated the FIFA Best Player and Ballon d'Or awards, winning both awards five times apiece.
Messi has since won a sixth Ballon d'or but that does not negate the impact that his Portuguese counterpart has made in the game in the last decade. For the average football fan, though, it's always a privilege to watch the duo play.
The feeling is the same for players who get the opportunity to share the pitch with Ronaldo and Messi. While many have faced the superstar pair in one way or the other, very few have had the opportunity to play alongside both players.
Sports Zion brings you a list of 10 footballers who have been lucky to play with both Ronaldo and Messi:
#10. Henrik Larsson
Among all the players that have played with both Cristiano Ronaldo and Lionel Messi, Henrik Larsson had the shortest stint. He played alongside Ronaldo for just six months, while he also lined up with Messi for two years.
Having enjoyed a successful career at Celtic, Larsson joined Barcelona in the summer of 2004. The Swede's stay in Catalonia did not go according to plan, but he still managed to make his mark at the Camp Nou.
Larsson and Messi twice scored in the same league game. He later joined Man United on loan, where he teamed up with Ronaldo. He ended up scoring three goals as the Red Devils won the Premier League.
#9. Carlos Tevez
Carlos Tevez is remembered mostly for his time playing alongside Cristiano Ronaldo at Manchester United. Together with Wayne Rooney, they formed a fearsome attack which dominated England and conquered Europe.
The partnership between Ronaldo and Tevez was built on great understanding and a mutual ruthlessness in front of goal. Both players led United to successive Premier League titles, as well as the UEFA Champions League in 2008.
Before all these, though, Tevez was already playing alongside Lionel Messi for Argentina. The pair played their first game together during Argentina's World Cup qualification game against Peru in 2005. Messi and Tevez continued to play together in the Argentina national team until the latter phased out in 2015. In this day, where the GOAT debate has been unending, perhaps, Tevez is the best man to tell who the better player is between Ronaldo and Messi.
#8. Angel di Maria
Paris Saint-Germain star Angel di Maria has been a teammate of Lionel Messi since 2009. The lanky winger played alongside Messi when Argentina narrowly lost in the final of the 2014 World Cup, as well as two other Copa America finals against Chile.
Although he hasn't won any trophy alongside Messi yet, the story is different when it comes to his time with Ronaldo. Di Maria played alongside the Portuguese from 2010 to 2014. He won many trophies with Ronaldo during their stay at Real Madrid, including La Liga and the UEFA Champions League.
Interestingly, when Di Maria left Madrid, he moved to Ronaldo's former club Manchester United. His playing days with Ronaldo are now over, but the skillful winger is still a key player for Argentina and that means he will continue to play with Messi for the foreseeable future.
#7. Gerard Pique
Nowadays, Gerard Pique is known for his impressive outings for Barcelona, where he consistently features alongside Lionel Messi. The controversial centre-back has won many trophies alongside the Argentine, but he also played with Cristiano Ronaldo in the beginning of his career.
While the 32-year-old has been a teammate of Messi at Barcelona for more than a decade, he also played alongside Ronaldo for s short stint at Manchester United. In fact, Pique was part of the Red Devils side that won the Premier League and Champions League during the 2007/08 season.
It is such a privilege to play alongside two of the greatest players the game has seen, but it is more surreal when you consider the fact that Pique not only played beside them, he has actually won numerous trophies with both players.
#6. Nelson Semedo
Nelson Semedo is still very young, but he has already played with some of the best players in the world. Talk of Joao Moutinho, Luis Suarez and even Cristiano Ronaldo and Lionel Messi. At 26, the right-back is probably the youngest player to have played alongside both Ronaldo and Messi.
He has been playing with Ronaldo for the Portugal national team for five years now and was part of the Seleccao side that won Euro 2016. He has also been a teammate of Messi at club level since 2017, having won multiple titles with the Argentine.
While Semedo's international appearances are not really enough, the defender has made over 100 appearances for Barcelona. He has also set up many goals for Messi in the process. This is certainly a distinguished list for Semedo to find himself in.
#5. Gonzalo Higuain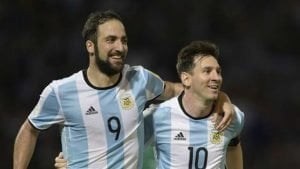 Argentina international Gonzalo Higuain is another player who has been very fortunate to line up alongside both Ronaldo and Messi. The striker was a teammate of Ronaldo's for four years at Real Madrid, before departing to Napoli.
Higuain won La Liga and the Copa del Rey together with Ronaldo, under the managerial guidance of Jose Mourinho in 2012. As fate would have it, the pair are once again reunited at Juventus and are running riots against defenders.
The 31-year-old forward is also an international teammate of Lionel Messi. Higuain has lined up beside the Barcelona star during numerous international tournaments, including the World Cup and the Copa America. Although he is yet to win a major trophy alongside Messi, Higuain has been there and done that while playing with Ronaldo.
#4. Andre Gomes
Everton midfielder Andre Gomes has been playing together with Cristiano Ronaldo since 2014. In fact, the pair played key roles as Portugal lifted its first major international trophy after winning Euro 2016.
While Gomes provided compactivity and vision in the midfield, Ronaldo also contributed with goals and assists in the other end of the pitch. Gomes has also been privileged to play alongside Lionel Messi, albeit for just a short period. The midfielder joined Barcelona in the summer of 2016.
Fresh from winning Euro 2016 with Portugal, Gomes linked up with Messi at the Camp Nou, as they both won two successive La Liga titles. The midfielder has since moved to the Premier League, where he plays for Everton. Although he no longer plays alongside Messi, Gomes will definitely have more games beside Ronaldo in the Portugal national team.
#3. Paulo Dybala
Like Gonzalo Higuain, Paulo Dybala is also currently a teammate of Ronaldo at Juventus. The Argentine formed a great partnership with Ronaldo last season, with the pair even coming up with a very catchy goal celebration.
Dybala and Ronaldo won the Serie A together, as well as the Suppercoppa last season. Dybala may never have played with Messi at club level, but the forward plays alongside the Barcelona star at international level.
Messi and Dybala played together during the 2018 FIFA World Cup and were again reunited during Argentina's campaign in the 2019 Copa America. While many have questioned Dybala's suitability when playing alongside Messi, it is obvious that the two can play together, as evidenced during last year's Copa America tournament.
#2. Gabriel Heinze
Gabriel Heinze actually has a lot in common with Cristiano Ronaldo than many people actually realise. Like Ronaldo, the left-back also had a brief stint at Sporting Lisbon during the early stages of his football career. Heinze, however, finally had the chance to play with Ronaldo some years later.
The Argentine defender teamed up with the five-time Ballon d'Or winner at Manchester United in 2004 and they played together for three years, dominating England. Together, they won many titles, including the Premier League and FA Cup.
During that same period, Heinze was playing alongside Lionel Messi for the Argentina national team. Heinze was named in the Argentina starting line-up when Messi made his international debut against Hungary in 2005. Not only did the left-back enjoy a good against Hungary, he went on to score the winner in a 2-1 victory.
#1. Deco
By now it must be clear that most of the players who played together with both Lionel Messi and Cristiano Ronaldo command world-class statuses. The story is no different for Deco, who played with Ronaldo in the Portugal national team and also teamed up with Messi at Barcelona.
Interestingly, the legendary Portuguese midfielder was in action when both players made their debuts. Deco was on the pitch when Messi came off the bench to make his debut at Barcelona. The midfielder was also present when Ronaldo marked his Portugal debut against Kazakhstan.
Deco played with Ronaldo from 2003 to 2010 before retiring from international duty, while he also lined up alongside Messi at Barcelona from 2004 to 2008, before departing the Camp Nou to join Chelsea.