Top 10 Most Overrated NFL Players
The NFL has been home to many dynamic talents over the years. From the likes of Joe Montana and Tom Brady to Randy Moss and Larry Fitzgerald, there have been plenty of superstars who have graced the hallowed turf of the NFL.
However, there have also been plenty of players who have been touted for greatness but failed to deliver success to their respective sides and thus turned out to be the most overrated NFL players.
Here, we take a look at some of those who were promising at the advent and some even throughout the most of their careers.
10 Most Overrated NFL Players
These players didn't essentially lack the prowess of NFL greats, but in the end, they couldn't shine as brightly as those who received the same high distinctions at some point of their careers. Thus, the list came in.
#10 Michael Vick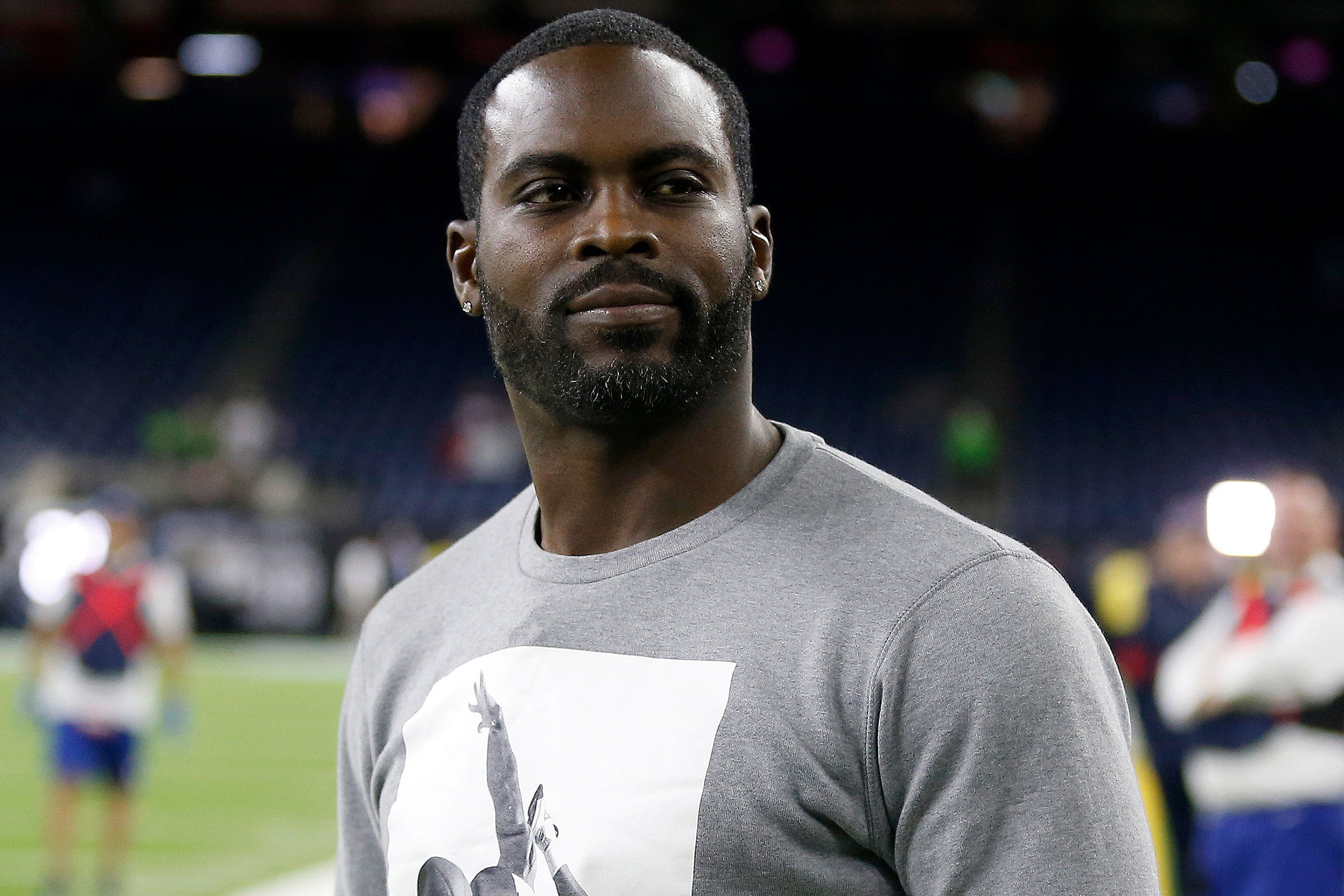 Michael Vick was considered a generational talent when he was drafted by the Atlanta Falcons with the first overall pick of the 2001 NFL Draft.
Vick possessed great arm strength and had the speed of a running back, making him virtually the perfect quarterback in the NFL.
However, those attributes did not translate into success in the league. Vick had a career completion percentage of just 56.2 and finished with an overall record of 38-28-1 with the Falcons.
He went on to play for the Eagles, Jets, and Steelers over the course of his final few years in the NFL but never managed to fulfill his potential.
#9 Brett Favre
Let me get this out of the way. Brett Favre was by no means a bad player, but he was nowhere near as good as he is made out to be.
Favre is considered one of the greatest quarterbacks to have played the game and mentioned in the same breath as Joe Montana and Tom Brady despite his stats proving a whole different point altogether.
Favre set numerous passing records during his time in the NFL, but he also set records for incompletions and interceptions.
He had the habit of throwing picks at inopportune moments and often failed in clutch situations with the game on the line.
Favre threw 306 interceptions over the course of his career, the most in NFL history, and had as many as six 20-interception seasons.
He also holds the record for most times sacked, and most fumbles, indicating he was not the greatest with the ball in hand.
#8 George Blanda
George Blanda is remembered more for his longevity than his ability to throw a football. Blanda played 26 seasons of professional football, which remains the most in the history of the sport.
He was also the oldest player to ever play the game, at the age of 48, when he announced his retirement.
Blanda played multiple positions during his time in the league, but is best known for his stint as the quarterback of the Chicago Bears and several other teams.
Blanda notched up numerous milestones over the course of his two decades in the league but his record as a pocket passer was exceptionally poor.
Blanda threw 236 touchdowns and 277 interceptions and had a passer rating of 60.6. He also had a shocking completion % of just 47.7 which is unacceptable for a Hall of Famer.
#7 Archie Manning
The general consensus is that Archie Manning is one of the worst and most overrated quarterbacks of all time. He has the lowest winning percentage of any starting quarterback in the history of the NFL (minimum 50 games) but that did not stop the New Orleans Saints from inducting him into their Hall of Fame.
Manning was drafted with the second overall pick of the 1971 NFL Draft and went on to represent New Orleans for 10 seasons.
Over those 10 seasons, Manning racked up a woeful record with the Saints. During his time under center, the Saints had nine losing seasons and managed to reach 0.5 just once.
Manning went on to represent the Minnesota Vikings and Houston Oilers as well but failed to lead them to winning seasons either.
Manning never officially competed in a playoff game and his 35–101–3 record as a starting quarterback is the worst in NFL history among QBs who have started at least 100 games.
He ended his career with a woeful touchdown-interception ratio (125–173) and completed just 55.2% of his passes.
He also had an extremely poor passer rating of 67.1 over the course of his NFL career.
#6 William Perry
William Perry, like many other overrated NFL players on this list, had an underwhelming career for someone blessed with such athleticism.
Perry weighed 350 pounds but moved like a 200 pounder and his speed and aggression meant he was quite an intimidating figure as a defensive tackle for the Chicago Bears.
Perry was drafted by the Chicago Bears with the 22nd overall pick of the 1985 draft and went on to become a fan-favorite for his personality and affable nature.
However, despite becoming a cult hero off the field, he never truly managed to fulfill his potential on it. Perry never managed more than 5.5 sacks in a season, a low number for a Hall of Fame defensive tackle, and he also never made the Pro Bowl over the course of his career.
Perry ended his career having played 138 games, recording 29.5 sacks and five fumble recoveries. Severe weight and other fitness problems meant he was never able to fulfill his potential and he called time on his career following the 1994 season.
#5 Troy Aikman
Troy Aikman continues to divide opinion amongst NFL fans many years after his retirement. While some feel Aikman had an immensely successful career with the Dallas Cowboys, others are of the opinion that he was an average player on a great team and undeserving of his spot in the Pro Football Hall of Fame.
Aikman spent his entire career with Dallas after being drafted with the first overall pick of the 1989 NFL Draft by the Cowboys.
Aikman won three Super Bowls with the Cowboys but never truly impressed as a starting quarterback. He never led the league in passing in any of his 12 seasons with the Cowboys and was never named to the All-Pro team either.
He averaged less than 200 yards per game and never averaged a passer rating of over 100 for a season. His touchdown to interception ratio was not the greatest (165–141) and on a roster as loaded as the Cowboys were at the time, that's simply not good enough.
#4 Ron Jaworski
Ron Jaworski is fondly remembered by all Philadelphia Eagles fans, who consider him one of their best-ever quarterbacks, which is strange considering he never truly had what it took to succeed in the NFL.
Jaworski was drafted with the 37th overall pick of the 1973 NFL Draft by the Los Angeles Rams. He was initially considered a third-string quarterback but injuries handed him a starting berth and he even managed to win a playoff game with the Rams.
However, he soon lost his starting spot and was shipped off to the Eagles. Jaworski led the Eagles to one Super Bowl but a miserable performance in the game in question meant the Eagles came up short.
Despite the Eagles becoming a playoff team during his time as a starter, Jaworski never did anything truly noteworthy and he was released by the franchise in 1986.
During his time with the Eagles, Jaworski racked up a 69-67-1 record. He went on to have stints with the Miami Dolphins and Kansas City Chiefs and retired at the end of the 1989 season, having thrown 179 touchdowns and 164 interceptions over the course of his career.
Jaworski had a passer rating of 72.8 during his time in the NFL.
#3 Roy Williams
Roy Williams was one of the most talented players to have come out of the University of Texas at the time and he was touted to be a great wide receiver in the NFL, considering his exploits in college football.
Williams was drafted in the first round of the 2004 NFL Draft, by the Detroit Lions with the seventh overall pick.
At first, it appeared as though the Lions had struck gold. Williams was unstoppable in his first season in the league and set multiple franchise rookie records. He finished the season with 54 receptions for 817 yards and eight touchdowns in 12 games.
In 2006, Williams looked like he was truly on his way to becoming an accomplished wide receiver. He finished with 1,310 yards, seven touchdowns and a 16.0 yards-per-catch average, among the highest in the league. Williams even made the 2007 Pro Bowl squad, becoming the first Detroit wide receiver to make the Pro Bowl since 1998.
However, none of these could stop him from being regarded alongside the most overrated wide receivers. Things soon went downhill for Williams, and he would never rack up a 1000-yard season again. A couple more underwhelming campaigns with the Lions followed and he was soon shipped off to the Dallas Cowboys where his struggles continued.
Williams was eventually released by the Cowboys and went on to announce his retirement from the game in 2012, after spending one season with the Chicago Bears.
#2 Drew Bledsoe
Much was expected of Drew Bledsoe after his record-shattering exploits in college football. He entered the NFL draft amidst a lot of hype and was selected first overall by the New England Patriots.
Bledsoe would serve as the Patriots' starting quarterback for the foreseeable future, and although he set numerous passing records during the early stages of his career – he became the youngest quarterback in NFL history to surpass 10,000 passing yards and the youngest quarterback to surpass 20,000 passing yards – he was never a trustworthy passer.
After a decent enough career with the Patriots, Bledsoe was traded to the Buffalo Bills in 2002 for a first-round draft pick, a decision the Bills would regret for many years.
Bledsoe enjoyed a strong start to life in Buffalo but things quickly went downhill in his second season. Bledsoe threw 11 touchdown passes and 12 interceptions and struggled for consistency.
Bills fans grew all the more frustrated with Bledsoe in 2004 as a crucial fumble in the season finale against Pittsburgh Steelers cost the Bills a playoff berth.
After a disappointing 2004 campaign, Bledsoe was released by the Bills, who decided to turn to J. P. Losman, and he joined the Dallas Cowboys but not before taking a parting shot at Buffalo, stating: "I can't wait to go home and dress my kids in little stars and get rid of the other team's [Buffalo's] stuff."
Bledsoe continued to struggle though and he was benched by Dallas in 2006 and replaced by future Pro Bowler Tony Romo.
Unwilling to continue serving as a backup, Bledsoe announced his retirement in 2007. During the course of his career, Bledsoe threw for 251 touchdowns and 206 interceptions and had a career passer rating of 77.1. He also completed just 57.1% of his pass attempts.
#1 Joe Namath
Joe Namath may have led New York Jets to a Super Bowl triumph, but he remains on top of the most overrated players in the history of the NFL.
Namath was drafted with the 12th overall pick of the 1965 NFL Draft by the New York Jets and spent the majority of his career with the franchise.
He is considered a Jets legend and was even inducted into the Football Hall of Fame which is surprising considering he was never the most athletic quarterback and also not an accurate passer.
Over the course of his career, Namath racked up 173 touchdowns and 220 interceptions, which is a terrible record, to say the least.
Namath also had a career passer rating of just 65.5, which would have been unacceptable in the modern, pass-first era of the NFL.
Despite throwing for 27,663, Namath's completion percentage sits at just over 50%. That dropped down to below 45% come playoff time and his 62-63-4 record as a starter is also among the worst for a Hall of Famer.
Between 1970 and 1977, Namath managed just one winning season and in seven of nine seasons in which he started at least 10 games, he threw more interceptions than touchdown passes.
Since it's a small list and we couldn't bring every name that matters, a few more NFL guys are relevant. One of those is Aaron Rodgers. But why?
Is Aaron Rodgers overrated? Fans along with famous critics like Greg Jennings still believe that he's likable and valuable. However, NFL analysts like Bucky Brooks think not only Aaron Rodgers is overrated but also he can't be on the list of top QBs.
In this article, we've included seven quarterbacks, which may suggest that QBs are the only people to be among the most overrated NFL players of all time. But, the reality is different. There are names in other positions. Let's see the list below.
Shaun Alexander is one of the most overrated running backs.
Deion Sanders tops the list of overrated cornerbacks.
Antrel Rolle is arguably the most overrated safety in the game's history.
What we've talked about the above NFL players can be relevant to some of those who are still active in the game. A whooping $84 million contract with Minnesota Vikings is nearing an end making Kirk Cousins overrated by many respects, and the quarterback is nowhere close to proving that wrong.
Also, there have been questions "Is Derek Carr overrated?" or "Did New York Jets make Le'Veon Bell overrated?" Truth be told, fans will have to wait for a few more seasons to get answers, and we too have to procrastinate for a little while.