The NFL is famous for its physicality and no-holds-barred approach to its games. Players have to be strong and intimidating to succeed as a quarterback or a defensive player.
However, over the course of the league's history, we've seen many not-so-tall people including even the shortest NFL players who have garnered their fair share of success.
Here, we take a look at the 10 guys who were shorter than others but with names in NFL History for different reasons.
10 Shortest NFL Players in NFL
This particular list has the names of a few running backs, wide receiver, and return specialists, and Jack Shapiro who appeared in the professional league for once but found his place in history as the smallest NFL player ever.
#10 Brandon Banks
Height: 5'7" (1.70 m)
Teams: Washington Redskins
Position: Kick Return Specialist
Accolades: Big 12 Offensive Newcomer of the Year (2008), Big 12 Special Teams Player of the Year (2009), CFL's Most Outstanding Player Award (2019), CFL All-Star – 2014, 2015, 2018, 2019, CFL East All-Star – 2014–2019
Brandon Banks entered the NFL with a reputation for being a tremendous player on special teams. He went undrafted in the 2010 NFL draft was picked up by the Washington Redskins as a free agent.
Despite his being one of the NFL's shortest players and the lightest NFL player as well, he earned the name Crazy Legs Banks following his punt return touchdown against the Buffalo Bills in a preseason game.
He would go on to have a successful stint with the Redskins during his two seasons with the franchise. He led the NFL in kick returns and kick return yards in 2011 with 1,174 yards on 52 returns.
However, the following season he was told in no uncertain terms that he would need to develop weapons as a receiver if he wanted to stay with the Redskins.
After failing to make enough of an impact during the 2012 season, he was released by the Redskins and never returned to the NFL again. Considering the many achievements he earned, his name could be alongside the greatest undrafted NFL players.
#9 Andrew Hawkins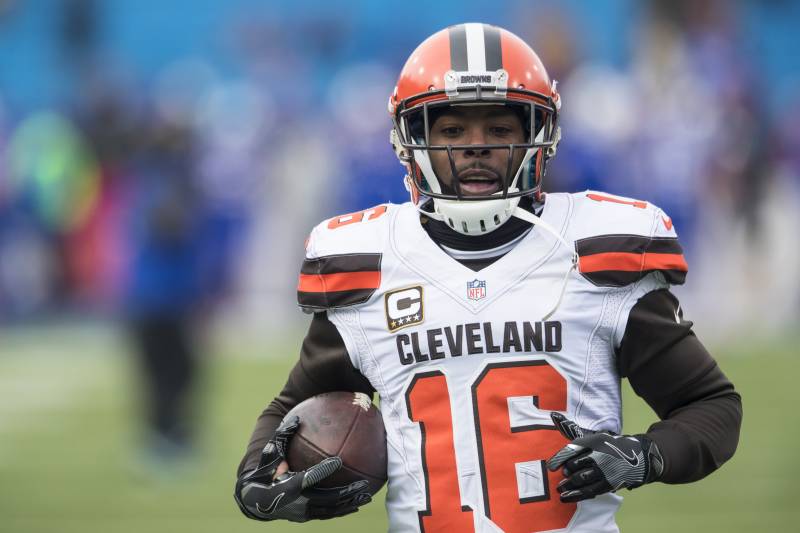 Height: 5'7″ (1.70 m)
Teams: St. Louis Rams (2011), Cincinnati Bengals (2011–2013), Cleveland Browns (2014–2016), New England Patriots (2017)*
Position: Wide Receiver
Accolades: 2× Grey Cup Champion (2009, 2010)
Andrew Hawkins' NFL dreams appeared to have been crushed when he went undrafted in the 2008 NFL draft. However, he signed for the Montreal Alouettes of the Canadian Football League and starred for the franchise over the course of the next two seasons, earning a route back to the NFL.
He was picked up by the Los Angeles Rams at the start of 2011 but waived midway through. He then headed to the Cincinnati Bengals where he put on a few impressive displays.
A stint with the Cleveland Browns followed, with Hawkins making a total of 31 appearances for the Browns, tallying 1424 yards across four seasons.
He signed with the New England Patriots in 2017 but did not feature in a single game and has remained one of the shortest players in the NFL to be away from the league ever since.
#8 Maurice Jones-Drew
Height: 5'7" (1.70 m)
Teams: Jacksonville Jaguars (2006–2013), Oakland Raiders (2014)
Position: Running Back
Accolades: 3× Pro Bowl (2009–2011), 2× First-team All-Pro (2010, 2011), Second-team All-Pro (2009), NFL rushing yards leader (2011), Unanimous All-American (2005), First-team All-Pac-10 (2005)
It's hard to ignore Maurice when you think of talented but short NFL players. After a decorated college career in which he had 6 touchdowns of 40-plus yards, Maurice Jones-Drew was drafted in the second round of the 2006 NFL Draft by the Jacksonville Jaguars.
He had a phenomenal rookie season, even coming close to winning the Offensive Rookie of the Year award. However, he narrowly missed out to quarterback Vince Young of the Tennessee Titans.
Jones-Drew who wasn't essentially the shortest NFL running back at that time met success in 2011 when he finished as the NFL leader in rushing. He also broke numerous franchise records that year and accounted for 47.7% of the Jaguars' total yards.
Over the course of his eight years with Jacksonville, Jones-Drew went on to become a Jaguars legend before joining the Oakland Raiders for a single season.
Having made up his mind to retire, Jones-Drew then signed a one-day deal with the Jaguars in 2015 in order to retire as a Jacksonville player.
Jones-Drew was a three-time Pro Bowler during his time with the Jaguars and ended his career with 8,167 rushing yards to his credit.
#7 Mark McMillian
Height: 5'7" (1.70 m)

Teams: Philadelphia Eagles (1992–1995), New Orleans Saints (1996), Kansas City Chiefs (1997–1998), San Francisco 49ers (1999), Washington Redskins (1999)
Position: Corner Back
Accolades: N/A
Famously known as Might Mouse, Mark McMillian was considered among the short football players but represented as many as five franchises during his eight-year career in the NFL.
He turned out for the likes of Philadelphia Eagles, New Orleans Saints, Kansas City Chiefs, San Francisco 49ers, and Washington Redskins, enjoying some success as a cornerback despite his small stature.
McMillian was drafted with the 272nd overall pick of the 1992 NFL Draft by the Philadelphia Eagles. He did not have too much success with the Eagles and was soon picked up the Saints.
Another underwhelming spell followed and he was then sent to the Chiefs, where he truly found his calling.
McMillian led the league in interception yards in the 1997 season, his first for Kansas City, and he was also tied for second-most interceptions with 8.
At the time of his retirement, McMillian had racked up 23 interceptions and 404 interception returns yards.
#6 Jakeem Grant
Height: 5'6″ (1.68 m)

Teams: Miami Dolphins (2016 – Present)
Position: Wide Receiver/Return Specialist
Accolades: Second-Team All-American (2015), Second-Team All–Big 12 (2015)
Jakeem Grant was touted for greatness after a stellar college career with Texas Tech. Playing as a wide receiver, Grant tallied 3,286 receiving yards in four years, setting a new college record in the process.
Impressed by his speed and catching abilities, the Miami Dolphins drafted Grant with the 186th overall pick of the 2016 NFL draft.
The highlight of his still nascent career was a 102-yard kick off return touchdown against the Tennessee Titans in Week 1 of the 2018 season, which earned him AFC Special Teams Player of the Week. However, he could not build on that success as he suffered a season-ending injury soon after.
Earlier this year, Grant signed a four-year contract extension with the Dolphins but was placed on injured reserve after picking up an ankle sprain.
With the Dolphins revamping their roster and looking towards the future, it looks like Grant could have a major role to play in their rebuild.
#5 Tarik Cohen
Height: 5'6″ (1.68 m)
Teams: Chicago Bears (2017 – Present)
Position: Running Back
Accolades: Pro Bowl (2018), First-team All-Pro (2018), Brian Piccolo Award (2018)
Possibly the most successful player on this list, Tarik Cohen has already set a slew of records and he is just in his third season in the NFL.
Cohen was drafted by the Chicago Bears with the 119th overall pick of the 2017 NFL draft. His small stature was a major point of concern, which is why he dropped all the way down to the fourth round of the draft.
However, Cohen's size has certainly not proven to be a hindrance to his NFL career as he has gotten off to a bright start with the Bears.
Sharing the backfield with Jordan Howard in his rookie season, Cohen finished with a total of 370 rushing yards, two rushing touchdowns, 358 receiving yards, one receiving touchdown, and one passing touchdown.
The following season, Cohen made history in a game against the New York Giants when he became the first player with at least 30 rushing yards, 150 receiving yards, and a passing touchdown in a game.
Cohen played an integral role in the Bears' run to the playoffs and received a Pro Bowl selection for his efforts.
#4 Jacquizz Rodgers
Height: 5'6" (1.68 m)
Teams: Atlanta Falcons (2011–2014), Chicago Bears (2015), Tampa Bay Buccaneers (2016–2018), New Orleans Saints (2019)
Position: Running Back
Accolades: Mr. Texas Football (2007), Pac-10 Freshman of the Year (2008), Pac-10 Offensive Player of the Year (2008)
Jacquizz Rodgers is currently a free agent, but had a glittering few years with the Atlanta Falcons, Chicago Bears, Tampa Bay Buccaneers and New Orleans Saints.
Rodgers was drafted by the Falcons with the 145th overall pick of the 2011 NFL draft. He had a solid first season, finishing with 205 rushing yards, one rushing touchdown, 21 receptions, 188 receiving yards, and one receiving touchdown.
Following a couple more decent seasons, Rodgers was signed by the Bears but managed just 41 rushing yards the entire season after breaking his arm.
Stints with the Buccaneers and Saint followed, but he is now a free agent after being cut by New Orleans at the start of the current season.
Rodgers has featured in a total of 110 games till date, tallying 2,067 rushing yards and 9 rushing touchdowns.
#3 Darren Sproles: Smallest Running Back in NFL
Height: 5'6" (1.68 m)
Teams: San Diego Chargers (2005–2010), New Orleans Saints (2011–2013), Philadelphia Eagles (2014 – Present)
Position: Running Back
Accolades: Super Bowl champion (LII), 3× Pro Bowl (2014–2016), 2× First-team All-Pro (2014, 2015), San Diego Chargers 50th Anniversary Team, NFL record 2,696 all-purpose yards, season (2011), First-team All-American (2003), First-team All-Big 12 (2003), 2× Second-team All-Big 12 (2002, 2004)
It won't be wrong to say Darren Sproles is the leader of short running backs. Look what he achieved! he was drafted by the San Diego Chargers with the 130th overall pick in the fourth round of the 2005 NFL Draft.
His first two seasons were underwhelming as he served as a third-string running back in 2005 and spent the entire next season on Injured Reserve.
However, he got his shot the following year and, in the Chargers' 23-21 victory over the Indianapolis Colts in November, Sproles made history by becoming the first player in the NFL to return a punt and a kick for his first two touchdowns.
He would go on to set a few more records with the Chargers before joining the New Orleans Saints in 2011.
He had a sensational debut campaign with New Orleans, finishing the 2011 season with 2,696 all-purpose yards. In the process, Sproles broke the NFL single-season record then held by Derrick Mason.
Sproles remained with the Saints for another year but following the franchise's failure to make the Super Bowl, he was moved to the Philadelphia Eagles.
Sproles would go on to win his first-ever Super Bowl with Eagles as Philadelphia overcame New England in Super Bowl LII, although Sproles would miss the game due to injury.
He is still signed to the Eagles but announced that he would be retiring following the ongoing season. At 5'6″, Sproles is the shortest NFL player ever to decorate his role but definitely not the least of greats who went on setting record after record over the course of their careers.
#2 Trindon Holliday
Height: 5'5″ (1.66 m)
Teams: Houston Texans (2010−2012), Denver Broncos (2012−2013), New York Giants (2014), Tampa Bay Buccaneers (2014), San Francisco 49ers (2014), Oakland Raiders (2015)
Position: Wide Receiver and Kick Returner/Punt Returner
Accolades: BCS National Champion (2007), SEC Champion (2007)
Trindon Holliday was drafted by the Houston Texans in the sixth round of the 2010 NFL draft after a rather successful college career with LSU.
Blessed with tremendous speed, Holliday was expected to add a new dynamic to the Houston side on special teams.
However, a fractured thumb meant he missed the entire 2010 season. He did make his return the following year, but did not have the greatest success.
He would go on to be signed by the Denver Broncos in 2012 and truly flourished with his new franchise. He set a number of records for the Broncos, including Kick Ret Yds, Yds/KR, Kick Ret TDs, Punt Returns, Punt Ret Yds, Yds/PR, Total Return Yds and several others.
Holliday would go on to feature for four more teams over the course of his career, including the New York Giants, San Francisco 49ers, Oakland Raiders and Tampa Bay Buccaneers.
While he did not have a great NFL career by any means, he still holds the record for being the shortest player to feature in the NFL in the last 25 years.
He is currently a free agent, and, as of the time of writing, has racked up 2,224 total return yards.
#1 Jack Shapiro: The Shortest NFL Player
Height: 5'1″ (1.55 m)
Teams: Staten Island Stapletons
Position: Defensive Back
Accolades: N/A
Who is the shortest player in the NFL? We guess you already know that. It might seem unfair to include Jack Shapiro on this list considering he played just one NFL game in his entire career, for the Staten Island Stapletons way back in 1929.
However, official records have listed him as the shortest player to ever feature in the league, at 5'1″.
Shapiro played college football for the Violets, where he enjoyed some success as a fullback. He helped the side to a 7-1-2 record in 1927, having joined the team as a walkon.
Shapiro was then picked up by the Stapletons and played as a blocking back in their 34-0 victory over the Minneapolis Red Jackets.
He would remain on their roster for five more games and featured in an exhibition contest later in the year.
In 1999, Shapiro entered the Guinness Book of World Records as the 'Shortest Player in NFL History' not to mention the smallest NFL player as well.
We're nearly an end to our note on the shortest NFL players. There're tiny football players in all NFL positions. Did you find anything about the shortest NFL quarterback or anyone like offensive lineman? Well, these people aren't NFL's shortest players, but they weren't very tall either.
A few more names like Eddie LeBaron, the shortest QB in NFL and Nick Buoniconti, the shortest Linebacker in NFL would satisfy your curiosity ever more impressively. Well, we'll try to put another list for that.