The issue of tattoos is very much a controversial one, as while many see it as nothing more than inking of the body for beautification, while others consider it as a taboo and desecration of the skin.
Body modifications have always been in existence and in ancient cities like the Roman and Egyptian Empires, inking of the skin was a regular part of beautification routine but the proliferation of Christianity saw a decline in the application of tattoos but in recent times, it has seen an upsurge.
Footballers are perhaps the biggest proponents of body ink and it is the norm for modern-day footballers to have more than their fair of tattoos.
More often than not, these tattoos usually have symbolic meanings, sometimes representing milestone events in their lives, while others are used as tributes to special people.
Here at Sportszion, we shall be profiling 10 famous footballers and the symbolic meaning of their tattoos.
#1. Sergio Ramos
Sergio Ramos is one of the most tattooed footballers in the world, with no less than 42 tattoos spread across his body.
The 32-year-old has proven himself over the last 15 years as one of the best defenders of his generation and would go down in history as one of the best defenders of all time.
The Real Madrid skipper is also very successful and has won virtually everything winnable at both club and international level with the Spain national team and Real Madrid including the World Cup, Euro, Champions League, and LaLiga.
Most of his milestone career moments are symbolized with tattoos, with his injury-time equalizer to help Real Madrid win La Decima engraved on his knuckle, while the World Cup, and each Champions League date and venue is also tattooed on his skin.
References are also made by Ramos to his parents and wife, with the words Rubio (wife's name and father's nickname), as well as Paqui tattooed across multiple parts of his skin, while his sons's name and birth date are also inked out.
Given his staunch Catholic upbringing, Ramos also references his religion and tattoos of the Virgin Mary and cross on his body.
#2. David Beckham 
David Beckham is one of the most famous footballers ever and was arguably the first player to fully embrace the paparazzi culture enjoyed by professional footballers today.
In what was a highly successful career, he represented some of the biggest clubs in the world including Manchester United, Real Madrid, PSG, and AC Milan but despite being part of a highly talented group of English players, he never won anything on the international level.
The charmingly good-looking David Beckham has 55 tattoos sprawled across his body and a lot of them are in reference to his family.
The names of his wife Victoria and four children Brooklyn, Romeo, Cruz, and Harper, as well as their various nicknames, feature heavily on his body.
He also showed creativity by displaying Jesus being lifted by three Cherubs, with the Cherubs representing each of his three sons, while he also referenced Jay Z and Beyonce by tattooing their 'dream big, be realistic' caption from their On the Run tour.
#3. Daniele de Rossi
Daniele de Rossi is a combative midfielder who spent a large part of his career playing for AS Roma and the Italian national team.
With the Azurri, he won the 2006 World Cup but having started his career with Roma, he, however, did not end it in the Italian capital and he currently turns out for Argentine giants Boca Juniors.
Like most other players on this list, De Rossi has numerous tattoos with one portraying an artwork of his face by tattoo artist David Cotes in February 2016.
Perhaps the most symbolic tattoo on De Rossi's body is that on his right calf of a hazard warning of an impending tackle and rather horrifically, the opponent's leg is chopped off.
This is a direct reference to De Rossi's tough-tackling and combative personality while there is also a tattoo of popular cartoon Teletubbies on his arm.
#4. Dani Alves
With over 40 major trophies won, Dani Alves is the most decorated footballer in European history and his 15-year European sojourn saw him represent clubs like Barcelona, Sevilla, Juventus, and PSG before returning to his homeland to wear the colors of Sao Paolo.
He has made a name for himself as one of the most attack-minded full-backs in history and his sojourns forward are a key ingredient in his team's play.
He has nine tattoos sprawled across his body, with his chest and torso bearing the names and birthdays of his children, Daniel Jr and Victoria, while his mother's full portrait is portrayed on his right shoulder.
#5. Kevin-Prince Boateng 
Kevin-Prince Boateng is one of the most controversial players of all time and while his ability is not in doubt, his constant off-field antics means that he did not quite fulfill his potential.
He has been something of a journeyman throughout his career, representing clubs like Las Palmas, Portsmouth, AC Milan, Sampdoria, Eintracht Frankfurt, and Barcelona but his international career with Ghana was fraught with numerous controversies and did not last long.
Boateng has 33 tattoos spread across his body, with a Lion on his right foot representing his brave and dominant attitude, while he also pays tribute to his African roots on his left arm.
He also considers himself a musical artist and there are numerous references to musical notes and headphones on various parts of his body.
#6. Neymar
Neymar is currently the most expensive player in history and is one of the most marketable footballers in the world and given his level of fame and fortune, it comes as no surprise that the Brazilian international numerous tats spread over his body, with over 40 adorning different parts of his body.
Virtually every space on Neymar's body is covered in ink and expectedly, the various insignia and words on Neymar's body all have underlying messages and stories to tell, with his mother, father, son, sister, and even Batman and Spiderman among those referenced by his tattoos.
Neymar's sister Rafaella is very close to him, with the superstar considering her to be his closest friend and it comes as no surprise that she is referenced a lot on his body, with over five tattoos bearing direct references to her.
His career achievements are also not left out, with tattoos commemorating his Champions League and Olympics triumphs, while other tattoos contain words of wisdom and motivation.
#7. Zlatan Ibrahimovic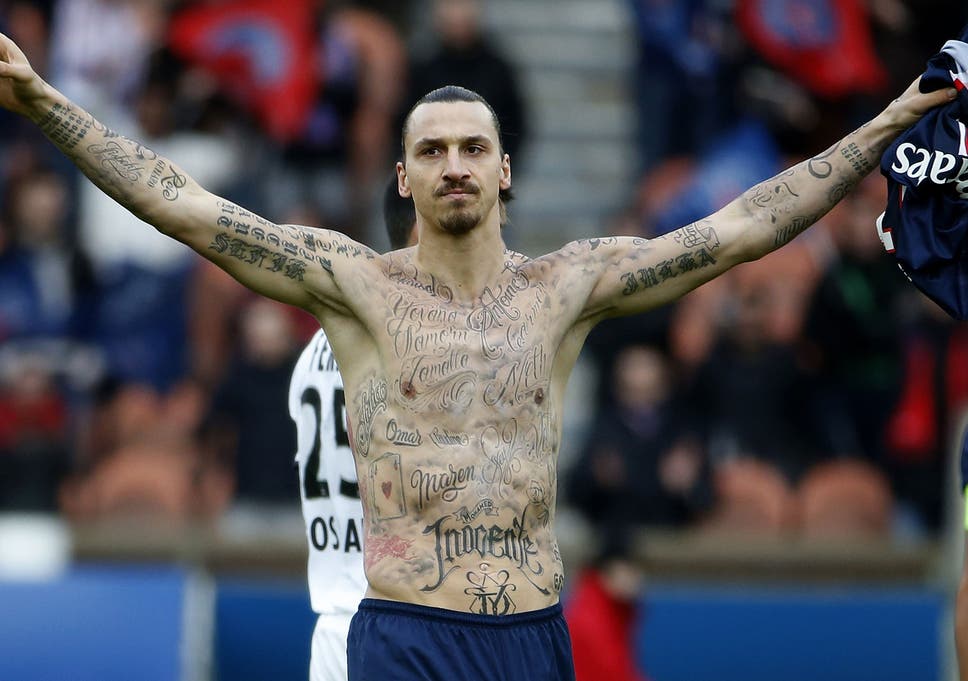 Zlatan is another extremely talented footballer and while his talent might be undeniable, his self-belief and confidence in his abilities are second to none throughout history.
The retired Swedish international is responsible for some of the most iconic one-liners in football and won over 30 major honors in some of the biggest clubs in the world.
In his book 'I am Zlatan', he revealed that he was initially against getting tattoos but he soon became addicted to them and has virtually every part of his upper body sprawled in ink.
On his right wrist, there are numbers referred to as the "Zlatan Ibrahimović code". They refer to the birthdates of the male members in his family. They symbolize his father Sefik, late brother Sapko, another brother Aleksander and the days on which his two sons Maximilian, nine, and Vince, eight, were born. While the Arabic names of his sons are written at the top of his right arm. 
There is also a letter H on his left wrist symbolizing his wife Helena Seger, while there is also a depiction of a red dragon on his right oblique referencing his warrior personality.
Zlatan also references his mother and sister on his left side and according to him, placing them here is symbolic of their closeness to his heart, while the men on the right represent steadfastness as breadwinners.
#8. Lionel Messi
Lionel Messi is arguably the greatest player in history and his performances for Barcelona over the last 15 years have played a major role in the club's transformation to the apex of the game.
His skill set is well documented and the Rosario native combines pristine goalscoring abilities with perfect playmaking while his dribbling skills rank high up there with the best in history.
Messi is widely seen as a taciturn and introverted person, so it came as not much of a surprise that he was slow to get in on the tattoo act despite his fame and fortune.
He took inspiration to cover himself with ink from his friend and then-teammate Dani Alves but was reportedly scared of the pain so got girlfriend Antonella to get one first.
The Argentine international got his first tattoo in 2012 and since then, there has been no stopping him and he currently sports a decent amount of ink on his body.
Most of Messi's tattoos are personal and symbolic to him and his mother's portrait was the very first tattoo he got on his back, while he got the handprint of his first-born son tattooed on his left calf. He also tattooed in the name of his second son Matteo, as well as Jesus with the crown of thorns, while the rest of his tattoos are dedicated to his career, with his jersey number 10, as well as footballs all depicted.
#9. Thierry Henry
Thierry Henry held sway as one of the premier strikers in the world in his prime during the mid-noughties and his displays in front of goal helped consolidate Arsenal's place as one of the best clubs in Europe.
He was the winner of numerous Golden Boots in his heydey and won laurels at both club and international level with Arsenal, Barcelona, and the French national team.
Henry depicted the Empire State Building on his arm as a reference to his time with New York Red Bulls, there is also an image of his daughter Tea, as well as another New York reference in the Brooklyn Bridge. 
#10. Djibril Cisse
Djibril Cisse is a striker who represented clubs like Liverpool, Auxerre, Marseille, and Lazio, winning the Champions League with the Merseysiders, while he also lifted the FIFA Confederations Cup with the French National Team.
Cisse is one of the most heavily tattooed players in the world, with over 40 tattoos adorning almost every part of his body.
He has two black angel wings on his back, while his children, tribal connotations and tributes to various relatives are also scrawled across his body.