Football is a game of chances and the game is structured in a way that both players and coaches need to put in maximum hard work to get to the top. The likes of Cristiano Ronaldo and Lionel Messi are testament of how talent, when combined with dedication, can shape the career of an athlete.
Consequently, there are those who believe that there is nothing like luck in this world. For such people, you create your luck by working hard and staying committed in whatever profession you find yourself.
However, that is not the case for everyone. There are those who boast fine talents, are dedicated and are hardwiring, yet have failed to rise to the top due to some weird reasons beyond human control.
Among those in the aforementioned category are famous footballers who gave their all, but just couldn't reach their full potential.
So, without much ado, let's take a look at the 10 unluckiest footballers of all time:
#10 Michael Ballack
The ex-Germany international retired with quite a decorated CV, but he himself will be the first to admit he could have achieved more. Michael Ballack won many major titles in Germany and England but was always considered a nearly-man.
Despite being part of a star-studded Germany side in the early and mid-2000s, Ballack failed to win any trophy with his country. In fact, the closest he came was during the 2002 World Cup, where Germany lost in the final to Brazil.
Throughout his career, Ballack has ended up as a runner-up in nine major competitions. He was twice a runner-up in the Bundesliga and twice lost out in the final of the Champions League, too. Add that to the fact that he missed the 2010 World Cup after getting injured in the last game of that season, and you would see why the German has been bereft of luck in his career.
A player of Ballack's quality, coupled with the 'big' teams he's played for, could have easily won the Champions League and World Cup. Unfortunately, he missed out on both, simply because Lady Luck refused to smile at him. In Germany, Ballack's nickname is "Mr. Silver Medal". I guess that says it all.
#9 Adrian Doherty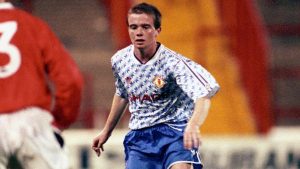 It's not the least surprising that many football fans of today have never heard the name Adrian Doherty. Usually referred to as 'football's lost genius', Adrian didn't live long enough to fulfil even half his potential.
Had everything gone according to plan, Adrian would have been a multiple Premier League and Champions League winner. Rather, everything went the other way, with the talented winger quitting football at a very young age, before dying tragically.
Adrian was part of Manchester United's famed Class of '92. Sir Alex Ferguson described him as the brightest prospect among the players from Man United's youth teams, adding that he was even ahead of Ryan Giggs, who would go on to become a club legend.
However, the then 16-year-old was released by the club after suffering an injury. And he never recovered. From being a talented teenager, Adrian travelled around the world doing menial jobs, before meeting his untimely death after falling into a canal on his way to work. We can only imagine what the future could have been for him, had that injury not occurred while he was still developing.
#8 Andres Escobar
As far as unlucky footballers go, Andres Escobar tops the list. The Colombian was just beginning to reach his peak when he was cruelly assassinated by aggrieved thugs. The centre-back was admired by many for his composure and calmness on the ball.
He started his career at home with Atletico Nacional, had a brief stint in Europe with Swiss side Young Boys, before returning to Colombia to play for his boyhood club again. Escobar's promising football career, and his life, was cut short on July 1, 1994.
The defender had just played for the Colombia national team in the 1994 World Cup, where his own goal against USA eventually led to the country's elimination. There were reports that Colombia's loss caused some drug cartels to lose heavy bets, so they targeted Escobar.
He was shot six times at close range at a bar's parking lot in El Poblado, with the shooter reportedly shouting "Goal!" after each shot. How unlucky can one be to have a career, and life, cut short in this manner?
#7 Abou Diaby
French footballer Abou Diaby was once touted as the next big thing in world football. The midfielder burst onto the scene in mid-2000s as one of the most entertaining box-to-box midfielders of his generation.
However, a series of serious injuries would turn out to be the story of his career. Diaby joined Arsenal in January 2006, but suffered his first major injury setback just two months later. In May 2006, the Frenchman fractured his ankle and went under the knife three times to fix it.
Diaby never recovered from this injury and he has since been in and out, leading to his release by Arsenal in 2017. He moved on to sign for Ligue 1 giants Olympique Marseille, but made just five appearances before suffering another injury.
Diaby is a player who has immense talent and also works hard but, unfortunately, he has been unlucky with fitness issues throughout his entire career.
#6 Owen Hargreaves
Manchester United fans have very few fond memories of Owen Hargreaves. The midfielder was a totally different breed and arrived at Old Trafford with a huge reputation, however, things just did not work out.
Hargreaves' Man United career became more synonymous with injuries than with anything else. Having risen through the youth ranks at Bayern Munich, he finally returned to England in 2007 to play for the Red Devils.
However, in four years at Old Trafford, Hargreaves made just 27 appearances, scoring a meagre two goals. He was voted England's best player at the 2006 World Cup, but his injury problems began the following year.
He suffered a leg break, and by 2009 he had had numerous surgeries on both his knees. In 2010, Hargreaves made a comeback to the pitch after sitting out for 777 days, but his return was again cut short when he limped off just six minutes into the game. He eventually joined Manchester City in 2012 but made just a single appearance before retiring.
#5 Djibril Cisse
What is unlucky about playing in the Premier League, Champions League, World Cup and featuring for 13 different clubs across two continents? Yet for all these, Djibril Cisse is a man who couldn't get to his own promise land.
The French striker's biggest move came when he joined Liverpool in 2004. However, a series of niggling injuries made sure he never reached his full potential at the Anfield club. Now 38, Cisse would look back at a freak injury he suffered early on that shaped his career path.
Just nineteen games into his Liverpool career, Cisse snapped his leg which resulted in a broken tibia and fibula. He may have won numerous trophies with Liverpool, but he never really established himself due to his frequent injuries.
Cisse, however, went on to play for Sunderland, Lazio and Marseille before calling time on a career that spanned almost two decades. These are all decent teams, but a fit Cisse could have played for more elite clubs like the Bayerns, Real Madrids and Barcelonas.
#4 Jack Wilshire
The sight of Jack Wilshire donning the West Ham United jersey often evokes memories of what could have been for the talented midfielder. Having joined Arsenal at a very young age, the midfielder made a sharp start to his professional career.
In his first full season during the 2010/11 campaign, he was voted Arsenal Player of the Year and also voted into the PFA Team of the Year following his sterling performances that season. He also remains the 12th youngest player to make his debut for England at the age of 18 years and 222 days.
However, that remains as far as Wilshire has reached. The midfielder has been blighted by niggling injuries and has since not been able to complete a full season without sitting out due to an injury.
In the summer of 2018, he joined West Ham after refusing to accept at bit-part role under Arsenal manager Unai Emery. Injuries can be very frustrating and Wilshire has had his fair share of it all. He should be playing in the Champions League, but currently he finds himself at a club that even rarely plays in the Europa League, purely due to a lack of luck.
In recent years, he has been trolled with the nickname "Jack Wheel Chair". Hope you get the clue.
#3 Eduardo
The Premier League has seen many talented strikers, but very few boasted the striking instincts of Eduardo da Silva. At his best, the Brazilian-born Croatian was unplayable and he demonstrated that time and again at Arsenal.
Unfortunately, though, his fledgling career would be halted by a serious ankle dislocation. Eduardo had been on a fine scoring run for the Gunners and was Arsene Wenger's first-choice striker when the nasty injury occurred.
The injury was so bad that the striker had to be rushed to the Selly Oak Hospital for immediate surgery. In fact, many believe, had Eduardo remained fit for the entirety of that season, Arsenal would have won the league.
The striker eventually returned to action two years later but, despite scoring, he suffered a hamstring injury which kept him out again. Arsenal decided to cut their losses in 2010 when they sold Eduardo to Shakhtar Donetsk, where he played for four years before returning to Brazil to sign for Flamengo. From Arsenal's most important player in 2007, Eduardo now plays in Poland for Legia Warsaw. How unlucky!
#2 Appie Nouri
Not since the demise of Cameroon's Marc-Vivien Foe has football witnessed a more disheartening story than that of Appie Nouri. While Foe collapsed and died on the pitch, Nouri went into a coma for more than a year.
The Dutchman was just 20 when he suffered a cardiac arrest during a game between Ajax and Werder Bremen. He subsequently suffered brain damage and was placed on an induced coma.
The severity of the brain damage meant that he remained in a vegetable state even after waking up from the coma. In 2018, his condition improved a bit and he can now communicate using his eyebrows.
For a player who was so promising, this is definitely a cruel way for things to pan out. Nouri deserves to be playing with his Ajax teammates, but fate would rather have him bed-ridden at the moment.
#1 Ronaldo
For many millennials, Cristiano Ronaldo is the only Ronaldo they truly recognise. But for those a bit older, and those who saw the Brazilian Ronaldo play, the opinion is totally different. It would be unfair to compare both players, but El Fenomeno was pure class.
To give more perspective about how good he was, Ronaldo won the Ballon d'Or at age 20. Yes, just 20, making him the youngest ever recipient of the prestigious award. Not even CR7 and Messi could manage that.
He remains arguably the most complete striker of all time, with his ability to dribble, shoot and score goals for fun, setting him apart from others. He also broke the world transfer record twice and reached 200 goals for club and country before his 23rd birthday
But for all of Ronaldo's genius, he never truly reached his full potential due to serious injuries he sustained in the course of his career. He suffered career threatening injuries at Inter Milan and at Real Madrid which ultimately sent his career on a downward spiral.
Although he still achieved a lot – winning the World Cup twice and FIFA Best Player thrice – there is no doubt that El Fenomeno would have achieved a lot more had he remained fit for just five full years.