South America: the home of football talents
South America produced most of the greatest superstars to ever step on the football pitch. Brazilian legends De Lima Ronaldo, Rivaldo, Romario, and Ronaldinho all made the continent proud during the peak periods of their careers. Argentina has also been at the top of the game.
The Albiceleste produced arguably the greatest player in history, Diego Maradona – as well as other legendary superstars like Veron, Ortega, and Batistuta. Nevertheless, Barca ace, Lionel Messi and Maradona remain the two greatest products of the nation.
Maradona's brilliant career
Diego Maradona was a highly talented playmaker that operated in the famous no. 10 position. His vision, ball control, passing, dribbling, reflexes and reaction time – combined with his small body gave him a low center of gravity that allowed him to maneuver better than other footballers. He would usually dribble past multiple opponents on a run.
His presence had a great effect on the general performance of his team. He was often singled out by the opposition players. An amazing talent, Diego was given the nickname "El Pibe de Oro" (which means Golden Boy), a name that stuck to him all over his career.
He is recognized as a legend in Argentina because he carved an excellent career for himself, winning many trophies during spells with Napoli, Barcelona, and Sevilla. Besides, he won many major individual awards including the FIFA Golden Ball in 1986. He was a real force in the National team. Maradona drove the Albiceleste to fame and remained the go-to guy for the team throughout his spell.
Most notable of his achievements is the FIFA World Cup triumph in 1986 where he single-handedly won Argentina the prestigious trophy. Throughout the tournament, the playmaker asserted his dominance and was rated the most dynamic player of the competition. He played every minute of all Argentina's games, scoring five goals and making five assists in the process.
He was so influential that the whole nation grieved over his departure after his career finally reached its end. For so many years, the fans prayed to have a player of similar influence in the team. When Lionel Messi rose to stardom in Barcelona, there was so much joy in the nation as many believed the long-awaited replacement to the 1986 World Cup winner had finally arrived.
Lionel Messi taking over
Messi is currently playing Maradona's role in Argentina. The Barcelona legend has been at the top of the game for over a decade. He has a playing style similar to that of his predecessor which rests on decent passing, electrifying dribbling and the ability to score goals and create chances. Like Maradona, Messi is a team player too and he is plying his trade at Barcelona – the club where Diego also played at some point in his career.
Leo is often referred to as the greatest footballer in history in this modern day. He has achieved a lot at Camp Nou, winning 4 UEFA Champions League crowns, 8 La Liga titles, and many other trophies. With Argentina, he won the FIFA U-17 World Cup against Nigeria and the 2008 Olympic gold medal in Beijing – all at the junior level.
He also led his team to the final of the 2014 World Cup, as well as 3 Copa America finals – although he did not win any. He has an impressive 5 Ballon d'Or awards to his name to go with other prestigious accolades. He has already cemented his place among the all-time greats in the history of the sport.
Messi vs Maradona – The Comparison
With such two tremendously talented and highly successful players coming out of the same nation, there's no way arguments will not arise over who is better than the other – especially as they didn't rise in the same era. This argument is one thing that continues to split the opinions of football fans.
Shedding light on the two footballers, we've related a lot of evidence proving that they both have greatness in their careers. Meanwhile, the fact that fans always love to place one player over the other has given birth to several comparisons between the two Argentine legends in recent years – and it doesn't look like it will ever stop.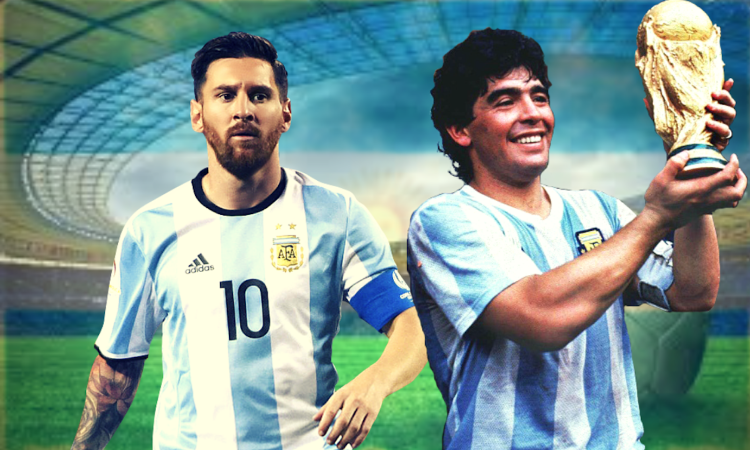 While some believe Lionel Messi is the greatest in history, others believe he is behind Maradona due to his failure to achieve success with the Albiceleste. Several times, many argue that Messi needs to step up in his National team to surpass Maradona. They claim that the Barca maestro's achievements with Argentina are too underwhelming for him to be considered better than his predecessor – a point that is valid if you compare their records at the international level.
It is quite obvious that Mesi is yet to win any major international trophy for Argentina. One World Cup and three Copa America final collapses remain the main factor that daunts his international reputation. He's gone close on several occasions but always ends up lacking the cutting edge to get the deal done.
Meanwhile, everyone remembers Maradona's heroics during the 1986 World Cup. As said earlier, he was the decisive factor for Argentina during the tournament and was involved in all the goals the Albiceleste scored during the competition – finding the back of the net five times and setting up his teammates on five occasions. Thanks to those exploits, he was able to write his name in the book of immortality and earned his place on top of the rankings.
Maradona's name will never be forgotten on Argentina's soil. He inspired the nation to claim their only pride in World football. Never has anyone dominated the World Cup like that. His famous 'Hand Of God' goal against England in the quarterfinal will go a long way in history.
Coming back to Lionel Messi, there's no denying that he has made Argentina proud at the club level. With 5 Ballon d'Or accolades, 6 European Golden Shoes, 6 Pichichi Trophies and 3 European Player of The Year awards to go with over 35 trophies to his name at Barcelona, he remains one of the most successful and finest players the football world will ever witness. However, his failure to replicate such success with his nation continues to be his Achilles heel.
Conclusion
Maybe many might agree that the playmaker is the greatest superstar in the history of club football, but, when it comes to the crown of Argentine football, there can only be one king and his name is Maradona – at least for now.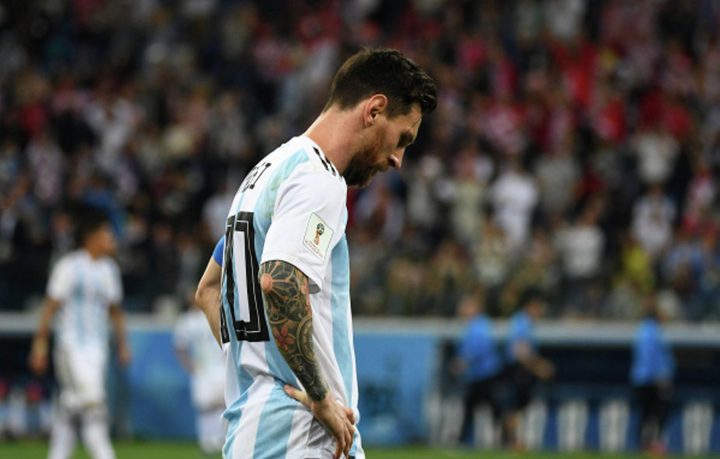 This isn't to say that Messi is behind in terms f ability. He has everything that defines greatness in football and he's got them at the highest level. It only means that he needs to step up and prove a point by claiming success on the international stage before he'd get the chance to overthrow his predecessor.
At 32, it's evident that time is running high against him. But, he still has enough chance to get the deal done and put all doubts to bed. There's the Copa America for him next year. He could also feature in the next World Cup, which will take place in 2022 – at a time he would be 35 years old.
If he can manage to lead the Albiceleste to triumph in any of these competitions, he would surely attract a lot of people to his side in the argument for the greatest Argentine player in history. Will he finally get it done? Let's wait until then.​