Discovering the luxurious lifestyle inside Novak Djokovic's stunning $11 million Marbella property reveals the fancy decorations and secret features that showcase the amazing life of the tennis star.
The estate is tucked away in Marbella's gorgeous countryside. It provides a peek at the splendor and refinement that surround Djokovic's personal haven. Prepare to discover the enchanted rooms, opulent amenities, and stunning vistas that truly define success and luxury at this dream house.
Novak Djokovic shelled out whopping $11 million for the Marbella mansion
With an astounding 23 Grand Slams under his name, Novak is one of the wealthiest athletes in the world. His success amassed him a fortune of over $250 million. As a superstar in the sport, Djokovic bagged lucrative endorsement agreements with companies like Lacoste, Asics, and Head.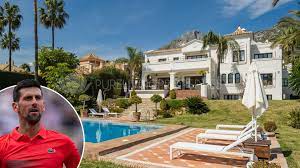 Djoker currently lives in the grand Marbella mansion in Spain. He just bought the lovely nine-bedroom home with breathtaking ocean views. With this purchase, he can show his achievement and relax while reaping the rewards of his hard work.
With his outstanding accomplishments on and off the court, Novak Djokovic has made a lasting impression on the tennis world and has admirers from all over the world.
What is inside Djoker's modest abode?
Djokovic and his wife, Jelena, moved to Marbella during the pandemic after living in Monte Carlo for 15 years. This property including nine bedrooms and eight bathrooms is estimated to be worth €11 million. The house has a stunning tennis court that is surrounded by opulent white pillars and tall palm palms, creating a picturesque setting with sweeping views of the Marbella mountains.
The villa's pool is lavishing and has enticing sea views. This makes it an ideal place for Djokovic to unwind after his victories on the tennis court. The on-site gym and exclusive spa, with hot tubs, a sauna, and a Turkish bath, cater to his physical well-being and rejuvenation. While Djokovic said goodbye to his $4 million Miami Beach condo, this Spanish home still stands out as the most valuable asset in his real estate holdings.