Coaches in the NFL often have a hard time. Teams' successes are often attributed to the players, but when things go downhill, the coaches are the first ones to be thrown under the bus.
Over the years, there have been some tremendous coaches in the NFL, including the likes of Bill Belichick, Tom Landry and George Halas, but there have also been numerous coaches who have caused their respective teams' downfall.
Here, we take a look at the 10 worst coaches in NFL history:
#10. Bill Peterson
Record: 1–18
Winning Percentage: .053
Teams: Houston Oilers
Bill Peterson was a tremendous college football coach, but his success, unfortunately, did not translate into the NFL.
Peterson is credited for bringing the passing game into college football and also tutoring many top coaches including Joe Gibbs, Bill Parcells, Bobby Bowden, Don James, Dan Henning, and Ken Meyer among others.
Peterson's knowledge of the game was unmatched which is why his failings with the Houston Oilers in his only stint as an NFL head coach comes as a surprise.
Peterson took charge of the Oilers in 1972 but managed just one victory the entire season. He fared no better the following year as he lost his first five games in charge and was subsequently relieved of his duties.
Peterson finished with a coaching record of 1-18 which is the worst in NFL history for a coach who took charge of at least one full season since the merger.
#9. Darryl Rogers
Record: 18-40
Winning Percentage: .310
Teams: Detroit Lions
Darryl Rogers, like Bill Peterson, enjoyed a greatly successful college coaching career. He finished with a 129–84–7 record in college football and his exploits with the likes of Arizona State, Fresno State, San Jose State and Michigan State earned him a shot in the NFL.
He was named the head coach of the Detroit Lions in 1985 and remained with them till 1988. However, his stint with the Lions was far from successful.
Rogers never managed to win more than five games in a season during his time with the Lions and finished with a miserable 18–40 record.
He made headlines with the Lions when, during a particularly testing period, he made a controversial quote along the lines of "What does a coach have to do around here to get fired?"
Rogers was eventually fired after Detroit got off to a 2-9 start to the 1988 season and was replaced by Wayne Fontes.
#8. Jimmy Phelan
Record: 13-35-2
Winning Percentage: .271
Teams: Los Angeles Dons, Dallas Texans
Like many others on this list, Jimmy Phelan rose through the ranks of college football before getting a shot in the big league.
Phelan compiled an impressive 137–87–14 in college football before taking charge of the Los Angeles Dons for two seasons.
However, he failed to have an impact on the team and after two poor campaigns, he decided to try his luck coaching the Dallas Texans.
Phelan struggled at the Texans as well and ended his top-level coaching career with a miserable 13–35–2 record and a win % of .271, which is among the worst in the history of the league.
#7. Rich Kotite
Record: 41–57
Winning Percentage: .417
Teams: Philadelphia Eagles, New York Jets
A surprising name on this list considering his overall record, but Rich Kotite's stint with the New York Jets was truly horrific.
Kotite began his head coaching career with the Philadelphia Eagles and enjoyed decent success. He led the Eagles to the playoffs with 10- and 11-win seasons but could not take the next step.
It appeared as though Kotite had really made a breakthrough in 1994 when the Eagles raced off to a 7-2 start, but seven consecutive defeats meant they finished the season 7-9 following which Kotite was shown the door.
Kotite then replaced Pete Carroll as coach of the New York Jets, and it was here that his coaching reputation took a major hit.
Across two seasons with the Jets, Kotite led them to miserable 3–13 and 1–15 finishes, which remain the two worst seasons in Jets history.
Kotite stepped down near the end of the 1996 season and has not coached an NFL team since.
#6. David Shula
Record: 19-52
Winning Percentage: .268
Teams: Cincinnati Bengals
David Shula was born to be a head coach. Son of Don Shula, it did not take long for David to enter the family business, although his stint as head coach of the Cincinnati Bengals would be one of the most disastrous in NFL history.
Shula began his coaching career as an assistant in his father's staff. He was the wide receivers coach at the Miami Dolphins for three years and showed some promise in the role.
He was picked up by Jimmy Johnson of the Dallas Cowboys and assigned the role of offensive coordinator for two seasons. However, a poor run by the Cowboys meant he was demoted and chose to leave the Cowboys and join the Bengals as an assistant coach once again.
He was eventually promoted to role of head coach in 1992 and became one of the youngest head coaches in NFL history. However, his stint with the Bengals would prove to be an unmitigated disaster.
Shula became the fastest coach in NFL history to lose 50 games and what's worse is he even lost two games he coached against his father – not the best way to keep the family name going, eh?
Shula's win % of .268 is among the worst in league's history and he managed a woeful 19-52 record during his time as head coach of the Bengals.
After a 1-6 start to the 1996 season, Shula was fired by the Bengals and he remained away from the NFL for the good part of a decade.
However, he has since returned to the footballing circuit and is currently the wide receivers coach at Dartmouth.
#5. Marion Campbell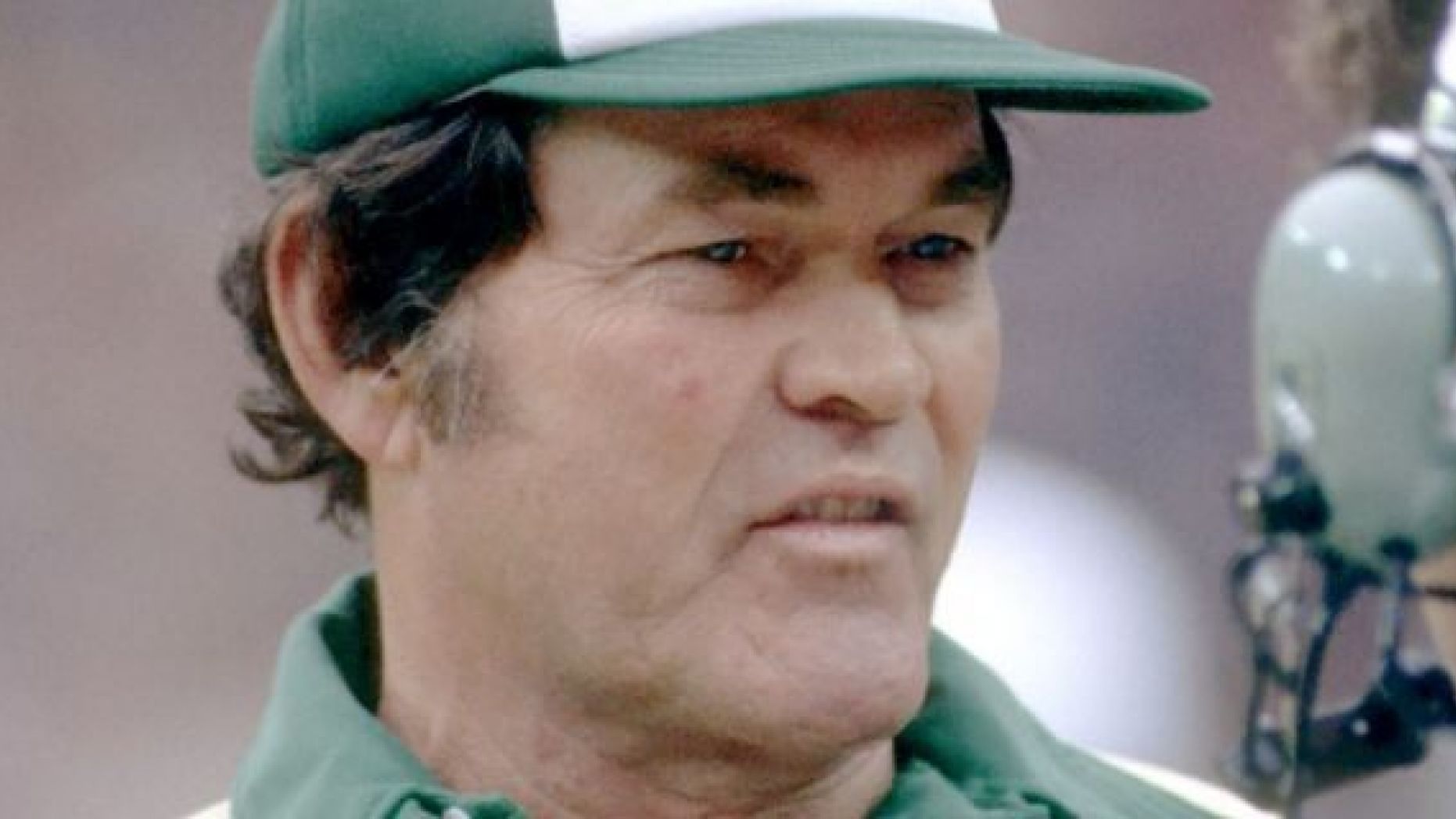 Record: 34-80-1
Winning Percentage: .300
Teams: Atlanta Falcons, Philadelphia Eagles
The man with unlimited second chances. Marion Campbell's coaching career began with the Atlanta Falcons in 1974. He managed just one win the entire season but remarkably held on to his job for two more years in which he managed a total of five wins and 14 losses.
After being released by the Falcons five games into the 1976 season, Campbell served as a defensive coordinator for the Philadelphia Eagles, enjoying plenty of success and making the Eagles' defense among the best in the league.
He was promoted to head coach in 1983 but in his three seasons in charge of the Eagles, failed to win more than six games even once.
Campbell was inexplicably re-signed by the Falcons in 1987. However, his second stint in charge of Atlanta proved to be just as bad as the first.
Campbell coached the Falcons to just 11 victories in three more seasons and retired after a 3-9 start in 1989.
Over the course of his coaching career, Campbell just 34 wins to 80 losses, finishing with a win % of .300.
#4. Dave McGinnis
Record: 17-40
Winning Percentage: .298
Teams: Arizona Cardinals
After impressive the higher-ups during his time as defensive coordinator for the Arizona Cardinals, Dave McGinnis was promoted to head coach in 2000.
In his first season, he managed a solitary victory as the Cardinals finished with a 1-8 record. Things improved the following year as McGinnis managed seven wins, although they still finished with a losing record at 7-9.
The following two years proved to be disastrous for McGinnis. A 5-11 2002 campaign was followed by a 4-12 season and he was finally released by Arizona, having won just 17 games in four years with the franchise.
McGinnis went on to serve as an assistant head coach with the Rams but has never managed to get a head coaching role again.
His win % of .298 is among the worst in the Cardinals' history although much of his failures were attributed to a lack of talent on the team, with his predecessors and successors also struggling to put together a winning side.
#3. Rod Marinelli
Record: 10–38
Winning Percentage: .208
Teams: Detroit Lions
Rod Marinelli took charge of a woeful Detroit Lions team and somehow made them even worse by the time he was done with them.
Marinelli had shown plenty of promise as a defensive line coach and defensive coordinator prior to his stint with the Lions, which prompted the franchise to make him their head coach in the first place.
Marinelli was picked up by the Lions in 2006 but their season began in disastrous fashion as they lost their first five games.
They snapped their losing streak with a victory against the Bills but would embark on another huge losing streak, this time worth seven games, to round off the season with a miserable 3-13 record.
It looked like Marinelli had steadied the ship the following season when he led the Lions to a 6-2 start. However, it proved to be a flash in the pan as Detroit lost seven out of their last eight games to finish with a losing record once again.
The Lions entered the 2008 season with plenty of optimism following a perfect preseason campaign but little did they know what was in store for them in the regular season.
Detroit embarked on a 16-game losing streak and became the first team in NFL history to post a 0-16 record, which resulted in Marinelli being fired from his role as head coach.
His horrific 10–38 remains among the worst in NFL history and he has never served as a head coach again.
#2. Hue Jackson
Record: 11-44-1
Winning Percentage: .205
Teams: Oakland Raiders, Cleveland Browns
Hue Jackson will be remembered for being just the second NFL head coach to lead his side to a 0-16 season, when the Cleveland Browns achieved the feat in 2017.
Jackson's first head coaching role came with the Oakland Raiders in 2011. Following an 8-8 season in which the Raiders failed to make the playoffs, Jackson was fired from his role.
Following stints as the offensive coordinator and special teams coach with other franchises, Jackson somehow landed the role of head coach of the Cleveland Browns where he embarked on the worst stretch of his career.
Jackson led the Browns to a 1-15 record in his first season in charge but was surprisingly trusted to do the job the following season as well.
The 2017 season proved to be even worse than 2016 as the Browns went winless the entire campaign, finishing with a 0-16 record and making history as one of the worst NFL teams of all time.
After a 2–5–1 start to the 2018 season, Jackson was finally fired by the Browns. At the time of his exit, he possessed a 3–36–1 record over two-and-a-half seasons with the Browns which is the worst record that a head coach has recorded while presiding over an NFL team for at least 40 games.
He also failed to win a road game during his entire time in charge of Cleveland.
#1. Bert Bell
Record: 10-46-2
Winning Percentage: .179
Teams: Philadelphia Eagles, Pittsburgh Steelers
Statistically, the worst coach the NFL has ever seen, Bert Bell had a 10-46-2 record over the course of his coaching career.
Bell's win % of .179 is easily the worst in NFL history, although his role as NFL commissioner ensured his stint as head coach of the Pittsburgh Steelers and Philadelphia Eagles was often overlooked.
During Bell's time as head coach of the Eagles and then the Steelers, he managed just two seasons with over two victories.
In his first season with the Eagles, Philadelphia finished with a woeful 1-11 record. That trend continued in the following seasons and following a 1-10 end to the 1940 campaign, Bell parted ways with the Eagles and headed to the Steelers.
However, he only managed to remain in charge of Pittsburgh for two games, and after losing both, was relieved of his duties in 1941.