One of the most exciting parts of the NFL season for the majority of fans is the free agency. You sit in front of your electronic device and desperately await the next tweet, the next announcement and the next breaking story. It's the time when franchises spend a considerable amount of money to attract the best talent. The focal point of any hiring process is the salary so have you ever wondered how much do football coaches earn?
If you did you might have noticed that information is hard to come by, but be relieved because we did the job for you. We've searched the internet for reliable information to bring you a list of the highest-paid NFL coaches. The information we will provide are mainly guesses by people or reporters that have close ties to the franchises. They are not the exact figure but it's pretty close so here it is:
Jason Garett, Dallas Cowboys
Confirmed salary: 6 million dollars per annum
Win / loss record: 80-62
Rings won: 0
The most popular American football team officially announced in 2015 that they negotiated the terms of a new 5-year contract worth 30 million dollars with coach Garett. He has been part of the Cowboys organization since 2007, starting as an assistant coach before being given the top job in 2011. Since then he's had a fair share of success during the regular season but also a lack thereof in the postseason. For those reasons he only placed ninth on this list.
Reason for hire: Jason Garett took the hard route to the head coaching position because he had to climb the hierarchy. He started as an assistant and his good work ethic and success made him a viable option for the Cowboys. Ultimately they gave him the chance and he took it never looking back.
John Harbaugh, Baltimore Ravens
Estimated Salary: 7 million dollars per annum
Win / loss record: 115-78
Rings won: 1 (Super Bowl XLVII)
Since arriving in Baltimore Harbaugh lead his team to the postseason every year during his first five years even winning a ring in that time. He strongly emphasized physical play which was, even before his arrival, a staple of their team especially on defence. These successes are notable since they share a division with the Steelers a very successful team in its own right.
Reason for hire: John Harbaugh was a longtime coach before he got a head coaching job occupying several lower positions in the coaching tree before being hired as head coach. He was a special teams coordinator and defensive backs coach for 9 years in the Eagles organization before getting a chance to become a head coach.
Mike Tomlin, Pittsburg Steelers
Estimated salary: over 7 million dollars per annum
Win / loss record: 132-71-1
Rings won: 1 (Super Bowl XLIII)
A very prominent coaching name who, by some accounts, is placed quite low on this list is Mike Tomlin. During his 11-year tenure as the head coach, the Steelers never had a losing season and even won a Super Bowl. Despite those successes, Tomlin often failed in the postseason where his team either wins it or completely busts. Nonetheless, he is still heftily compensated and with a salary of at least 7 000 000 per year, he ranks #7.
Reason for hire: Similar to Garrett, Tomlin had to work his way up through the Steelers organization before securing the head coaching job at a very young age for NFL standards. That speaks volumes as to his commitment to the game and sport which was praised by many former players and coaches who worked alongside him.
Andy Reid, Kansas City Chiefs
Estimated salary: 7 500 000 million per annum
Win / loss record: 208-138-1
Rings won: 0
Andy Reid is a longtime NFL coach with a lot of experience and some success under his belt. While he never lead a team to ultimate glory he has a solid resume which proves his capabilities as a football coach. An offensive savant who has helped Pat Mahomes become a league MVP only in his second season. If he manages to win a Super Bowl it will only prove the Chiefs were right in giving him a large salary which landed him #6 on this list.
Reason for hire: Andy Reid was coaching from a very early age as he started immediately after graduation. He mainly worked as an assistant in the offensive department of teams before getting a head coaching gig in Philadelphia. After a successful 13-year long spell in the city of brotherly love, he was announced as the Chiefs new head coach.
Ron Rivera, Carolina Panthers
Estimated salary: 6,5 – 7.75 million per annum
Win / loss record: 74-61-1
Rings won: 0
Ron Rivera made headlines when he became the Panthers head coach in 2011 especially because of his reported salary. He became one of the highest-paid NFL coaches at his first head coaching job. Despite not being customary, rookie head coaches usually, don't get hefty sums. Rivera didn't hesitate to prove everyone wrong. Not many teams will ever replicate the Panthers 2015 season for which he won the coach of the year award. Ever since his arrival, the team achieved several double-digit win seasons justifying his large salary.
Reason for hire: A Super Bowl winning player Rivera was always destined to be a coach. Considered a very good leader on the field he showed his coaching promise early securing several coaching positions on the defensive side of the game. He worked his way slowly through the ranks before being poached by the Panthers in 2011 after being the defensive coordinator for the Chargers for two years.
Sean Payton, New Orleans Saints
Estimated salary: 9 million per annum
Win / loss record: 127-80
Rings won: 1 (Super Bowl XLIV)
With a reported salary of 9 million per year, Payton is a bridge between the moderately paid and heavily paid. His almost 10 figure salary is justified because his arrival completely revitalized the Saints franchise. Before him, this team only reached the postseason twice in its history and after his arrival, they have toppled the NFC South four times.
Reason for hire: There hasn't been a coach in the NFL who waited longer for a head coaching job than Sean Payton. He worked well over 20 years in different organizations before getting a head coaching job. Always considered a bright offensive mind he lead several offences to stellar achievements before being given his team led by Drew Brees no less.
Pete Caroll, Seattle Seahawks
Estimated salary: at least 9 million dollars per annum
Win / loss record: 118-85-1
Rings won: 1 (Super Bowl XLVIII)
While his start as the Seahawks head coach was a bit rocky Caroll soon turned the ship around toppling the NFC West several times and even winning one Super Bowl in the process. Recently he has deservedly been awarded an extension where his salary was reported to reach north of 9 million dollars. While that is a hefty sum Caroll proved he was worth it. His Seahawks, despite all the adversity, often reached the postseason winning at least one postseason game every time despite rather lacklustre rosters.
Reason for hire: Pete Caroll is one of those coaches who was a head coach before getting this job. A bright student of the game he got into coaching early in his thirties due to a persisting desire to be a coach. He had a fast rise through the ranks and ultimately became a head coach over twenty years ago in 1997. Two years into his job he got fired and replaced by some guy named Bill Belichick. He took a demotion and returned to college football rediscovering his form and securing himself another head coaching gig in Seattle.
Jon Gruden, Oakland Raiders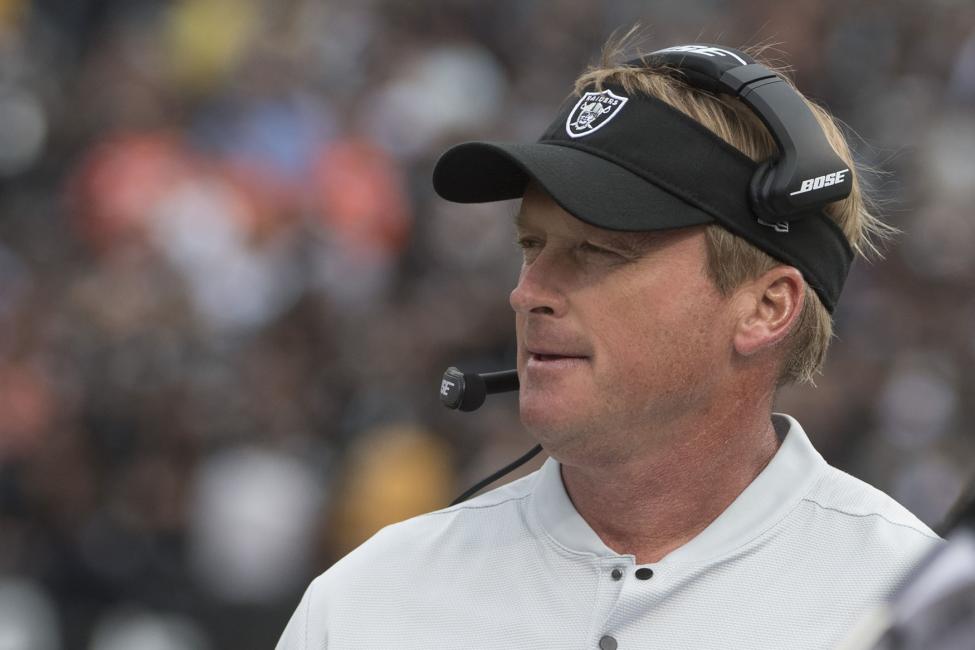 Confirmed salary: 10 million dollars per annum
Win / loss record: 105-97
Rings won: 1 (XXXVII)
Jon Gruden returned to the NFL after a ten-year break which he spent mainly on TV. His return was flashy as were his TV performances. He secured a 10-year 100 million dollar contract, something that was unheard of in the NFL ever. Some argued humorously that it's his paycheck for the Super Bowl he won for the Raiders back in 2002 because it's simply hard to justify such a hefty contract to a guy who was away from coaching for a decade. Only time will tell whether the contract he got was justified but for now, its enough to land him as 2nd on our highest paid NFL coaches list.
Reason for hire: Jon Gruden comes from a footballing family which produced good coaches as his brother is also a very respectable coach. A former player who turned coach quickly became regarded as one of the best offensive minds in the league. He handled the famous Green Bay Packers offences which became legendary before becoming a head coach and winning a ring of his own. Soon afterwards he stepped away from the game in pursuit of TV stardom only to return after being offered a king's ransom.
Bill Belichick, New England Patriots
Estimated salary: 12.5 million dollars per annum
Win / loss record: 293-134
Rings won: 6 (Super Bowl XXXVI, XXXVIII, XXXIX, XLIX, LI, LIII)
Expectedly the highest-paid NFL coach as of 2019 is Bill Belichik who by all accounts currently is the best NFL coach. What else could be said for a man who leads his team to 6 Super Bowl championships since taking over when they never won one before his arrival. He lead them to 16 division titles and holds the record for most playoff games coached and won. The logic is simple, whatever he wants you to pay it and that is most likely the reasoning for Rober Krat when he gave him a reported 12.5 million dollars per year. Many wondered whether he is as good as advertised considering he was paired with the greatest quarterback of all time but with all due respect to Tom Brady and his work ethic, Belichik played a huge role in the Patriots success and even Brady's development. A round 6 pick doesn't become a GOAT by chance and the man who helped him do it is our highest paid NFL coach as of 2019.
Reason for hire: An admirer of the game since his father introduced him to it, Belichick always dreamed of being a coach. Ultimately he pursued that calling and found great success early on. His tight run defensive schemes proved very hard to beat and he got offered several prominent defensive coordinator jobs. After he found success there he was offered his first head coaching position within the Jets organization only to resign one day after assuming office. He was announced as the Patriots coach one day later and the rest is history.
Are such high salaries justified for a sports coach?
Well, these questions are quite complicated. With any job, you get paid based on how much profit you generate, the more you generate the more you are paid. That is the reason why Belichick is paid the most, it's because his team generates a large amount of money to his boss, the team owner, Rober Kraft. So from that point, it's justified because teams and the league itself make a lot of money and it's only fair that everyone gets their share.
A contrarian point would be that for example, a firefighter should earn a high salary because of the significance of the job he performs, the same with doctors. That logic is flawed because in today's capitalistic society everything is measured in money and profit. A firefighter doesn't generate much profit so he isn't paid as much as a musician or NFL coach. But that is an entirely different discussion not relevant to this question.
As far as the job itself is concerned, it's a hard job. An NFL coach essentially is tasked with running a team that is consisted of 46 players on the active roster which doesn't include practice rosters for which he is also responsible. He is also in charge of the staff, delegating different tasks to different members of that staff. He has to oversee all those people while still preparing strategies for upcoming matches.
The work hours are brutal and usually consist of 10+ working hours a day lasting from early morning till dusk. We didn't even mention the draft, the signing of players which is done by the GM but a coach has a part to play in it as well. The multitude of tasks and work hours that go into being a successful coach is hard to count so it's quite hard to illustrate the difficulty of the job in question. As with many things in life, it's hard to understand something until you've experienced it. To conclude it's a prestigious job and those types of job are hard to find and are usually very well paid.