Football is a sport loved by millions of people across the world. By extension, all the individual actors involved in the sport are also loved for the various roles they play.
Come to think of it, who wouldn't love to be in the shoes of footballers, considering the fame that the sport comes with? However, fame is not the only thing that footballers often enjoy. The sport is very lucrative and that is evidenced by the fat salaries that these players take home every week.
In fact, the weekly wages of some footballers equate to what workers in other sectors take home as annual salaries. Behind the fame and money, though, are some footballers who are very educated in some of the best schools in the world.
Gone are the days when football was thought to be a game for vagabonds and school dropouts. Currently, by just looking around, you would find dozens of footballers who have had some form of education.
Sports Zion has, therefore, compiled a list of 10 world-class footballers who are well educated:
#10. Simon Mignolet
Belgium international Simon Mignolet has had a distinguished career, which has seen him play for teams in his native country and in England. The goalkeeper is fondly remembered for his time at Liverpool, but he also proved his world-class status while at Sunderland.
Aside football, the 31-year-old has a very rich educational background. The goalkeeper is very intelligent in the classroom and currently speaks five languages. Mignolet holds a Political Science degree which he obtained during his early days in England.
Having won the UEFA Champions League with Liverpool, Mignolet currently plays for Belgian side Club Brugge. But should he decide to end his football career today, his Political Science certificate could come in handy.
#9. Frank Lampard
Chelsea and England legend Frank Lampard is also another footballer who is well educated. The Englishman was a beast in his prime and ended his career as one of the most decorated midfielders the game has ever seen.
Lampard currently manages Chelsea, having decided to begin a coaching career after hanging his boots. However, the 41-year-old is a man of many things and his educational background is one thing that would surprise you.
The Blues boss attended the prestigious Brentwood School. Not only did he excel and come out with flying colours in Latin, Lampard also scored 11GCSEs. Lampard currently holds a degree in a Latin course, having scored an A in the subject while in school. Academic, player, coach: Lampard is surely the envy of many people.
#8. Andres Iniesta
While many footballers tend to come from not-so-well-to-do homes, Andres Iniesta is one who comes from a very rich family. For many years, the midfielder dazzled in the middle of the park and churned out so many magical performances in the Barcelona shirt.
This is a player who has won it all, including multiple La Liga titles, the Champions League, Euros and the World Cup. What you may not have known, though, is that Iniesta is also a very accomplished scholar with two different degrees.
The former Spain international holds a Biology degree as well as a degree in Sports Science. This proves that not only in Iniesta intelligent on the pitch, he is equally a man of brains when in the classroom.
#7. Andrey Arshavin
Andrey Arshavin made his name in the mid and late 2000s after dazzling for Zenit St. Petersburg and Arsenal. During that decade, he was the star of the Russia national team and even became captain at a point. However, to stick to Arshavin's football career alone would be a great disservice to the attacker.
More than just a footballer, Arshavin is a trailblazer in the fashion world. Not only does he have a good sense of fashion, he has actually educated himself in the fashion industry. The Russian is a degree holder in fashion designing.
Arshavin went ahead to gain a Master's Degree in fashion designing and is currently one of the most famous designers in his home country. So, the next time you come across Arshavin's name, know that his talents extend beyond the football pitch.
#6. Giorgio Chiellini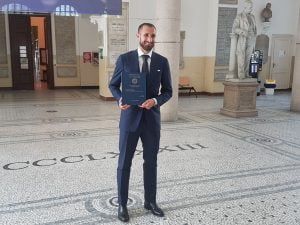 Italy international Giorgio Chiellini is known by many for his impeccable defending for both Juventus and the Azzurri. The 35-year-old continues to grow from strength to strength despite being in the twilight of his football career.
His accolades include multiple Serie A titles, Coppa Italia and Supercoppa Italia. Off the pitch, too, Chiellini is a well-educated man. Unlike other footballers who had their education in the early stages or after retirement, the defender actually combined education and football.
He is an alumni of the University of Turin, having completed a Bachelor's Degree in economics and commerce in 2010. In 2017, Chiellini furthered his education and gained Master's degree in the same course. Life after football shouldn't be a problem at all for the Italian centre-back.
#5. Socrates
Brazil legend Socrates was so good some named him 'Doctor Socrates'. The attacking midfielder is one of the greatest ever to have played the game and his status stretches beyond just his home nation.
Such was his greatness that Pele named him in the FIFA 100 list of the world's greatest living players in 2004. But aside his skilfulness on the pitch, Socrates was rumoured to be a qualified doctor, but that was later clarified to be untrue. However, he held a doctorate degree in Philosophy. He also had a very deep political awareness.
Players like Socrates are rare these days and it would take decades to find another player as talented and scholarly as the Brazilian was. He may be death, but his legacy continues to live on in the minds of millions of football fans.
#4. Vincent Kompany
Manchester City legend Vincent Kompany is a very distinguished man and is widely respected for his role in Manchester City's transformation into a European powerhouse. The defender is a multiple Premier League winner and was captain of Belgium's recent golden generation.
For a man who boasts all these accolades, you'd think education is the last thing on his mind. On the contrary, Kompany is an educated man, having spent four years of his career combining football and schooling.
Between 2013 and 2017, the centre-back enrolled as a part-time student at the Alliance Manchester Business School, where he studied Business Administration. Kompany eventually successfully graduated with a degree in the course. The 33-year-old is, however, currently a player-manager at boyhood club Anderlecht.
#3. Glen Johnson
At 31, Glen Johnson is gradually nearing the end of his career. However, this is a player who delighted English fans with his blistering pace while playing in the Premier League and the Championship. The right-back lined up for the likes of West Ham United, Stoke City, Portsmouth, Chelsea and Liverpool.
The former England international pursued a degree in Mathematics back in 2012 and did his best to complete the course. Johnson later revealed in an interview that he dedicated two hours of his time each day in order to pass his college exams.
If you are thinking of what the defender could do with a Mathematics degree; he could take to lecturing or even study further to become a statistician. Never say never, you know.
#2. Juan Mata
Spain midfielder Juan Mata is admired by many for his creativity, composure and passing ability. The attacking midfielder is one of those who are naturally gifted and can influence a game within a split second with a single pass.
Mata's career has nosedived in recent years, with the Spaniard currently reduced to the peripheries of Manchester United. But while his best days as a footballer are clearly gone, Mata's intelligence on and off the pitch still remain intact.
The former Chelsea and Valencia star is not short of education as well having enrolled for a degree in Sports Science and Finance at the University Camilo Jose Cela in Madrid. At 31, Mata still has a long career ahead of him and his education could also be useful after his retirement.
#1. Edwin Van der Sar
Former Manchester United goalkeeper Edwin Van der Sar is one of the most decorated shot-stoppers in the world. His impeccable talent within the sticks, coupled with his affable personality, makes him a very likeable person to football fans.
Van der Sar won a lot during his playing career, with the pinnacle of his career coming in 2008 when he played a key role in Man United's Champions League triumph over rivals Chelsea. The Dutchman finished his career with 27 major trophies, before venturing into football administration.
Alongside all these, though, is a man who holds a Bachelor's Degree in International Sports Management. He is also currently undertaking a Master's Degree in the same course. Meanwhile, the legendary goalie is currently the CEO of Dutch giants Ajax, having previously served as the club's Marketing Director.