It was clear going into the 2018/19 season that Juventus were one of the favourites to be crowned European champions by many. Fresh off the historical purchase of five-time Ballon d'Or winner Cristiano Ronaldo. Come April Juventus were shockingly dumped out of the UEFA Champions League by dark horses Ajax.
In this scout report, we will use tactical analysis to explore how Adrien Rabiot is a part of completing Juventus' midfield personnel and making them legitimate favourites for the Champions League title this upcoming season.
Time at Les Parisiens

Rabiot made his Paris Saint-Germain debut on 26 August. Being called up from the youth squad by the regime of the great Carlo Ancelotti. Rabiot was seen as one of the next talents in France's long line of upcoming stars. Becoming a regular feature at France's capital club, making 33 league appearances in Ligue 1's 2017/18 campaign. At the age of just 24 now he leaves PSG making 150 appearances for the club. Collecting 18 major honours along the way.
Rabiot would eventually fall out with head coach Thomas Tuchel in the 2018/19 season. With his attitude and off-the-field antics being challenged by many despite his quality on the pitch. He would only start 12 games in Ligue 1 this season before making his move now to Italian giants Juventus.
Undeniable talent

Although his attitude may have come into question his talent never has. Rabiot could be described as a dynamic, free-roaming midfielder. He's operated in a multitude of shapes, systems and areas under many different managers. Something, not every player can say they've done with success highlighting his versatility.
Returning to Juventus' Champions League exit vs. Ajax a blaring issue was of the midfielders' ball-playing abilities. In Juventus' 2-1 loss at home to Ajax, midfielder Blaise Matuidi only completed 65% of his passes. As shown below through analysis, there were multiple occasion where the Italians were stuck unable to break down Ajax's defensive shape and often unnecessarily turning the ball over
Adrien Rabiot is not a penetrative passer, only making 0.8 key passes per 90 in the 2017/18 season. His play in the final third is not of an attacking midfielder. Rather instead a competent player in possession rarely turning the ball over looking for his teammates who are in space or recycling possession. Which would be a sharp contrast of Juventus current midfield options of Emre Can, Matuidi and Rodrigo Bentancur who will at times try to force the play even though they are incapable.
New Juventus manager Maurizio Sarri has required competent ball players in midfield such as Allan at Napoli and Matteo Kovacic at Chelsea to play in his systems and execute his style of play. Rabiot had a 92% passing accuracy in 2017/18 so it is easy to understand the acquisition and role he could play.
One of his best attributes is unquantifiable, his off-the-ball movement. Through analysis you can see he actively tries to get involved in the play, linking passing sequences together and attempting to exploit space throughout the middle third. This could be massively beneficial to Juventus so their passing play is more fluid and they are better equipped to break through top team's defensive shapes. In a midfield three, he often can be seen dropping as deep as the midfield base to help the deep-lying playmaker progress the ball forward.
Below is Can's heat map against Ajax in the Champions League compared to Rabiot's against Angers. You can see the exponential difference and what Rabiot can provide in contrast.
One of his other most beneficial attributes is his ability to carry the ball. His tight control and dribbling under pressure is a particular highlight. Often getting his team out of possible turnover situations and opening up space for himself, teammates and passing lanes.
He is by no means a generational press resistant talent such as Tanguy Ndombélé but his ball-carrying abilities are class, making 1.1 successful dribbles per game compared to N'dombele's 1.9.
Weaknesses

Ironically a common issue Rabiot has is most notable when playing against some of Europe's top opposition. When in defensive shape off the ball, he can struggle to defend the space and players around him. He only made 0.7 interceptions per game. Often losing track of players and failing to cut off passing lanes allowing for the opposition to make a fluid and progressive play. He tries to make up for this fact by producing a large number of tackles, which leads to a significant number of fouls per game, 1.6.
This can be a result of the lack of competition on a weekly basis that he faces in Ligue 1. The gap between the eight-time French champions PSG and the rest is very considerable. Naturally, the French top-club would dominate possession most games, they averaged 60% possession this season. Meaning Rabiot is not challenged off the ball on a regular basis, making him unable to develop this area of his game.
When the Frenchman receives the ball, he is with his back to the opposition goal most of the time. Making him produce many backwards and sideways passes. This could be considered a weakness despite his role and general reputation as a player who recycles the ball in possession. As it can potentially slow down build-up play and invite pressure which has been a criticism of certain players such as Kovacic at Chelsea when he played under Sarri
Usage from Sarri

Maurizio Sarri's signature shape in play has been the 4-3-3. It's become synonymous with Sarriball's play as it's never altered despite results or opposition. Playing with attacking and attractive tactics that sees quick combinations and vertical passing sequences result in quality goal scoring opportunities. Sarri's Napoli scored 2.21 goals per 90 minutes. Rabiot has operated in a 4-3-3 across multiple managers in Paris such as Unai Emery and Lauren Blanc.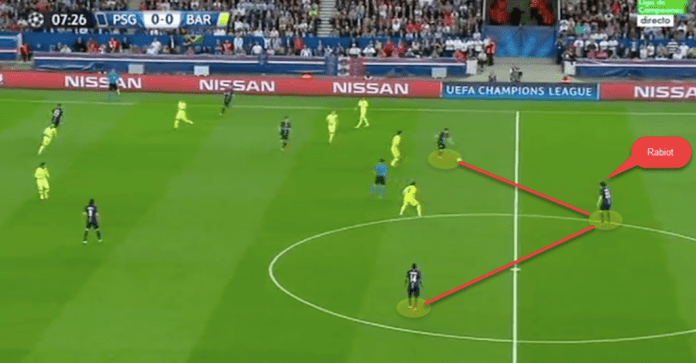 The midfield three Sarri implements contains an attacking midfielder, a regista and a midfielder in the ilk of Adrien Rabiot that is a competent passer and ball retainer. Aaron Ramsey and Miralem Pjanic will most likely make up the rest of the midfield. Pjanic in the regista role making vertical passes to Aaron Ramsey between the lines, who will then make passing combinations with Ronaldo and Paulo Dybala going forward.
As before mentioned, Rabiot could play in a very similar role as to the one Kovacic and Allan played in their respective teams with Sarri. Recycling possession and assisting the regista progress the ball from the early build-up phases. Below is a comparison between Rabiot and Kovacic and you can see the similarities in their passing play.