The Tampa Bay Buccaneers former legendary quarterback Tom Brady and the former Pittsburgh Steelers receiver Antonio Brown used to be very close friends at one time, albeit the friendship ended officially and the WR seemingly burned every bridge in the relationship.
Brown recently decided to reveal his side of the highly publicized fallout between him and Brady and said the three-time NFL MVP had made empty promises during their time together, adding another layer to the dramatic saga that unfolded during Tampa Bay's 2021 NFL season.
Antonio Brown takes aim at Tom Brady
Brown recently made an appearance on Tyreek Hill's podcast, 'It Needed to be Said' and discussed his controversial last NFL game against the New York Jets, leading him to be involved in a heated altercation with the Bucs head coach Bruce Arians and get released by the team eventually.
The veteran wide receiver put all the allegations on Tom Terrific saying he wasn't healthy enough to appear on the field and requested the franchise to sit out him, albeit the ex-Bucs QB alongside the management didn't grant his request.
"We were about to play the Jets and i said the coach that if we were going to win the Super Bowl, I think I needed to take the last two weeks. To recover and to given them my best. So, Tom called me like 'Yo this week man the Jets man, they sweet man imma hit you with like 10 to 12'. So. he gonna gas me up so you know me that's all I need to hear like yo you gonna throw me the ball, this is like me saying like I got a new crib like you know me, you know what I'm saying."
AB claimed Brady's trainer refused to work with him as he had been in touch with the Bucs' medical staff.
"They treated me like I'm a little dog, so, I was like, so, now I just see it's like sideways and then Tom's trainer be like, he don't want to work with me no more because now you feel like I'm working with the team, that's the guy who knows the MRI who could see what's really going on the inside of my leg."
The ex-NFL star bashed TB12 for not providing him with the number of passes he promised prior to the game.
"Why are you mad for like because you know he trying to really compete against this guy to get his job so it's like two training rooms… You don't want to throw me the ball and you making me like I'm crazy, so, I was like, I'm crazy, f**k all you motherfu**ers, I'm out of here."
What happened with Brown and Brady?
Following his release from Tampa Bay, Brown started a new chapter in his life by heading to a music career and released an album called 'Paradigm' as well as appeared on various music-related podcasts. Besides this, his favorite pastime had been to bash his the California Cool constantly, however, what is the actual reason that is forcing the former Bucs star to hold a prolonged grudge?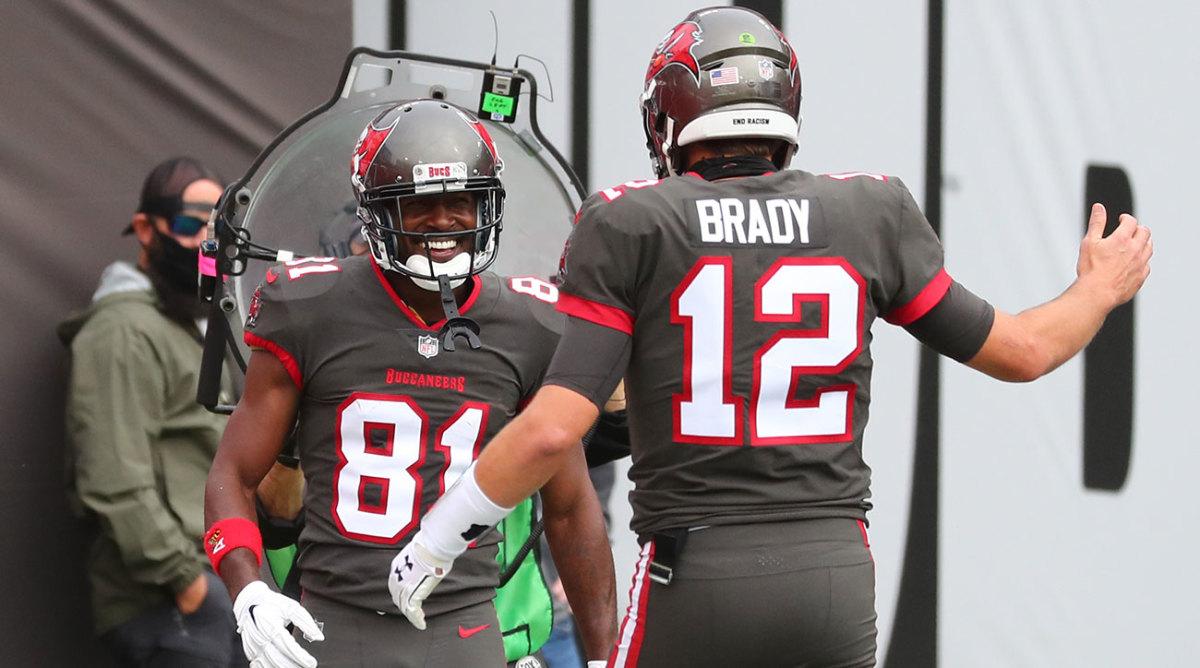 The former receiver earlier disclosed things with Brady started to fall apart following the Buccaneers' Super Bowl LV win. Antonio's contract expired after the season, and he claimed the former Bucs QB called his agent to curse him while he was involved in a negotiation with the franchise.
"After we get the ring in [2020], the next year, I'm the last guy that signed. My agent, Ed Wasielewski, is getting called, cursed out by Tom Brady over 'Why is he pushing back for the contract for scraps?' Imagine if you heard that, the same guy that brought you in to win a ring, the same agent he told you to hook up with to get the deal, is now telling me, the guy's calling him … cursing him out about scraps of a contract."
He later signed a one-year, $3.1 million deal, albeit he was reportedly holding out for more money and blamed his former teammate for the Incident.
"I give everyone their props from a team standpoint, as far as the team, but you know, we all got our own agendas in the midst of the team. So when you're an older player, you getting deals like that … My agent's telling me already before the season that this guy — who [Brady] hooked me up with — is calling him, cussing him out about the contract."
The rivalry got intense following the intense moment of him taking off his pads and jersey midgame against the Jets and leaving the field as well as being involved in that altercation with HC to ultimately end his NFL career. Since then, Brown is not leaving any stone unturned to bash the NFL GOAT.
The fallout between Brown and Brady continues to be a subject of intrigue within the football community, however, the Buccaneers quarterback remained silent over the issue and never made a public comment regarding it.