Caleb Swanigan, a former NBA player, started his career with the Portland Trail Blazers. The young star caught everyone's attention with his performance.
Swanigan got a perfect flight but couldn't prolong his career and played his last game in 2020 with the Portland Trail Blazers. Since then, the player has remained behind the scenes, stating personal reasons.
Swanigan came to the headlines again, but maybe for the last time ever after the news of the former NBA star's death came out. His unfortunate demise left the fans curious to learn more about his personal life. Without further ado, let's begin.
Caleb Swanigan's wiki:
| | |
| --- | --- |
| Full Name | Caleb Sylvester Swanigan |
| Father | Carl Swanigan Sr. |
| Mother | Tanya Swanigan |
| Date of Birth | April 18, 1997 |
| Death | June 20, 2022( Aged: 25) |
| Birth Place | Indianapolis, Indiana, USA |
| Nick Name | Biggie |
| Zodiac Sign | Aries |
| Listed Height | 6 feet 9 inches (2.06 m) |
| Listed Weight | 118 kg (260 lbs) |
| Hair Color | Black |
| Eye Color | Dark brown |
| Salary | N/A |
| Profession | Basketball player |
| NBA Debut | 2017 |
| Position | Power Forward |
| Number | 50 |
| League | NBA |
| Active Years | (2017– 2022) |
| Net Worth | $3 million |
| Sponsors | N/A |
| Source of Wealth | NBA salary |
| Last Team | Portland Trail Blazers |
What is Caleb Swanigan net worth in 2022?
Caleb Swanigan accumulated a handsome net worth of $3 million at the time of his demise.
Swanigan landed in the NBA, signing a 4-year deal worth $8 million with the Portland Trail Blazers.
The former NBA star's lofty deals in the NBA and a multi-year endorsement deal for more than $1 million with Nike let him amass this fortune.
Caleb Swanigan parents and childhood
Swanigan faced a difficult environment growing up along with his six brothers and sisters. His father, Carl Swanigan Sr., was a cocaine addict.
His mother, Tanya Swanigan, always struggled a lot with maintaining six children due to their family's poor financial condition, causing Swanigan to spend most of his childhood in shelter homes.
Swanigan inherited two major physical traits from his biological father: a tendency toward obesity and height. His father, who passed away in 2014 from complications with diabetes, was close to 500 pounds (230 kg) in weight and was 6 ft 8 in (2.03 m) tall.
Swanigan began seventh grade weighing 360 pounds and standing at 6 feet 2 inches (1.88 m) (160 kg), which he overcame during the NBA career by the help of his adoptive father but soon after his departure in 2020, he began returning to his previous shape.
Who is Caleb Swanigan Wife?
Caleb Swanigan used to value privacy in his personal life, so it's impossible to decipher whether he ever went on to date or get married to someone. According to a number of sources, the teenager was never given the chance to settle down with a spouse or even a romantic interest. Caleb was just started to open up his career but his struggling life didn't allow him to go further causing his death at just the age of 25 years.
Why did Caleb Swanigan leave NBA?
Though Caleb Swanigan lifted his name from the NBA in 2020, stating personal issues, it was later reported that Swanigan had issues with his personal weight. Frequent weight gain made it impossible for him to get back on the track again.
Who adopted Caleb Swanigan?
Swanigan was candid about his upbringing in a very chaotic environment. His dad was addicted to crack Cocaine and he had to spend the most of his childhood in children shelters.
After his father passed away in 2014, Swanigan was adopted by Roosevelt Barnes, a former Purdue coach who became Swanigan's basketball inspiration. Roosevelt took him in and served as his guardian in Fort Wayne, which paved the way for Swanigan to attend Purdue.
Swanigan was adopted by Barnes when he was a teenager and thus Swanigan's basketball career was shaped by that choice.
What happened to Swanigan?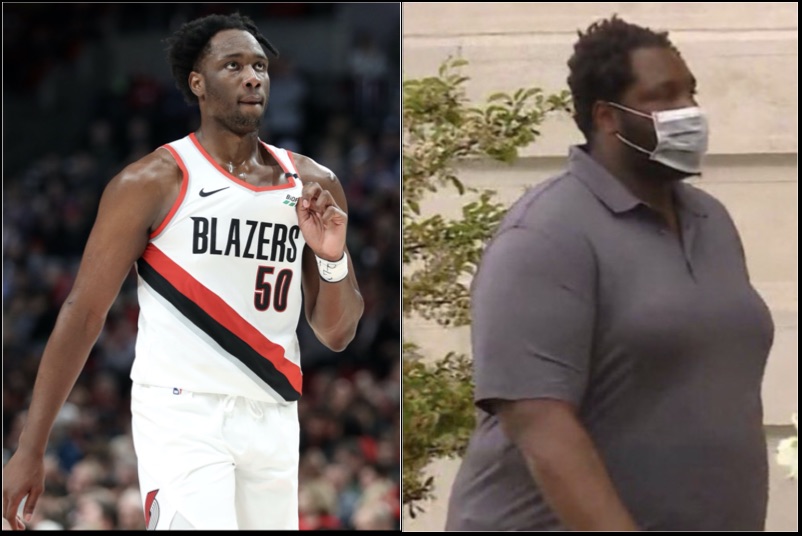 According to the family source it is claimed that Swanigan had a natural death. Though his death was natural, social media post's indicates that the cause maybe Swanigan's post-NBA weight gain.
Swanigan was frequently dealing with serious health issues and was trying to reduce his weight. It seems that the weight loss process may have an influence over his death.