David Beckham tattoos: meaning, number, locations & dedication
Ex-Real Madrid galactico, David Beckham, is arguably the most prolific midfielder in the history of football with his iconic freekicks and mesmerizing passes, and apart from genius skills he was the center of attraction for his unique fashion senses.
As an artistic minded person, Beckham got inked of a great number of inspirational and real-life event based tattoos around his muscular body especially in the sleeves and legs.
Let's have a look at David's tattoos and their histories.
How many tattoos does Beckham have?
David Beckham's love for tattoos has been broadcasted in medias across the world from time to time because he is that kind of personality who loves to show off his intrinsic nature through his inks.
As of today, David has been inked more than 63 times in his body according to his first tattoo artist the famous Mark Mahoney from London who also tattooed other celebrities like Angelina Jolie and Jhonny Depp.
Where are Beckham's tattoos located?
David maintains a somewhat tidy face and abdomen with his tattoos are evenly distributed, extending up and over both pecs on both sleeves, covering both ribs from top to bottom in vertical art, and leaving the belly mostly empty.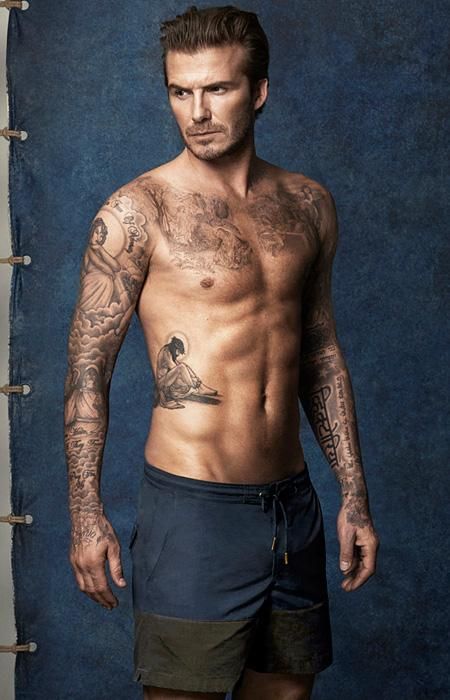 His spine and shoulders' natural lines are likewise shown in the tattoo on his back, which gives the artwork a significant movement and overall, Beckham looks excellent despite being covered.
What do all of David's tattoos mean?
Beckham's athletic body features a number of tattoos that displays inspirational and meaningful events throughout his life and family members.
Rose Tattoo: Beckham has two tattoos on the left side of his neck: "Pretty Lady" and the name "Harper" written in cursive and later, he inked a rose close to the words "I love you" above the latter, wrapping it around to the back of his neck.
Large Angel Tattoo: Between "Romeo" on his neck and "Cruz" in the middle of his spine, Beckham has a large angel tattoo hanging from his back in a crucifixion posture with the word 'Brooklyn' inscribed on his lower back.
Three cherubs lifting Jesus Tattoo: Beckham wears a religious symbol based tattoo on his left back. On a Facebook video, he explained the tattoo is "Jesus being carried by three cherubs and obviously the cherubs are boys."
In the face of adversity tattoo: Beckham's right arm begins at his shoulder with an angel, that depicts 'In the face of adversity' which is supposed to represent the aftermath of his 2004 affair.
Renaissance painting of Cupid tattoo: Beckham's left sleeve is split into two parts on which a 'Renaissance painting of Cupid' can be found that shows Cupid flying Psyche into the sky after they got married.
Whom is he dedicated to?
David Beckham's revolutionary tattoos demonstrates symbolic meanings and these artworks are mostly dedicated to his family members, for instance, the 'Rose Tattoo' on his neck is dedicated to his daughter Harper and the 'Large Angel Tattoo' was inked for his three sons – Romeo, Cruz and Brooklyn.
Beckham also dedicated the 'Renaissance painting of Cupid Tattoo' for his wife Victoria with whom he had been happily married since 1999.
David's 'In the face of Adversity Tattoo' marked a controversial moment of his life when he was allegedly involved with an affair with former female assistant in 2004.