Step inside Lionel Messi's $50 million exclusive Car Collection
Lionel Messi is often called the 'Greatest Of All Time (GOAT)' by most of the football critics and spectators around the world since playing for Spanish giant FC Barcelona and Argentina National team.
According to Forbes Messi is the Highest Paid Athletes of 2022 with £106,212,600 million earnings and therefore he owns a number of sports cars along with luxurious vehicles in his garage that worth £40,851,000
An Enumerate look at Lionel Messi's Glamorous Car Collection
Lionel Messi, the Seven time Ballon D'Or winner, amassed a fortune of wealth which he not only uses for his family but also uses to buy his dream cars and as of today he is the proud owner of some of the rarest automobiles in the world.
Ferrari 335 S Spider Scaglietti
Messi has the world's most expensive super car, the Ferrari 335 Scaglietti of 1957, which he bought from an auction in 2016 by beating another football star Cristiano Ronaldo that worth £30,245,650. This vintage racing car is one of a kind and has a classic appearance that easily resembles a retro vibe.
Pagani Zonda
Argentine Superstar is a proud owner of another Italian super vehicle, the Pagani Zonda, that costed him £1,634,780 despite being a road illegal vehicle in the United States for lack of airbag toggle switch.
Mercedes SLS AMG
Like other players in the planet, Lionel also has a fascination for Mercedes cars and that is why he has a Mercedes SLS AMG sports car in his exclusive garage that has a value of £525,017
Ferrari F430 Spyder
Apart from owning a vintage Ferrari, Messi also drives a new generation Ferrari F430 Spyder that has a value of £134,435
Maserati Gran Turismo MC Stradale
PSG star is often seen driving a Maserati car the Gran Turismo MC Stradale model that can rarely be found in the world and worth £197,850
Range Rover Vogue
Messi is also a big enthusiast of British luxurious cars and often seen driving Range Rover Vogue that has a value of £163,450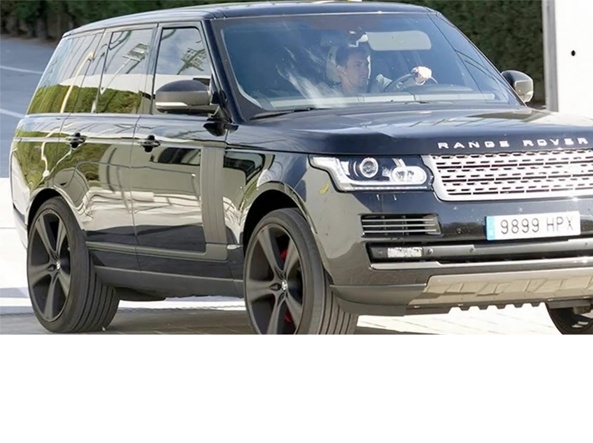 Audi RS6
On his Barcelona days, Lionel used to receive cars from the club's automobile partner Audi and thus owned an expensive Audi RS6 that values £88,295
Audi A7
LM10 also owns an Audi A series car that calls an Audi A7 which has a net value of £56,583
Audi Q7
Among the Audi trio of Messi, the Q7 is the latest version that costs a net amount of £44,630
Cadillac Escalade
Although Messi resides in the Europe, he has an affection for American luxurious vehicles as he is a proud owner of a high-end Cadillac Escalade car that worth £61,506
Range Rover Sports
Another British made Range Rover Sports that has a value of £56,860 is driven occassionally by the Argentine superstar for family uses.