Lionel Messi tattoos: meaning, number, locations & dedication
Argentina and Paris Saint Germain superstar Lionel Messi is considered the Greatest Of All Time (GOAT) for his incredible performances and genius skills; thanks to his magical left foot which is arguably the best left foot after Maradona amongst all the other footballers in the modern world.
Besides maintaining a flamboyant soccer career, Messi is a devoted catholic and a family oriented person that can be seen through various real-life event inspired tattoos inked on different body parts especially on his famous left foot.
How many tattoos does Messi have?
Lionel Messi tattoos portray significant events regarding his illustrious personal life and he started to get inks since 2010 with currently 18 tattoos glowing on his body.
Renowned tattoo artist Robert Lopez is currently in charge of inking this football genius.
Where are Lionel Messi's tattoos?
Messi mainly focuses on three parts (arms, legs, backside) of his entire body for tattoos and therefore most of them revolved around his upper sides.
What do all of Messi's Tattoos means?
Not all of Messi's tattoos have unique meanings; however, most of his inkings symbolizes different aspects of his life and below are some examples.
Face of his mother Tattoo: For the first time ever, Messi got a tattoo on his left shoulder blade with the depiction of his mother's (Ms Celia) face with whom he is very much attached since childhood and regards her as his lucky charm for assisting him in achieving goals.

Baby Boy Hand Tattoo: After becoming father for the first time in the year 2012, the Argentine megastar Messi got a leg tattoo on his famous left leg that inscribed the name of his boy Thiago and the two hands of the his firstborn.

Birthdays Tattoo: Messi got the names of his three boys and his wife Antonella tattooed on his right thigh, along with their birthdates as his eldest son Thiago who was born on November 2, 2012, Mateo was born on September 11, 2015, Ciro was born on March 10, 2018, and wife Antonella was born on February 26, 1988.
Face of the Jesus Tattoo: LM10 demonstrated couple of tattoos in his sleeves and most notably the Jesus tattoo that obviously resembles his dedication for Christian religion as he is a practicing catholic.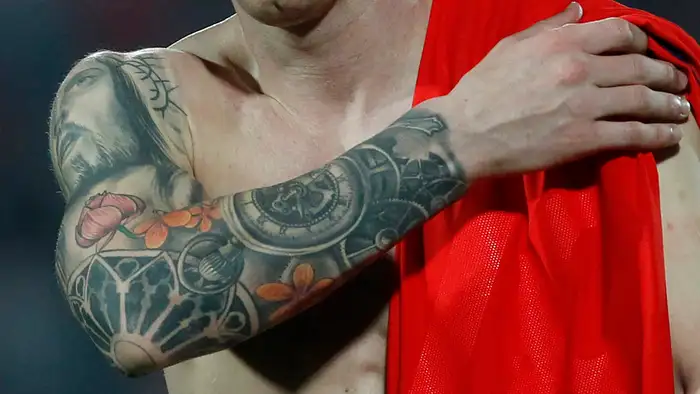 Table clock tattoo: this tattoo showed his everlasting quest for success.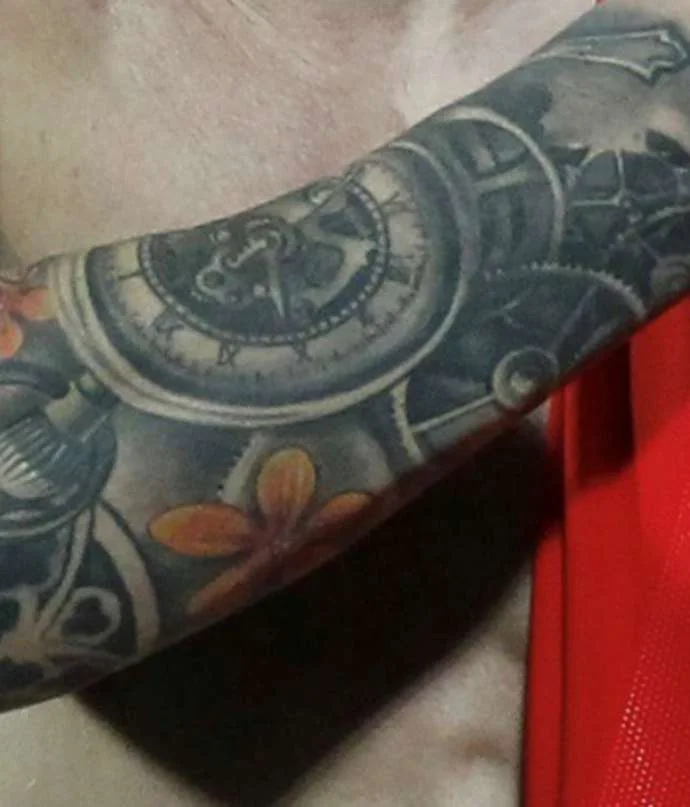 Rosary tattoo: Messi once received a rosary tattoo that depicts the outline of Rosario, Argentina, where he was born. Messi's tattoo artist, Roberto Lopez, revealed that the original plan was to make a rosary that reflected his life's stories via various imagery.
Whom is he dedicated to?
The Argentine superstar is a proud father of three children and he wanted to show his love for three sons through tattoos inked on his foot especially the 'Birthdays Tattoos' on which the birthdates of his three children (Thiago, Matteo and Ciro) are inscribed.
Messi also has a tattoo solely dedicated to his mother with 'Face of Mother Tattoo' engraved on his left shoulder.
Lionel's love of the life, his wife Antonella's birthday also being depicted on a leg tattoo in the 'Birthdays Tattoos' section and there is another notable tattoo which is called the 'Table Clock Tattoo' on his arm to show his thirst for reaching the peak of football.