The thirty four year old striker and winger of the Argentina National Football Team and FC Barcelona, Lionel Messi is one of the biggest names and faces in the world of soccer.
On February, in the year 2001, Leo moved with his family to Barcelona, Spain from his hometown Rosario, Argentina. The following year is a witness to the inception of the world's best footballer's journey as Messi got inducted to the Royal Spanish Football Federation. Furthermore, he was made a part of the 'Baby Dream Team' of FC Barcelona that comprised of the greatest collection of young footballers.
A Glance at Lionel Messi's Asset Accumulation:
| | |
| --- | --- |
| Name | Lionel Andres Messi |
| Net worth | $600 million |
| Age | 34 (born on June 24th, 1987) |
| Relationship status | married to Antonela Roccuzzo |
| Source of wealth | Professional Football, Brand Endorsements , Investments |
| Salary | estimated $168 million |
| Endorsements | Adidas, TATA Motors, Gillette, Turkish Airlines, Audemars Piguet, EA Sports, Konami, Dolce & Gabbana and Ooredoo |
| Endorsement earnings | estimated $40 million |
| Philanthropy | Leo Messi Foundation, Unicef |
What is Lionel Messi's N
et Worth in 2021?
A footballer of such high potential and class, speculations of Lionel Messi's net worth surrounds the internet like crazy. Moreover, he is in the list of the world's highest paid athletes of the year 2021. However, our researchers at Sportszion after comparing various sources, makes an estimated calculation of Leo's net worth to be around $600 million.
Lionel Messi's
Sources of Wealth:
Let us now take a look at the sources from which the soccer star accumulates his abundant wealth.
Lionel Messi's contract extension with Barcelona is finally coming. 🇦🇷

Barça board and Messi's camp feel now 'confident' to officially announce the agreement until June 2023 next week.

Both parties involved are working to fix 'final details' on contract clauses. ⏳ pic.twitter.com/dZ0zIsGeB3

— Fabrizio Romano (@FabrizioRomano) June 27, 2021
FC Barcelona's 2017 contract with Messi is about to come to an end in June 2021. As per the contract deal, it fetches Leo $168 million as base salary. Furthermore he has received a signing bonus of around $59.6 million. As of now, Lionel is set to have his contract undergo a renewal process.
Lionel Messi's Endorsement Deals:
The top brands in the market at present have Leo assciated with them as an endorsee. He reportedly earns around $40 million only out of his endorsements.
Adidas is his primary sponsor and he has a lifetime endorsement deal with the company since 2006. He is also their leading brand ambassador and used to have his signature collection of Adidas boots that was actve in the market for a long span of time.
He is the face of the Konami video games Pro Evolution Soccer 2009, 2010, 2011 and 2020. The endorsemnt deal with EA Sports also has him as on the covers of four consecutive video games from Fifa 2013 – 2016.
He also endorses luxurious brands such as Dolce & Gabbana and Audemars Piguet. Alongside, he is also the brand ambassador for the companie TATA Motors, Gillette, Turkish Airlines and Ooredoo.
Lionel also hold the title of the world's most marketable athlete and his popularity is completely born out of his massive talent and consistently prospectful performance.
Lionel Messi's Earnings Through Investments:
Barcelona team-mate Gerard Pique says 'Lionel Messi has stake in Kosmos' – Net sports 247 https://t.co/k1aVOO5EnP #Barcelona #teammate #Gerard #Pique #LionelMessi #Kosmos #stake #tennis #Barcelonateam #Messi #Lionel #sports #player #game #sportsnews #active #score #netsports247 pic.twitter.com/WkdswNKxWZ

— Net Sports 247 (@247_net) February 18, 2019
Kosmos is a sports and entertainment company with futuristic ideas in today's media oriented world. It happens to have a subsidary that is named Kosmos Tennis. They focus on development and management of tennis events globally. Leo is one of the three investors of this subsidiary endeavour.
Lionel Messi's Businesses:
#Football star Lionel Messi drops his debut clothing line in Barcelona.

1895 Sports supplies #trainingwear, #leisurewear and #playingkits to all #sportsclubs in the UK. Enquire today about custom #sportswear https://t.co/00UWDhiFhw

Creds https://t.co/KXckOw72BZ

— 1895 Sports 👕 (@1895Sports) September 24, 2019
The owner of a few lucrative businesses, Leo partnered with Jacob & Co. in the year 2016 to launch and release a series of high-end watches inspired by Messi. Furthermore, he also founded The Lionel Messi Clothing Line in the year 2019.
Besides, he bagged the honour of having a theme park in China under his name known as The Lionel Messi Theme Park.
How Lionel Messi Spends His Millions?
Now that we know where all the wealth comes to Lionel Messi from, let us glance through how he spends it all.
Lionel Messi's Luxurious Mansions:
Lionel Messi Reportedly Buys £5M Luxury Miami Apartment With 1,000-bottle Wine Cellar (Photos)https://t.co/trFkIApUY2 pic.twitter.com/OLsrxhfs7z

— GO247 BLOG (@Go247B) April 26, 2021
The huge net worth possessed by Leo also finds him as the owner of a number of exquisite mansions and he has a decent taste when it comes to houses. Messi owns a few of the best ones in the market.
He purchased a old house for a value of 1.5 million in Castelldefels, Barcelona in the year 2009. Then he renovated it as per his choices. This villa boasts features such as a swimming pool and a small football pitch and playground. The interiors are fine-tuned to the core of Mediterranean style. It also includes a gym at the indoors for training and workout purpose.
He reportedly purchased all rooms of his neighbours' house in the year 2013. In addition to this luxurious solution for solitude, Messi also made a rule stating no airplanes are to fly above his house when the El Prats airport was in talks of exapnsion.
Leo's recent purchase took place in the year 2019 which is the apartment in Miami, Florida. The condo is worth the value of $5 million and is situated atop a Porsche Design Tower. The tower itself features three car lifts and a glass-enclosed garage that works a a part of the decor. It is a duplex from the interiors and comes with two bedrooms, five bathrooms and a massively huge living room.
Lionel Messi's Car Collections:
Leo hapens to be the proud owner of some of the classiest hot rods available all around the world. He is said to own more than 10 cars and Messi's colelction of cars happens to be a majorly noteworthy one.
The best cars present in his collection are Ferrari 335 S Spider Scaglietti, Pagani Zonda Tricolore, Mercedez SLS MG, Maserati Gran Turismo MC Stradale, etc.
Lionel Messi's Non-profitable Investments: The Charity Work
Fighting against chronic malnutrition! The Leo Messi Foundation has supported the school canteens launched by Father Juan Gabriel Arias in Mangundze (Mozambique) to help over 15,000 children overcome the dehydration and malnutrition they were suffering from during the school day. pic.twitter.com/lNGPolo1Mw

— Fundación Leo Messi (@fundacionmessi) April 5, 2018
Messi as we know does not come from a well-to-do background and the Argentine footballer has never forgotten his roots even after becoming one of the world's best footballers and when it comes to giving out to the community, he is always a step forward.
He founded the Leo Messi Foundation which foucses entirely towards giving out better opportunities to underpriviledged children regarding education and healthcare. He is also entitled as the goodwill ambassador of UNICEF and he has also completed a field mission with them in order to raise awareness for the recent earthquake.
Leo actively takes part in various fundraising activities. He recently made donations of around $1 million to raise aids for the spread and outbreak of coronavirus.
Lionel Messi's
wife, Antonela Roccuzzo's Net Worth: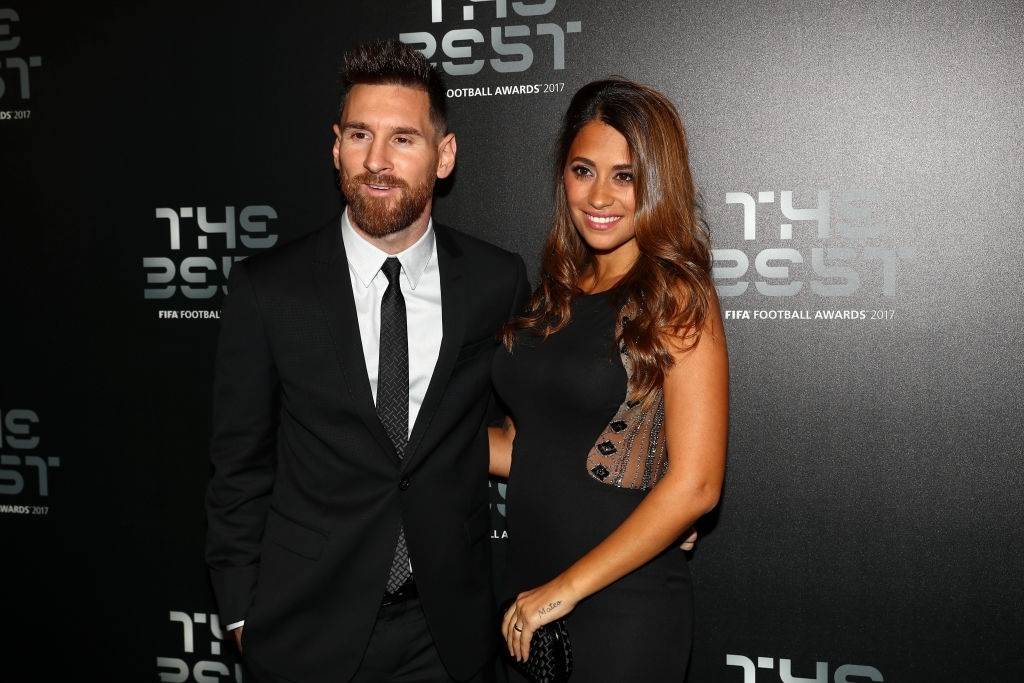 Leo Messi's wife Antonela Roccuzo is an Argentinian model and dietician by profession. Our calculations consider that her individual net worth is an estimated $20 million.