Dana White Net Worth 2021: Salary, Endorsements, Mansion, Cars, Private Jet, Charity Works And More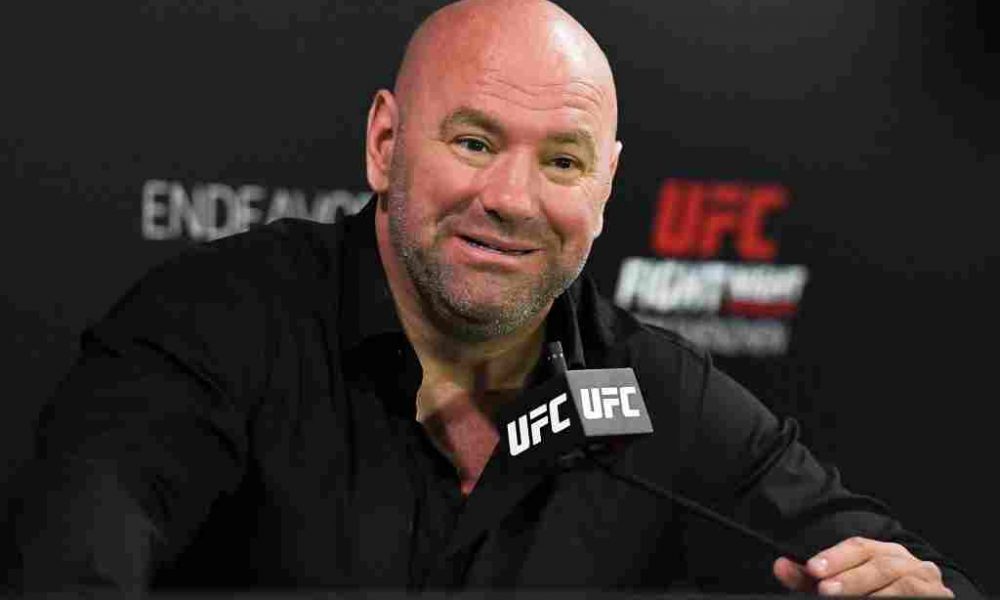 Dana White is an American businessman, promoter, and president of the Ultimate Fighting Championship (UFC). Also known as Dana Frederick White Jr., he began his journey from humble beginnings. Fortunately, Dana was quick to realize that he did not want to go to college. Rather, he wished to get into the fighting business.
Eventually, White became a boxing coach, referee, and subsequently a manager for Chuck Lidell and Tito Ortiz whom he helped to become one of the youngest UFC champions later. As luck would have it, Dana White came across Bob Meyrowitz, who was looking to sell the UFC. Thereafter, White enlisted the help of his childhood friend Lorenzo Fertitta and his older brother, Frank, to buy the UFC for $2million, which became a subsidiary of Zuffa, LLC, a sports promotion company.
With White at the helm, the UFC has gradually grown into a multi-billion dollar enterprise and also the biggest MMA promotion in the world. Presently, he is still the President of the UFC, with a renewed stake in the business. Moreover, White is a receiver of awards like Nevada Sportsman of the Year (2009), Wrestling Observer Newsletter Awards, Promoter of the Year (2005–13; 2015–16), World MMA Awards, Leading Man of the Year (2008–19), Armed Forces Foundation, Patriot Award.
A Glance at Dana White's Asset Accumulation
| | |
| --- | --- |
| Name | Dana White |
| Age | 51 |
| Net Worth | $500 million |
| Status  | Active |
| Salary  | $20 million |
| Source of Wealth | Business, Filmography, Endorsements |
| Endorsements | Howler Head, Happy Dad, Blend Jet |
| Endorsement Earnings  | $1 million (estimated) |
| Residence | Las Vegas, Nevada |
| Charities | Tuptim Jadnooleum, The Good Fight Foundation, Hermon High School, Las Vegas Shooting Victims Relief Fund. |
What is Dana White Net Worth in 2021?
In 2021, Dana White's Net Worth stands at a total of $500 million. Following his renewal of contract and extension of his term as UFC President, White's Net Worth is likely to keep increasing gradually. Moreover, White is said to own an added stake in the business as well. The fact that Dana owns a part of the business and is a globally renowned figure ensures his position as UFC President for the foreseeable future.
Additionally, Dana has also appeared in a variety of Movies, TV Shows, and other media and is a regular at almost all UFC Events. Moreover, White is also the host for Dana White's Tuesday Night Contender Series and The Ultimate Fighter ( TUF). Both of these shows are available on UFC Fight Pass, UFC's digital streaming service.
Dana White's Sources of Wealth:
Here is a detailed look at the sources of income that fetch "The Boss" his current net worth of financial wellness.
For his services and his role as UFC President and promoter, Dana White is paid $20 million per annum. As such, his handsome fee also requires him to be present at every Press Conference, Live Event, Interview, and work with the Matchmaking staff. Additionally, White is on a renewed contract which will see him as the UFC President for the next 5-6 years. After the sale of the UFC in 2016 for $4 billion, Dana had a takeaway of a reported $300+ million, due to his stake in the company.
Dana White Endorsement Deals
With White having to fulfill his duties as UFC President, there seems no time or need for him to endorse brands. However, Dana frequently posts about Howler Head Whiskey on his social media. Moreover, he also endorses Happy Dad, another alcoholic beverage company, along with BlendJet, which deals with handy, portable, compact, and personal-sized blenders.
View this post on Instagram
Over the years, Dana White has made appearances on many Movies, TV Shows, and other media. As such here are some of the names of some of these appearances made by Dana on Reality TV shows, Sitcoms, etc. Ridiculousness (2013), The League (2013), Silicon Valley (2015),  It's Always Sunny in Philadelphia, Jimmy Kimmel Live! and TUF: The Ultimate Fighter. 
How Dana White Spends His Millions?
By now it is very clear that Dana is a multi-millionaire with a dream job and a very handsome salary that he can play around with. As such, let's take a detailed look at how Dana spends his high budget income.
Dana White Luxurious House
Since 2016, White has bought three massive houses in Las Vegas' posh Tournament Hills enclave. All three properties are close to each other and close to the previous mansion that he bought in the same neighborhood in 2006. White acquired a roughly 7,700-square-foot house for just under $1.8 million in October, a 5,500-square-foot home for $2.4 million in January, and a nearly 4,700-square-foot house for $2 million in March, county records indicate.
Previously, White bought his first house in the neighborhood for $1.95 million in 2006 — from former UFC co-owner and friend Frank Fertitta III.
Dana White Luxurious Cars
With a big purse and an affinity for automobiles, it is only natural that Dana White will have an entire fleet of vehicles. As such, his collection includes Ranger Rover, Ferrari, Bentley, Dodge Charger, BMW, and a couple of UFC branded motorcycles. Additionally, White is rumored to own a Bombardier Jet which he uses for his travels, worth an estimated $90 million.
Dana White's Non-Profitable Investments: The Charity Work
Although he is a multi-millionaire, Dana is humble at heart. As such, he makes it a priority to find time and regularly donate to charities. In 2010, Dana donated $50,000 for a liver transplant to Tuptim Jadnooleum, the daughter of "Kru Nai" Rattanachai, one of the instructors for Tiger Muay Thai and MMA in Thailand.
In 2011, White donated $100,000 to his former high school, Hermon High School to fund renovations to their athletic facilities. Moreover, in 2017, White donated $1 million to the victims of the Las Vegas shooting. Additionally, Dana has also donated $100,000 to UFC fighter Dustin Poirier's charity, The Good Fight Foundation.