Dustin Poirier Net Worth 2021: Salary, Endorsements, Business, Spendings, Mansions, Cars, Charity and More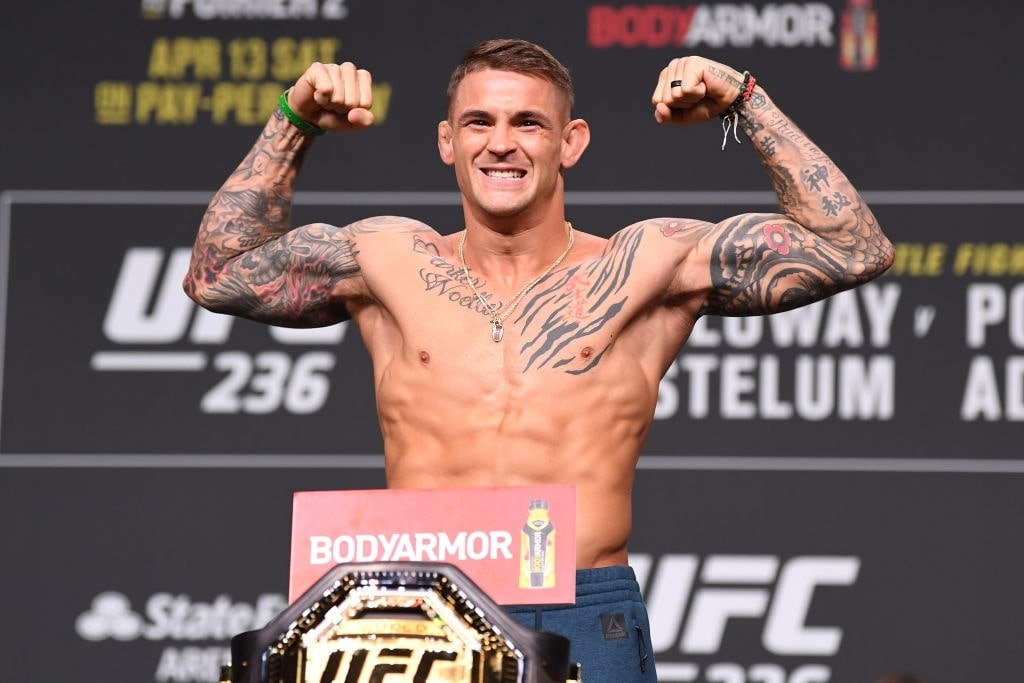 Dustin "The Diamond" Poirier is arguably one of the best mixed martial artists to ever step inside the octagon. The former interim UFC Lightweight Champion currently holds the number one rank in the lightweight division.
Dustin has proven himself to be one of the bests holding a record of 27-6-0 in the UFC. His amazing performance inside the cage has allowed him to earn millions of dollars from the fighting franchise. Poirier has also tried his hands in other ventures alongside his present earning avenues, fetching him more wealth. Let us break down every detail surrounding Dustin Poirier's net worth as of 2021.
A Glance At Dustin Poirier's Asset Accumulation
| | |
| --- | --- |
| Name | Dustin Glenn Poirier |
| Age | 32 years old (Born January 19, 1989) |
| Residence | Mansion in Las Vegas, Nevada |
| Net Worth 2021 | $4 million |
| Salary | $1 million + Bonuses |
| Endorsement Earnings | $1 million |
| Source of wealth | UFC, Endorsements, Business, Media ventures |
| Endorsements | Reebok, Robert Graham, Celsius Energy Drink, Therabody Sports, Conair Man |
| Expenditure | Mansions, Cars, Watches, Jewelry, Charity |
| Philanthropy | The Good fight Foundation |
What Is Dustin Poirier's Net Worth In 2021?
Nicknamed the Diamond, Poirier has amassed a huge net worth to his name. His earnings from the UFC, combined with the money that he earns through his business, media involvements, and endorsements, help him fill his pockets. According to the research by our team, Dustin Poirier's estimated net worth as of 2021 is $4 million dollars.
Dustin Poirier's Source Of Wealth
As mentioned earlier, alongside Dustin's earnings from the UFC, the lightweight fighter has various other earning sources. Here's how the former interim UFC Lightweight Champion earns his millions.
Dustin Poirier's Earnings From The UFC
From the start of his career, Dustin has come a long way. During his debut fight against Josh Grispi in 2011, the 32-year-old athlete earned only $8000 including his base salary and win bonus. Fast forward a decade later in UFC 257, Dustin faced off against the notorious, Conor McGregor and signed a contract with a base salary of one million dollars, plus a $50,000 performance bonus and $20,000 fight week incentive pay, earning him a total of $1.070 million.
Diamond will be facing McGregor for the third time in UFC 264 to conclude their octagon rivalry, earning millions more. Including bonuses, base salary, and PPV sales, Dustin Poirier has earned a little over $4 million from the UFC as per our research.
Dustin Poirier's Endorsement Deals
Since the UFC is heavily backed by the global sportswear brand, Reebok, each fighter is entitled to a piece of that cake. Dustin is no exception and has earned a lot of money from the brand in the form of performance and win bonuses.
View this post on Instagram
The former champion also enjoys a status of having a plethora of other brand deals including clothing brand, Robert Graham, Sports Drink Company, Celsius Energy Drink, health and Wellness brand, Therabody Sports, Hair Trimmer Accessory brand, Conair Man, and several others. Dustin has earned over a million dollars from his brand deals.
Dustin Poirier's Earnings Through His Business
Poirier's ⚜Louisiana Style Hot Saucehttps://t.co/heO2KJ6Xlr pic.twitter.com/9vUt12xO3C

— The Diamond (@DustinPoirier) March 16, 2021
In December last year, the 32-year-old athlete announced his new business endeavor on social media platforms. Poirier, in collaboration with Canadian Company, Heartbeat Hot Sauce Co., released a brand new Cajun hot sauce brand called "Poirier's Louisiana Style Hot Sauce" which he sells for $12 apiece on his official website. Dustin Also sells custom t-shirts on the same website.
Dustin Poirier's Earnings Through media Ventures
The former UFC Lightweight champion has also dealt with various media involvement. In 2011, Dustin starred in a mixed martial arts Documentary Film called Fightville. He has also done several advertisements which include a commercial for Samsung's Galaxy S21 and another for Super Bowl, titled "Believe You Will" amongst several others. Finally, Poirier is also a playable character in video games like EA Sports UFC 2, 3, and 4.
How Dustin Poirier Spends His Millions?
During his time in the UFC, the MMA athlete has earned a lot of money. When it comes to spending, however, he spares on expenses to lead a lavish lifestyle. Dustin also spends a fortune to give back to society and run his non-profit organization. Here's how Dustin Poirier spends his millions.
Dustin Poirier's Lavish Mansion
Fight Week!! pic.twitter.com/AdFQuZCxho

— The Diamond (@DustinPoirier) July 4, 2021
Poirier maintains a very private life and thus has not revealed anything about his mansions. It is a known fact however that the star athlete primarily resides in his hometown of Lafayette, Louisiana, and moves to his other mansion in Las Vegas, Nevada before a fight. Details regarding the price and dimensions remain a mystery, however, based on his social media pictures, they are nothing short of lavish.
Dustin Poirier's Car Collection
Over the years, Dustin has created a one-of-a-kind car collection. His collection boasts two crown jewels; a Rolls Royce Ghost Series 2 worth a staggering $311,000, and a stunning Ferrari 458 Italia worth $245,000. Other cars in Dustin's collection are an $80,000 Cadillac CT6 and a Dodge Challenger which costs around the range of $29,000. Poirier also owns a few motorcycles.
Dustin Poirier's Watch And Jewelry Collection
View this post on Instagram
The Diamond is a well-suited nickname for Dustin as he likes being wrapped in gold timepieces and diamond-studded chains and necklaces. The 32-year-old athlete owns several Rolexes and is always seen wearing one. Similarly, when he is not in the octagon, he is always wearing a custom necklace with his initials studded with diamonds. The piece must have cost him a minimum of $50,000.
Dustin Poirier's Non-Profitable Investments: The Charity Work
Dustin Poirier is widely regarded as one of the most charitable UFC athletes in the world and has helped change the lives of many people throughout his career. In April 2018, Poirier and his wife established the "Good Fight Foundation", and since then have helped raised millions of dollars.
The Diamond is famous for auctioning off his UFC kits. The money he earns goes to various charities. After his fight with Khabib Nurmagomedov, the two exchanged shirts to auction off. Combined, the two raised over $260,000.
Further, Poirier has also worked towards providing clean drinking water to the Batwa Pygmy children in Uganda and during last year's coronavirus pandemic, his foundation donated meals to hospital workers in his Hometown. Finally, Dustin received the Forrest Griffin Community Award last year due to his philanthropic activities.
Dustin Poirier's Wife, Jolie Poirier's Net Worth 2021
The Diamond married his longtime high school sweetheart Jolie Le Blanc and the two seem to be leading a very happy life. While the celebrity wife likes to keep a very low profile, it is a known fact that she is the Vice president of The Good fight Foundation. Extensive research by our talented team estimates that Jolie Poirier's net worth as of 2021 is somewhere around $100,000.