Michael Lynn Evans III, better known as Mike Evans is a twenty-seven years old American football player of the National Football League. Well known as Twin Towers by his fans, Mike is currently a wide receiver position holder of the Tampa Bay Buccaneers. He is the only player in the history of the NFL who has started his career with seven consecutive seasons playing more than 1000 yards.
In the 2014 NFL draft, the star athlete was selected by the Tampa Bay Buccaneers as the seventh overall pick. He is the youngest player to reach 7000 career receiving yards and has also won the super bowl in 2020, which helped him increase his worth as a player. Twin Tower has several other avenues besides NFL, which help him to fill his pockets. Let us uncover everything that there is, about Mike Evan's net worth as of 2021.
A Glance At Mike Evans' Asset Accumulation
| | |
| --- | --- |
| Name | Michael Lynn Evans III |
| Age | 27 years old (Born August 21, 1993) |
| Residence | Mansion in Tampa, Florida. |
| Net Worth 2021 | $25 million |
| Salary | $12.25 million |
| Endorsement Earnings | Unknown |
| Source of wealth | NFL, Endorsements |
| Endorsements | Pepsi, Bodyarmor, Gillette |
| Expenditure | Mansions, Car, jewelry, Charity |
| Philanthropy | The Mike Evans Family Foundation |
What Is Mike Evans' Net Worth In 2021?
Evans will go down as one of the best wide receivers to ever step on the field by the time he retires. Due to his impressive capabilities and poise during the game, he has been able to amass a great deal of wealth to his name. As of 2021, the NFL star player has an estimated net worth of a staggering $25 million. After the Buccaneers managed to win the Super Bowl last season, Mike's value skyrocketed even more.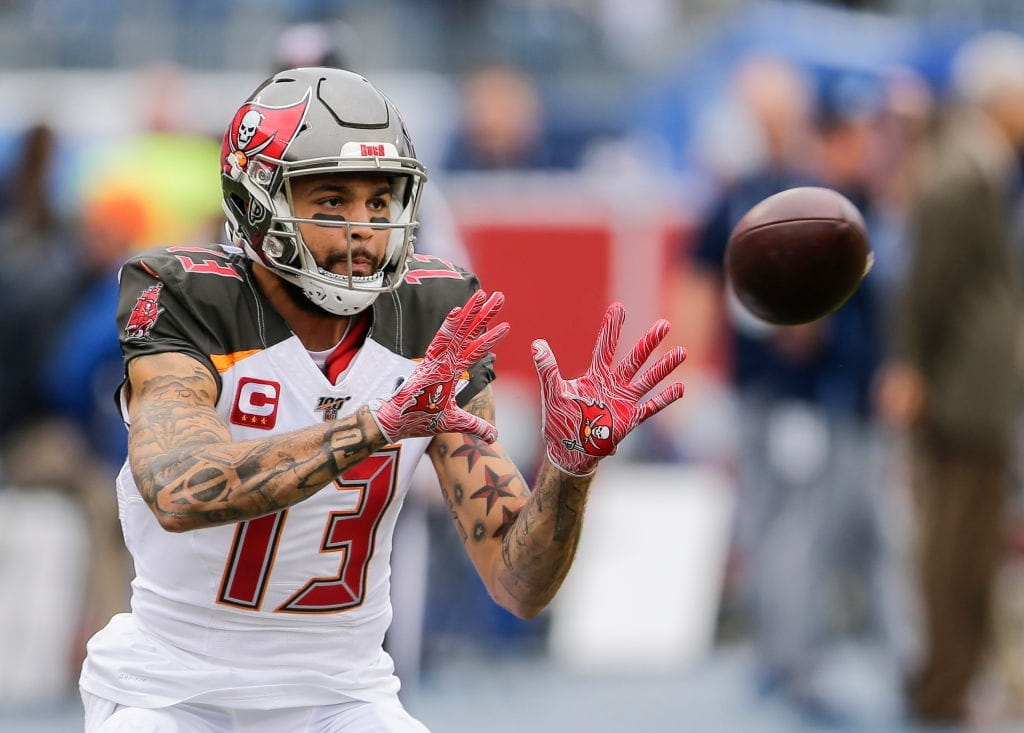 After being selected by the Tampa Bay Buccaneers as the seventh overall pick in the 2014 NFL draft, the Twin Towers soon rose to a status of fame, demonstrating his on-field dominance. The star player signed a four-year contract worth over $14.5 million with a signing bonus of $8.96 million.
Evans started with a humble annual salary of $420,000 during his rookie season in 2014. Before the end of their rookie contract, he signed an extension with the team's franchise for a term of 5 years allowing him to pocket a massive sum of $82.5 million.
Mike's current salary as o the 2021 season is a career-high of $12.25 million. During the time that he has spent in the league, the star wide receiver has earned over $69 million in salary alone.
Mike Evans' Endorsement Deals
Let's gooooo! This exclusive @Pepsi Paper Football would be dope on your mantle… right? If you want my signed @Pepsi Paper Football, RT #MikeEvansPaperFootball by 8/28 and tell me why you should win. #ad https://t.co/TPGd5I0hsB pic.twitter.com/GB6d08wZ6J

— Mike Evans (@MikeEvans13_) August 22, 2019
Consistency is one of the major keys to an NFL player's long career. Mike is one of the most successful and consistent players in the history of the league, allowing him to get in contact with various brands and sign deals with them. The Super Bowl Champion is a long-term endorser of Global Soft Drink Company, Pepsi. The parties even work towards the betterment of society through charities. While Mike does not endorse any other major brand, some brands that did back him in the past are, Bodyarmor and Gillette.
How Mike Evans Spends His Millions?
Earning over $12 million annually, Mike's spending habits are very different than other fellow athletes in the league. The NFL athlete has spent his fortune on a mansion, a multi-utility SUV, and on his wardrobe. However, the defending champion spends more money giving back to charities than he spends on himself. Here's how the Buccaneer's star wide receiver spends his millions.
Mike Evan's Lavish Mansions
Unlike most players in the league, Mike's real estate portfolio is very humble with only two properties. In 2018, the star player and his wife, Ashli, bought a mansion for $1.2 million in the City of Tampa, Florida. While the price tag is modest when compared to other athlete's homes, the house is nothing short of stunning.
The house offers over 4000 square feet of living space. With five bedrooms and bathrooms, the lavish mansion also offers modern interiors, an outdoor pool, a grill, and even a separate guesthouse.
The future Hall of Famer owns another mansion in his hometown of Texas, in the City of Katy. The house is massive and offers a living space of 9,383 square feet. Built of over 2 acres of land, the lavish abode boasts four bedrooms and bathrooms, a full gym, and a home theatre in a two-story structure.
Mike Evans' Lamborghini Urus
Reportedly, the wide receiver for the Tampa Bay Buccaneers owns just a single set of wheels. Mike has spent over $220,000 on a black Lamborghini Urus. The multi-utility SUV can house up to five people, which is perfect for the athlete as his family. The car boasts a new twin-turbo V8 engine with a four-liter capacity that can go from 0-60 in just 2.65 seconds. While Mike hasn't been spotted driving anything else, it won't be a surprise if he owns a few more fancy and expensive vehicles.
Mike Evans' Jewelry Collection
Thank you lord for another year of life. Appreciate all the B Day Wishes #TwoFive #Quarter pic.twitter.com/5q2NOiOwP8

— Mike Evans (@MikeEvans13_) August 21, 2018
Whenever Evans is not on the field or the sidelines, he is seen wearing various chains, necklaces, and earrings. The most common piece in his collection is a diamond-studded necklace that hangs from a gold chain. The piece must have set the star player back at least a good $20,000.
Mike Evans' Non-profitable Investments: The Charity Work
Mike had to deal with a tough childhood being surrounded by violence and abuse. He was born to his mother when she has still just 14 years old and his dad was murdered when Evans was only nine years old. Due to that very troubled past, Evans and his wife decided to launch the Mike Evans Family Foundation in 2017 aiming to help domestic violence victims.
Thank you to everyone who made the 2021 Mike Evans Youth Football Camp possible! Close to 150 kids attended the free camp on Saturday, June 26. A huge thanks to @MikeEvans13_, the coaches, volunteers and our generous community partners. #mikeevans #youthfootball #GoBucs pic.twitter.com/5oLGkE2aFs

— Mike Evans Family Foundation (@MikeEvansFamil1) June 28, 2021
Since the launch of the foundation, Evans has donated over $300,000 to various people in need. One of the most notable donations was a massive sum of $50,000 that he donated after winter storm Uri devasted his hometown of Texas. The Mike Evans Family Foundation has also organized various free football camps in his hometown of Galveston.
Mike Evans' Wife, Ashli Dotson Evans' Net Worth in 2021
Wifey jus started a blog please go check it out https://t.co/jrRq75BT4z pic.twitter.com/x4fb576Wc2

— Mike Evans (@MikeEvans13_) November 20, 2017
The 27-year-old athlete married his college sweetheart, Ashli Dotson in 2016. Since then the couple has been living happily with three beautiful children. Ashli is primarily famous as a celebrity wife. However, she earns from her blog related to lifestyle. While an exact estimate cannot be made for her current net worth, she has earned enough to be able to buy a $1.2 million home with Mike Evans.